Bavarian Interlude
So, yeah, the whole point of this trip was to avoid Western Europe, and we went so far deep into the belly of beast (i.e., Moscow) that by the time we reached the Czech Republic the air was feeling straight Scandanavian. Shit was expensive (around 1.50 for a beer, god forbid), and people on the street were and not littering and there was no graffiti and I think I saw smiles. But this was the CZ, and from Plzen we took a thirty-year jump thirty years into the future, 1.21 gigawatts straight in Deutschland for a little jaunt outside post-Socialism.

What we found was this - a digitized train, shiny seated and graffiti free, and we took this rail from the Czech border into Plattling, where we met this woman.




Mike's too cool coughing to give the Thunderdome readers any love. That's Anna, our Aunt Linda's foreign-exchange sister from her months in Germany in high school, and in that pic Anna's saying hi to everyone in the States (yo Linda, that house should look familiar).

Anna lives with her husband, Luke, who speaks no English and mutters in Bavarian, and they farm rye, wheat, sugar beets, and corn. This woman is championship material - all smiles and giddy and awesome, she's the kind of lady who would you give as a gift, or who would host a daytime talk-show which you loved, but you would never admit this to your friends even though they all watched it too. Or she'd just rule at life.

Check out her village, Gergweis, at night. Mike and I walked into the mist and performed incantations.




These were littered about like confetti - attached to postboxes, houses. This one was on a school. Guess we weren't THAT far west.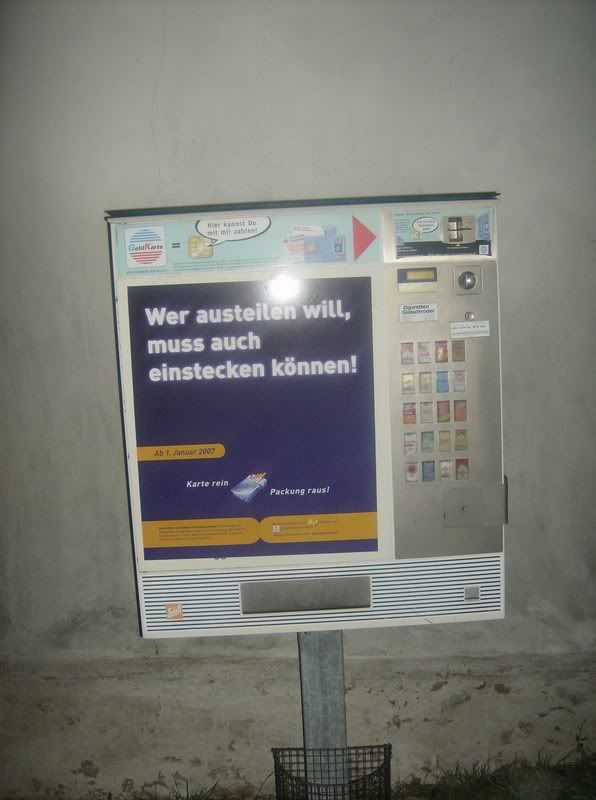 Nightweis.




But yes, Anna and her little fairy-tale house, build from wood from their forest, and decorated all over neatly and cleanly. Their garden.




Wood stove in the attached barn.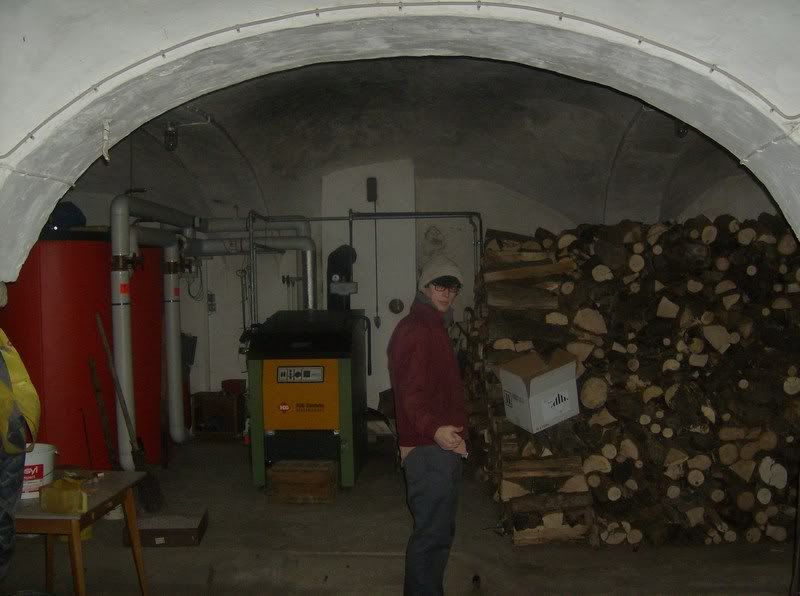 Interiors.




Courtyard in the back, surrounded by century-old barns and stuff.




Stream behind it all.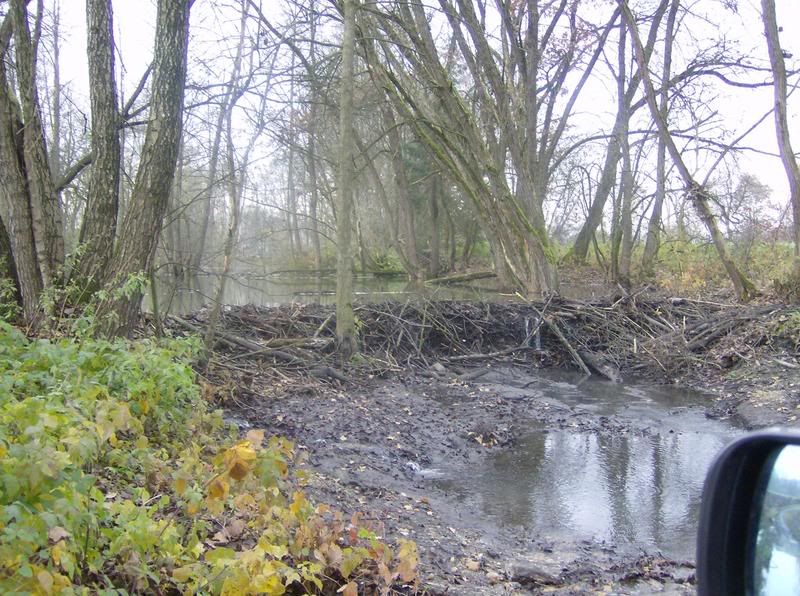 This should ring a bell for Linda. The house in which Anna grew up.




Me and Anna in front of the cucumber-picking apparatus. Well, that's only half of the cucumber picker. The other half is the dozen Romanians and Poles hired seasonally by the farmer to lay on their bellies and pick the veggies while some dude drives the tractor. Hail the EU!




Photovoltaic cells in the background. Mike gives the thumbs up to renewable energy, I do it for Teutonic efficiency.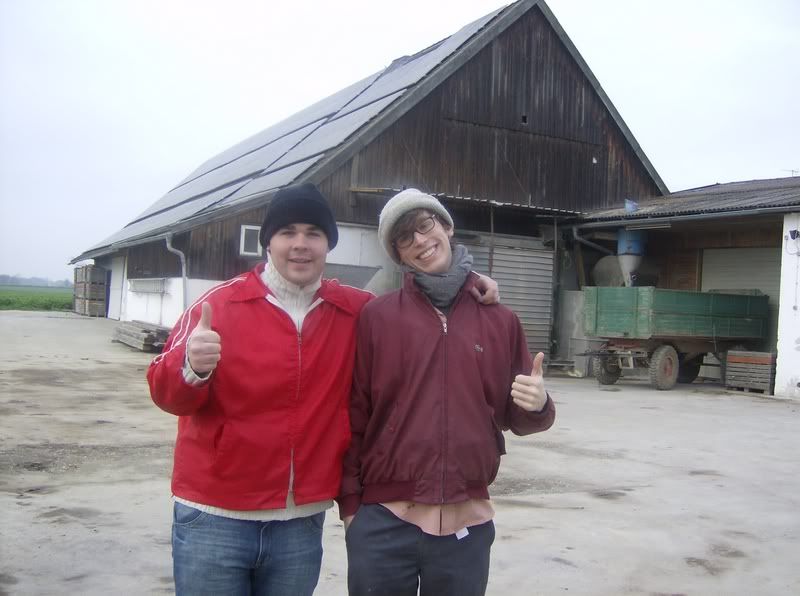 Kirche.




Altersbacher Brewery in Altersbach - we didn't take a tour because we went to the Pilsner Urquell brewery the day before (even though the Altersbacher we had totally slaughtered Pilsner Urquell into dead little pieces).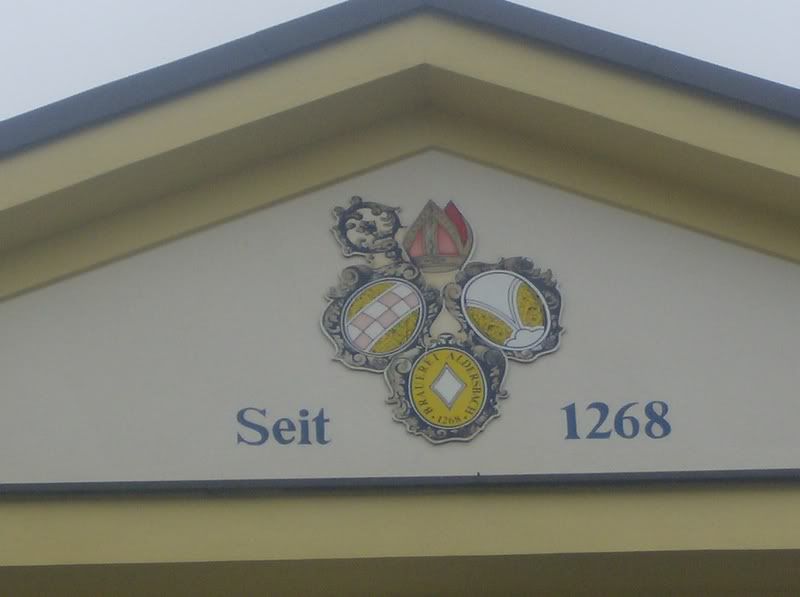 Tough cookies snatching this brand in America. If anyone finds a place that you can get it, I will totally pop your rocks off. The whole each-town-each-beer thing that goes on in Bohemia and Bavaria makes it my hop paradise, and this is (among many reasons) why I want to return here for a beer tour sometime before I die - go hopping to provincial towns, trying their local brew, and then cruising over to the next city (after sobering up, of course). Who's game? But yeah, hail Bayern. And judging from this stack of bottle crates, the locals seem to agree. That sedan provides a good scale.




And furthermore, CHECK THIS OUT. You know those churches I mentioned earlier that knocked out the best of what we'd seen before? Well, they're in rural Germany, and their rightfully attached to the Altersbacher brewery. Those silly monks. God lives here:

Organ.




Ceiling fresco.




Skeletons under glass. Important Germans. Probably were good at math and kept sparkly clean homes. the Catholic dead do it with style: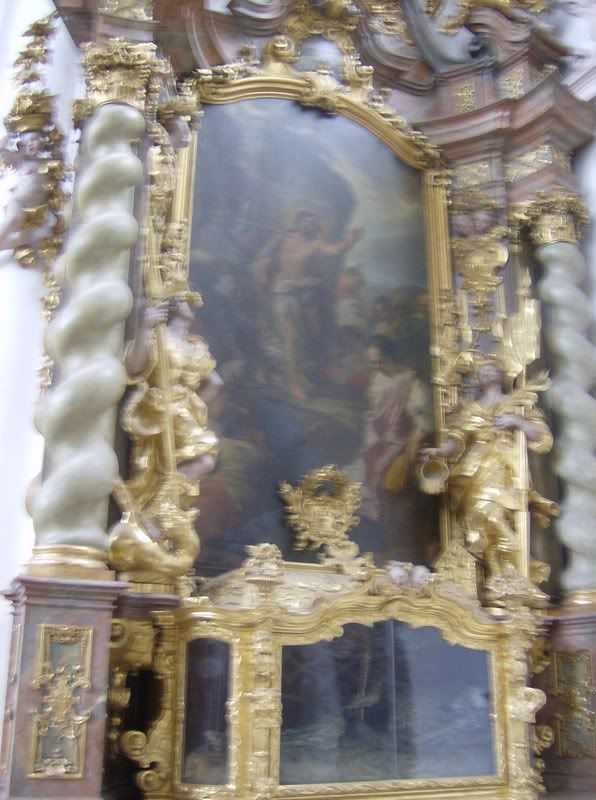 Church interior and altar.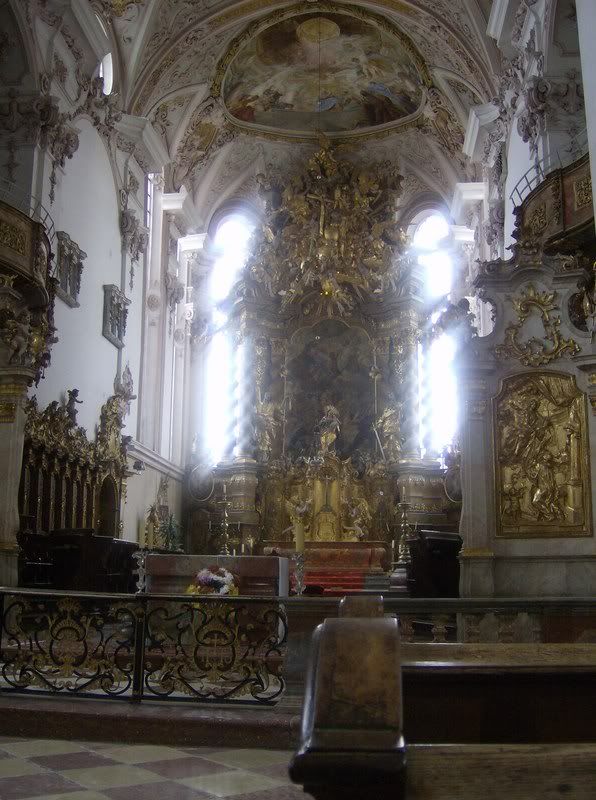 "Huhuhuh, come to Butthead."




Bayerisch countryside.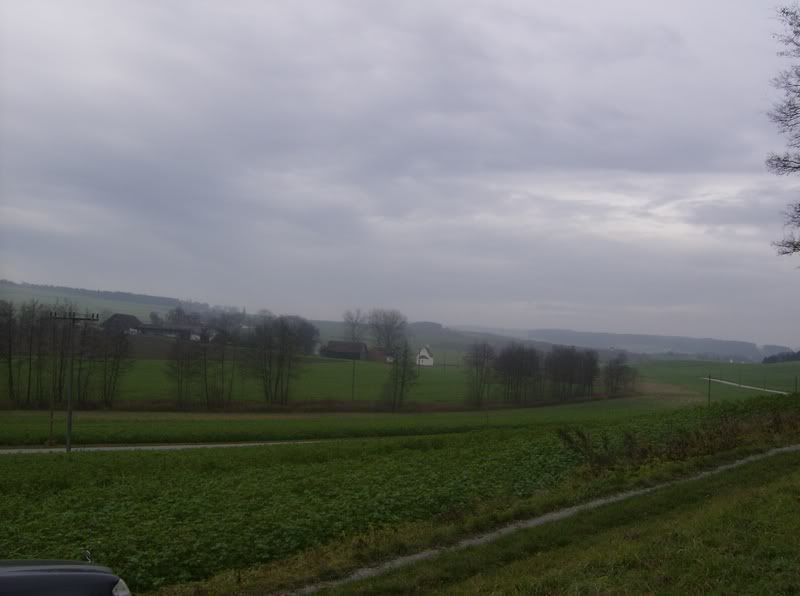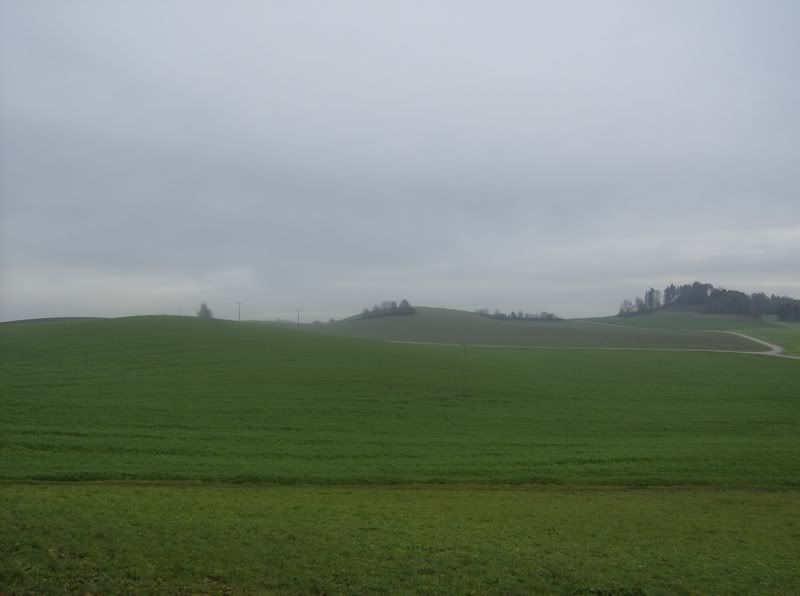 We were en route to this:




A monument to when about 500 years ago the Bavarian peasants, in that spot, decided to pick up their pitchforks and wooden logs and rally against whoever the hegemon was at that time. The ruling party's forces promptly killed all the farmers with swords and crossbows and sundry other high-tech weapons, and then starved all the peasant families. And you wonder why white people cause most of the world's problems? This is the field where it happened.




We give Hegelian history a thumbs up.




How 'bout another photo of Ana and Mike? I see no reason why not.




And then we jetted to the Osterhofen Basilica, designed by the brother of the Altersbach Basilica designer.




We sadly only spent a night in Gergweis. It's a cute place, and Anna was an awesome guide, cook, and semi-Mom. She said "we want to treat you like you are home" and we got super-home treatment - she even offered us her son's socks. Her food was wonderful - sausages and pretzels and bread for dinner, and her lunch the next day was beyond incredible. She can COOOOOOOK, holy lord can she. I miss Anna. She misses everyone in America and she gets all your letters and reads them, I assure. I updated her on all the family matters. And for y'all familiar with her clan, Ludwig is in Heidelberg studying law and stressed by the examinations and misses Bavarian beer and Antonia, after she finishes exams, has a job lined up at Ernst & Young in Berlin. They're both married and enjoying it. Luke is muttering and working and says he doesn't like American homes because they're "too classy". It wasn't worth explaining to him that his house that he built would be on the cover of home-living magazines in America - I seriously can't do the gesticulations for that.




Anyone relevant - Anna would be more than happy to see any of you anyime, and she misses you.

From Gergweis, we hopped to transit to Munich. Mike's got that bag covered.

We are not-quite-caught up. Right now we're in Plovdiv, Bulgaria, at an internet cafe built inside an old Roman coliseum. I'm surrounded by Semitic-looking characters playing computer games and the photographs are covered with sexualized black-and-white photographs of woman putting their hands over their bare breasts, and lips.

Seriously.

Stephen