'CMON RIDE THE TRAIN
Europe is a small place. The whole thing fits inside Brasil. But that doesn't mean it's quick and easy to get around. No sir! In fact, transport can be quite a bitch.

Me and Steve had to get from Bavaria to Bulgaria in order to meet up with our Great Aunt, and to enjoy some nice weather for a change. What did this entail? 44 hours on the fucking HORSE. I think we traveled at most 1000 miles, and probably less than that. Yes, in the US you can drive 1000 miles in like 18 hours. But shit, there's no charm in that. C'MON RIDE THE TRAIN IT'S THE CHOO CHOO RIDE IT (WOO! WOO!)

Thus, with our stuff...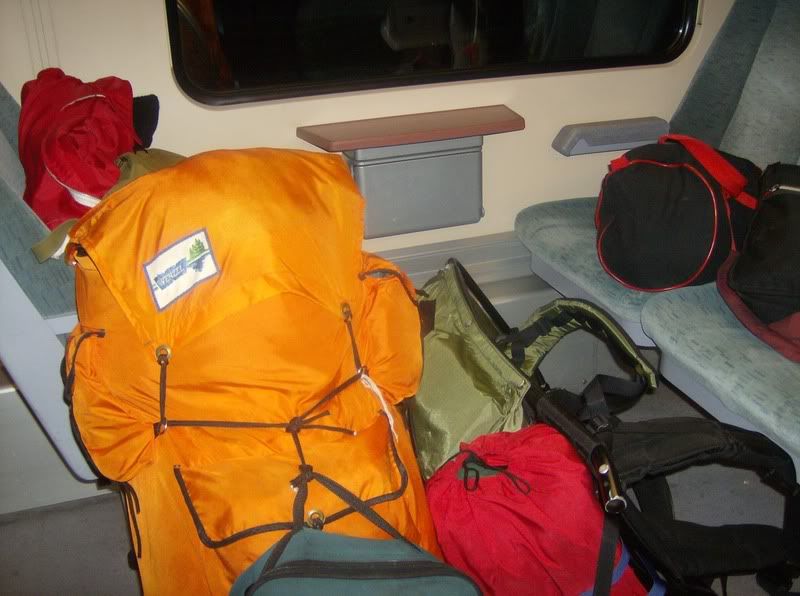 we followed the orders of the Quad City DJs and rode the fucking train. Shit...we rode that fucker like a prisoner having a conjugal visit with an 18 year old. An 18 year old boy.

Of course, Gergweis, Germany to Varna, Bulgaria isn't exactly the most popular route in the world. So we had to change trains and do quite a bit of waiting. Our train journey started in a town called Plattling, just a few kilometers from Gergweis. There we hopped a 90 minute commuter train to Munich. We met two cool Bavarian teens on the train, whose names I forget. Sorry. (EDIT FROM STEVE: Their names were MATTHIAS and MATTHIAS. Mike fails at life yet again. U SUCK DUDE). Anyway, we let them ride on our 5 person German combo ticket (the cheapest way for us 2 to travel) in exchange for 5 Euros and helping us buy our tickets to Varna in the Munich uber-station. And they did, and it was cool.

We had a few hours to kill in Munich, and kill we did. What does one in Munich for an evening?

DEFILE MODERN SCULPTURE!




CRUCIFIXTION ON JEWISH THINGS WE CAN'T READ!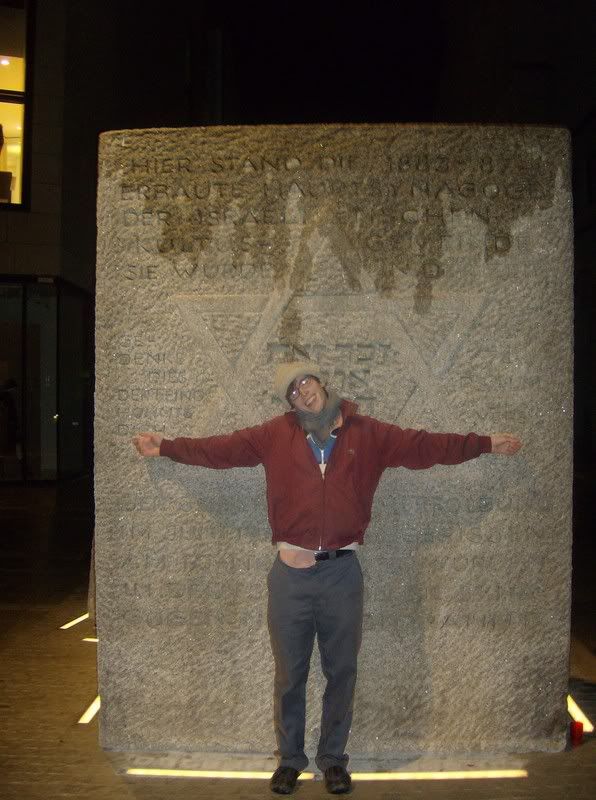 TAKE ALCOHOL STYLE CITY PHOTOS!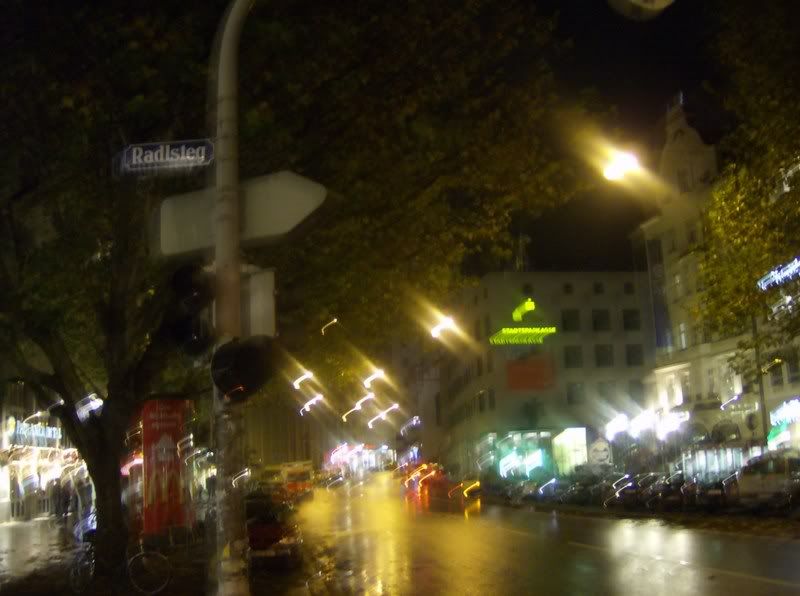 LEARN NEW WORDS!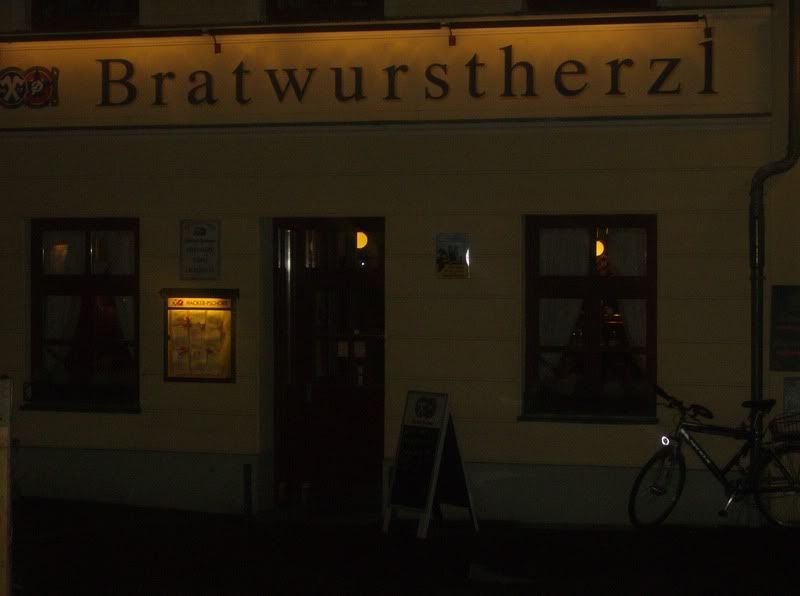 EAT SAUSAGE! MUNCHIN' IN MUNCHEN!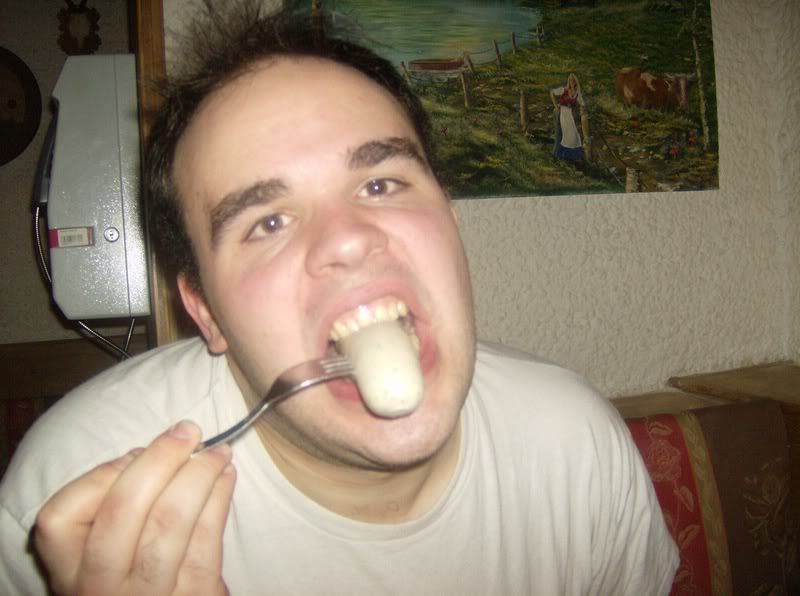 AND, OF COURSE, THE OBVIOUS!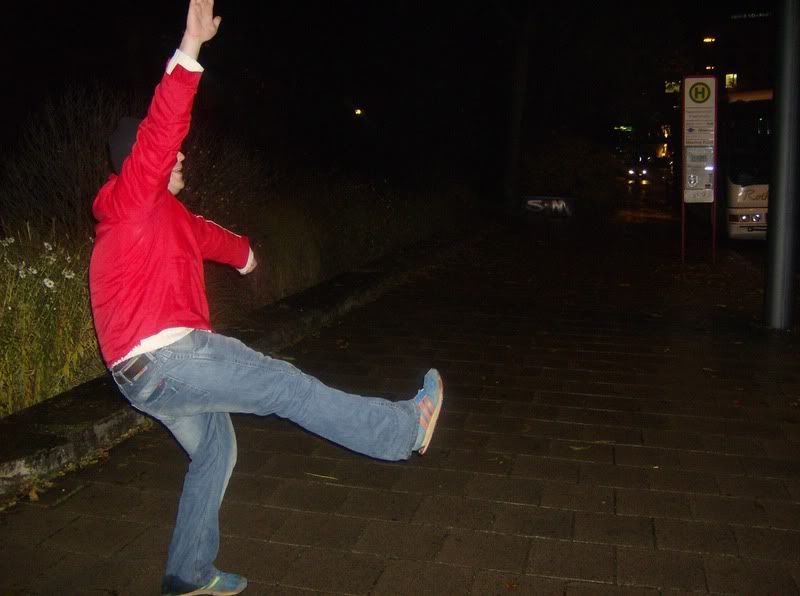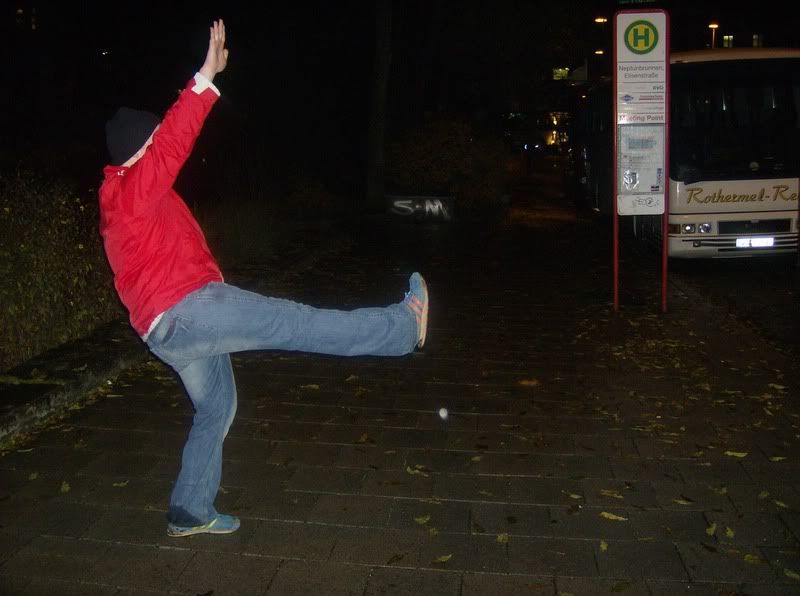 So around midnight we boarded our first train--a monster jump from Munich to Belgrade, via Salzberg and Zagreb. We had to shell out extra dough to get some beds, but it was well worth it, even if we had to bail from the beds at Zagreb (which was like 9 hours short of Belgrade), because they didn't have any beds going to Belgrade from Munich. Or many people for that matter--the single Belgrade car was pretty much entirely empty until we hit Zagreb, well into former Yugoslavia.

Here's some countryside. It's either Serbia or Croatia, or maybe Slovenia. I can't tell the difference. Saying that over there would have probably got me murdered.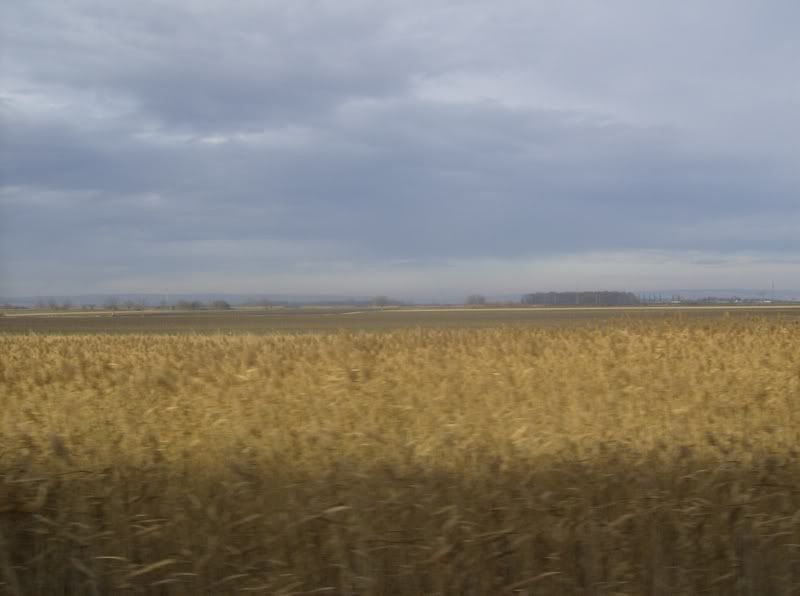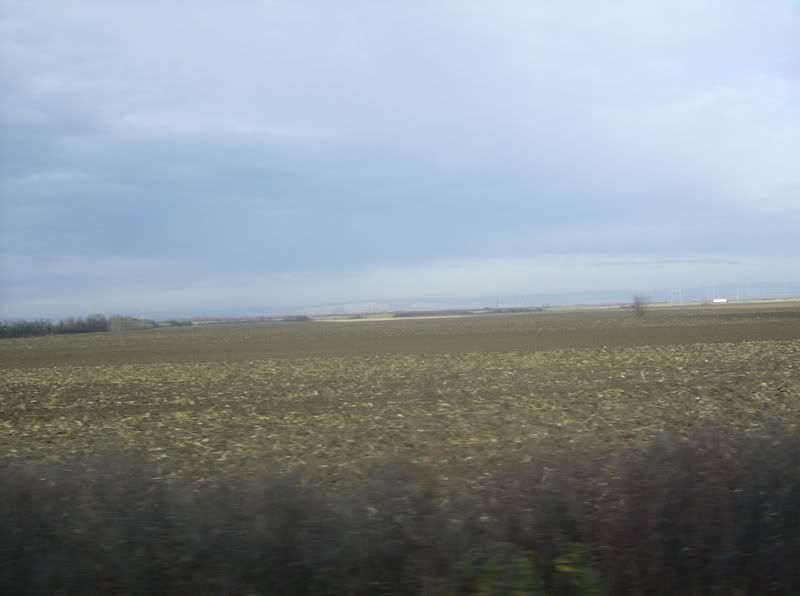 At like 5PM the next fucking day, we arrived in Belgrade. Fucking Belgrade! Fucking shithole! Holy crap, this city is unexplainably weird. Construction projects abound, but you can't tell if they are replacing old buildings or former bomb sites. There aren't any right angle intersections, and you can't see far because every street twists like Chubby Checker. Oh yeah, there are almost no street signs or numbers. And the streets and sidewalks are falling apart. Fucker SERIOUSLY needs some EU cash, but that ain't happening for quite awhile. EU ascension would give Russia an excuse to invade.

Here's our two Belgrade pictures: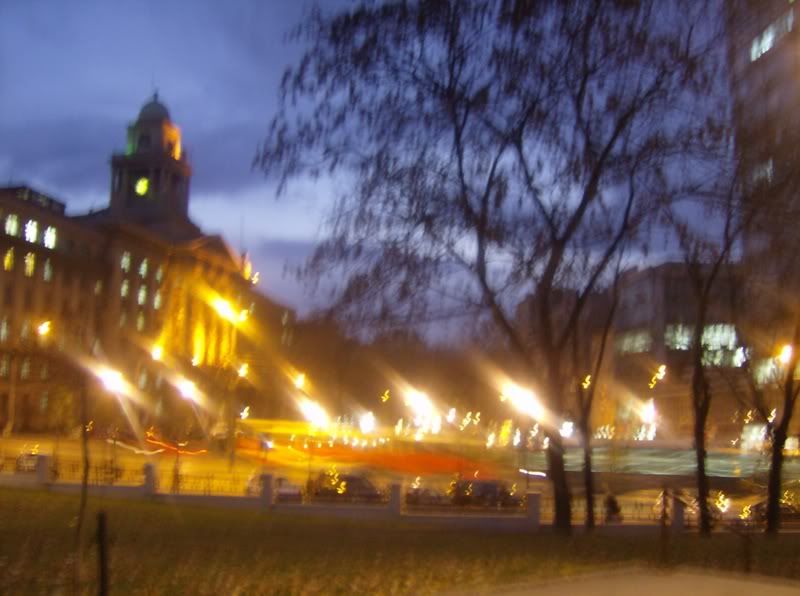 How many stray cats can you count?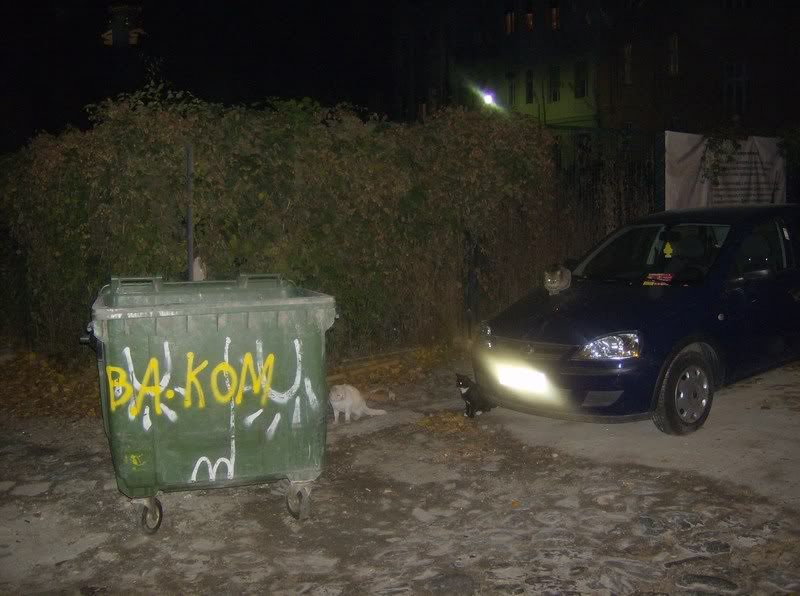 The answer is at the bottom of this entry!


Despite the obvious problems, Belgrade seems like a very exciting city, and one we might return to for an extended visit. It seems like it would be a ton of fun, but we'd have to find someone local to hook us up--it's fucking impenetrable for tourists. Not that there are any.

Then we hopped on our long, slow train from Belgrade to Sofia, the capital of Bulgaria. Shit, that bitch was loooong. We had a sleeper and slept for most of it. Steve managed to lose his glasses for 45 minutes, scaring the shit out of both of us. The train got into Sofia 2 hours late, and we only had a few minutes to catch our final train, from Sofia to Varna. We caught it. And it turned out to be by far the most disgusting train we've ever rode. The whole train was leaking, there were people in all of the hallways, shit all over the bathrooms, nary a single unbroken fixture, and tons of fucking police with a couple guys in handcuffs. Here's what we're talking about. We were too scared to take any more:




Anarchy in the train indeed, motherfucker. A Bulgarian we met on the train assured us that this was probably the most disgusting train in the entire country, and that she was ashamed of it. Still, it's strange to think Bulgaria is joining the EU in a little over a month.

We made it to Varna, tired but alive. It took us two fucking days and it cost about 200$ a piece. That's like 2 weeks of food. I call bullshit on the budget airline revolution. On the other hand, we're now men instead of boys. That's a lesson you can't put a price on.




Oh yeah, there were 3 stray cats in that photo, but only because we couldn't find the right angle for capturing all 5 hanging out around the car. Then the batteries in the camera died.