And then we rented a car, and all was peaceful, and God said TOKYO DRIFT
As a side note: the map and cookie sweepstakes was one by one Bruce, from Atlanta Georgia. See the Tartu entry. What flavor do you want, Brucey? And also, do you mind if they get crushed in the post?

Anyhow,

So the final excurszion around Bulgaria was as such: Mike, Louise and I managed to score some wheels of the deluxe European Fiat Variety, rented to us by a bald dude named Borislav and handed over to us on the smog-clogged streets of Sofia. So Bulgaria by car it was.

Spot us and our sexy wheels. I hear something - it's a purring noise. Sexy. Is it the hum of the sleek Fiat, or is all the females reading this blog? You decide, cupcakes.




But before mountains, we had to hightail it out of Sofia.

Here is the average Sofian driver's priorities:

1. Get to destination
2. Get to destination faster than every car around me
3. Try not to maim people
3a. Try not to dirty up car too much if person is killed
3b. Remove bone chips from windshield.

You can imagine the fun Mike had driving out of the city - the ride could have only been made more uncomfortable if our Mom was sideseat driving (THAT'S RIGHT MOM I WENT THERE). We managed to escape with Michael only suffering one aneurysm, and I cleaned up the carseat after he dropped one in his pants, so we were kewl.

Our first destination: Rila Monastery. Well, it was their first destination. I went there a day earlier for an overnight hike into the mountains and back. I had a disposable, which I still have and won't develop until America, for ease of uploading pictures, and I saw some stuff not pictured here (abandoned hilltop chapels, stray dogs, monastic caves, etc.). But yeah, I went to Rila on Saturday, stayed overnight, came back to Sofia on Sunday, and went back to Rila on Monday via rented car. This was seriously convenient and not a wasted day I could have spent hiking in the beautiful mountains and used an opportunity to see the Seven Lakes Region high up in the mountains or anything like that. Sometimes playing it by ear has it's disadvantages. But I digress.

Rila Monastery. This is where Monks live and stuff, and when they're not too busy taking cameraphone pics they manage to do cute things like pray and grow totally badass beards. The Monastery is some 1000 years old, and was where the Bulgarians hid and safeguarded their culture from a steady stream of Turks, whose hobbies included rape, forced-conversion, and chess.

The monastery is way up in the Mountains, and all pretty like a big iconostasis wedding cake.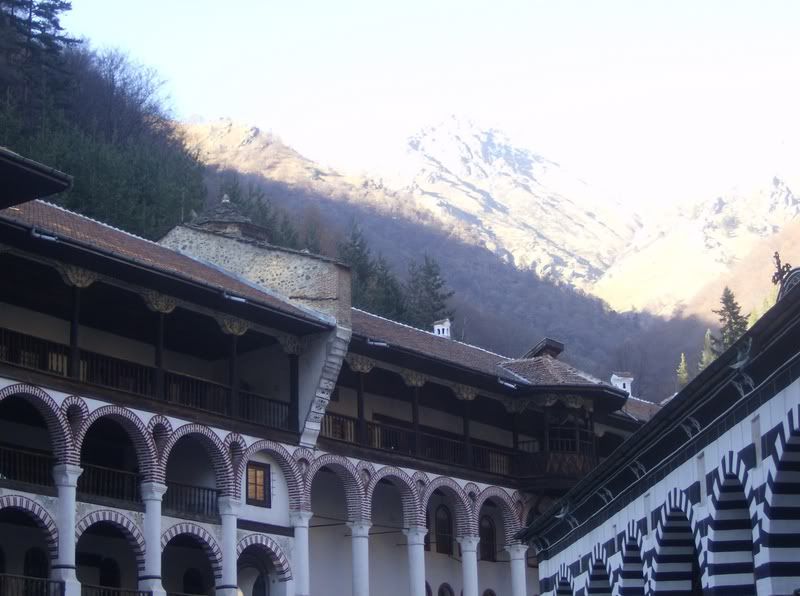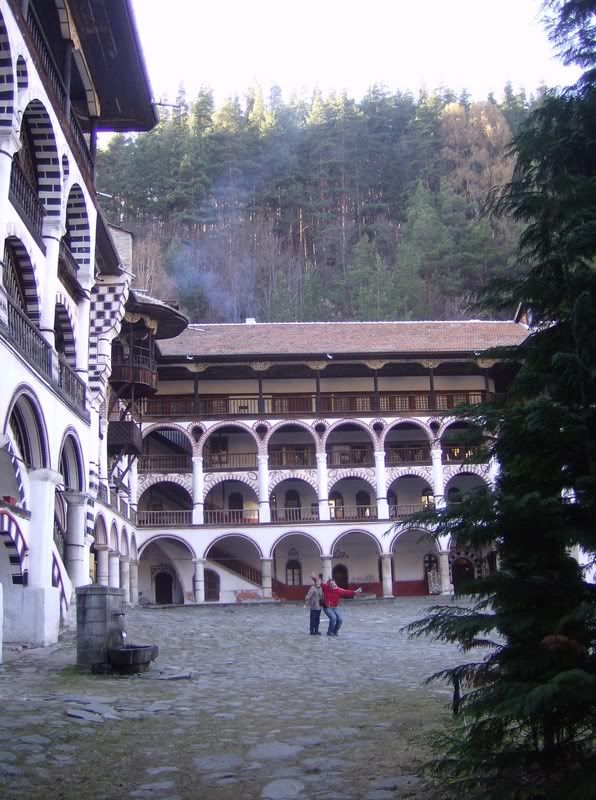 Oh, I spotted one of the Monks. Nevermind, that hairy thing is just Mike's asscrack. Say cheese!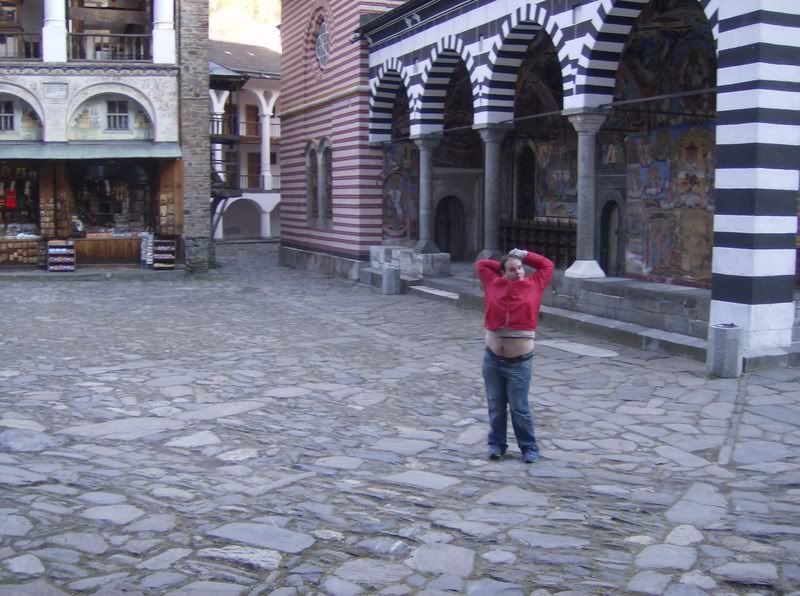 WE DROVE TO MOUNTAINS. THEY ARE BIG. DROOL. For lack of better words, Bulgaria is intensely pretty. More of this later. But for now, Rila Mountains.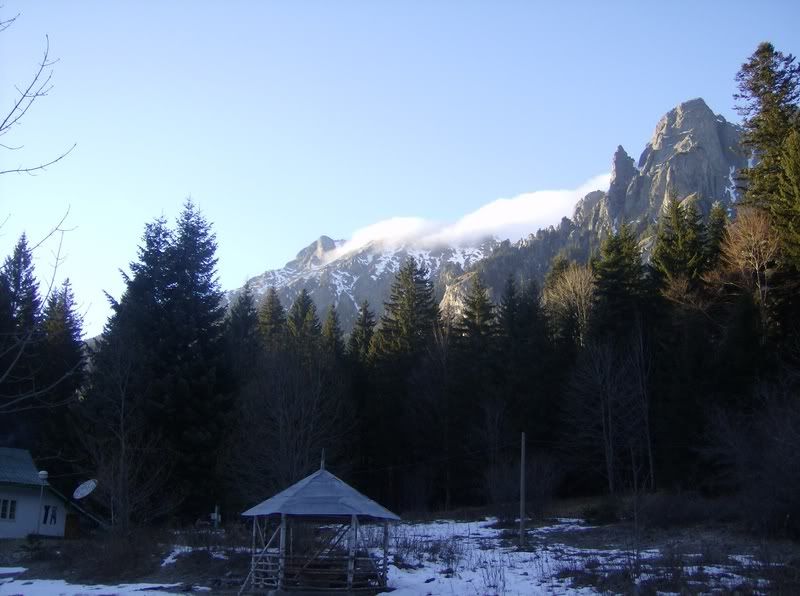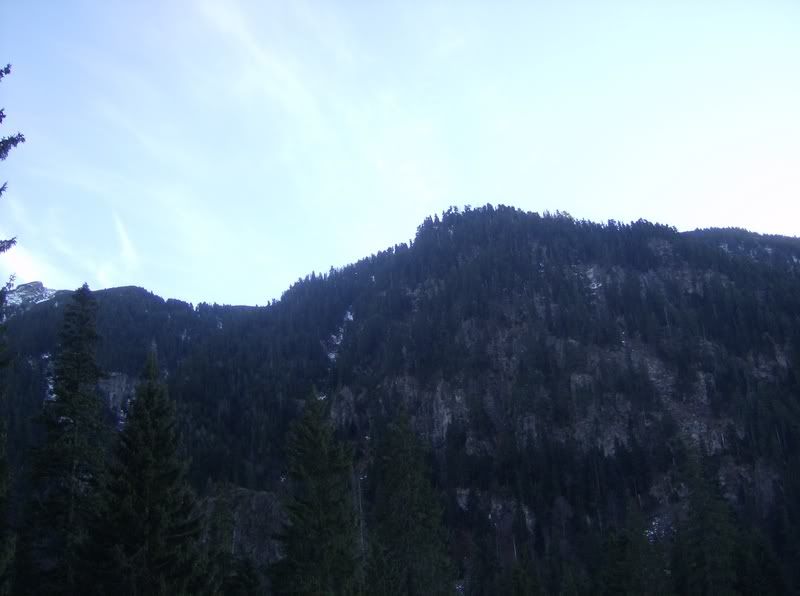 WIIILLLDDD HORSEEEHHHHS. You can tell by how matty, unhorse-shoed, and ripped up on heroin they are. I made that last one up.




Next stop, Melnik. This was someplace else entirely, a little village, rather touristy (but it's the offseason, and it accomodates mostly Bulgarian tourists, so we didn't feel as lame) but famous for it's red wine, and its scenery. There are cute buildings, tourist pensions, and ruined churches literally everywhere. Scenery and wine.

Scenery: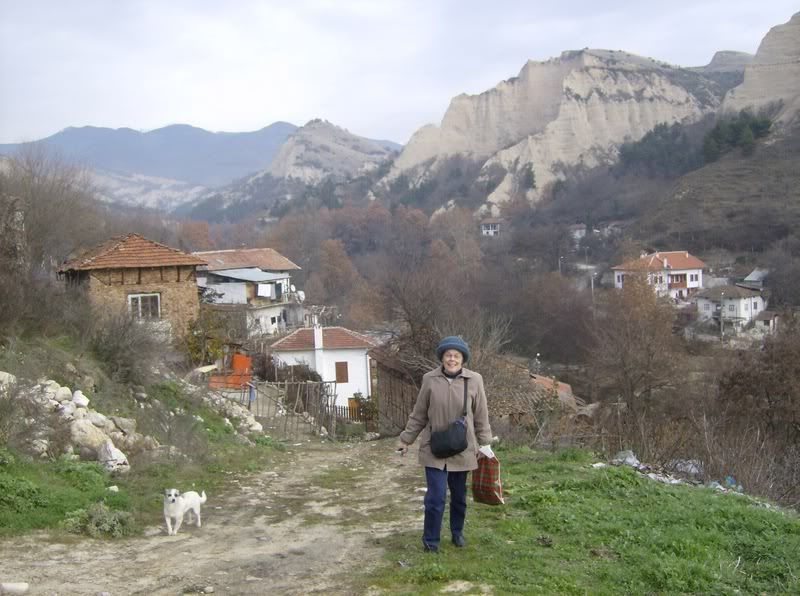 Wine: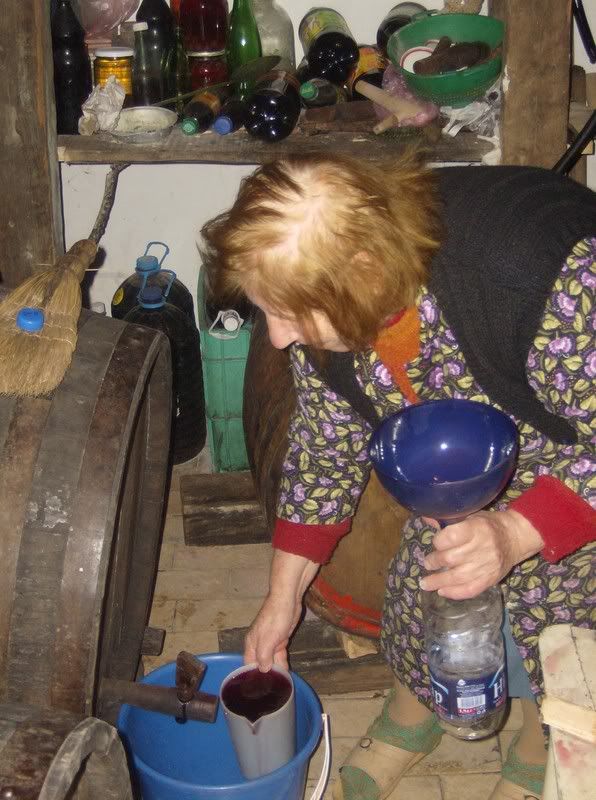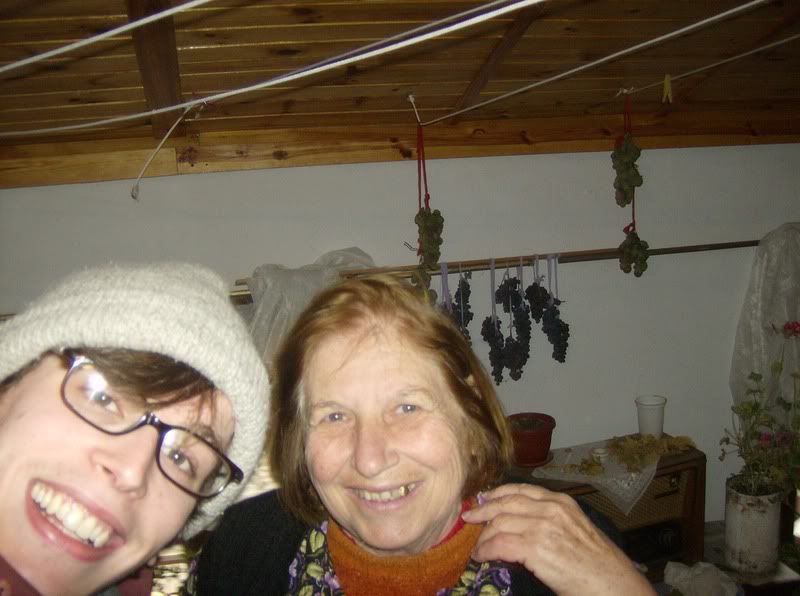 Me and the gals, in her basement getting some of that nouveau shit. I remembered to bring the camera on the moonshine expedition for that one. But you don't even need to do that - every tavern has it's own vintage, and the red stuff is sold on the street in recycled water jugs.

LOUISE APPROVED.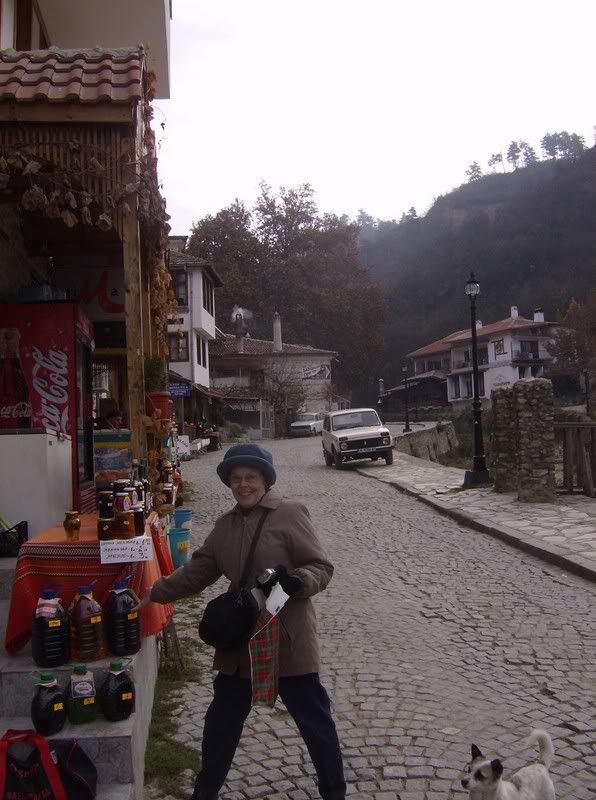 Trash. I think I saw an ancient iconostosis floating around there, but it was just a cheeseburger. STRAY DOG APPROVED.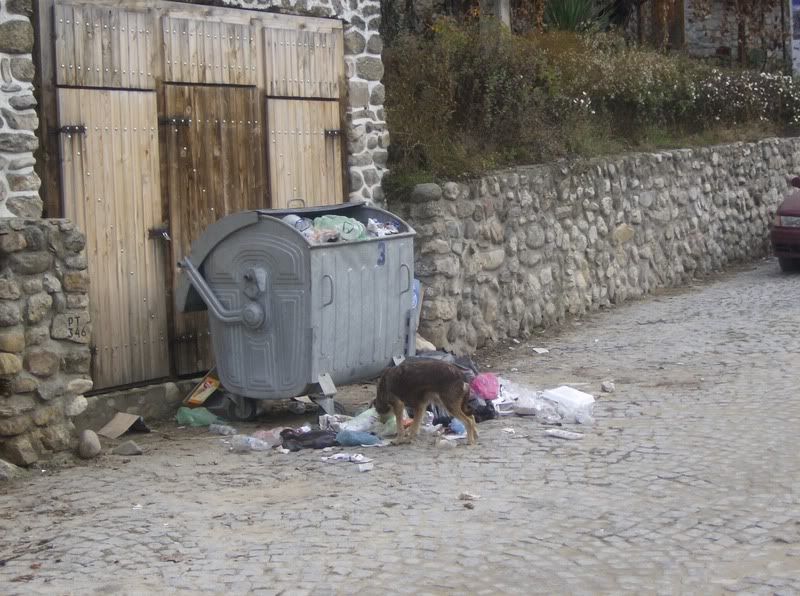 More scenery. Uphill cobblestone streets take you to ruined churches and vinyards, or just to some awesome view. They don't mind tourists here - every time I hit up an old lady for wine, she offered me a bed. There's only 250 residents, but probably half of them are hotelliers. Whatever, this town ruled. Hail Melnik.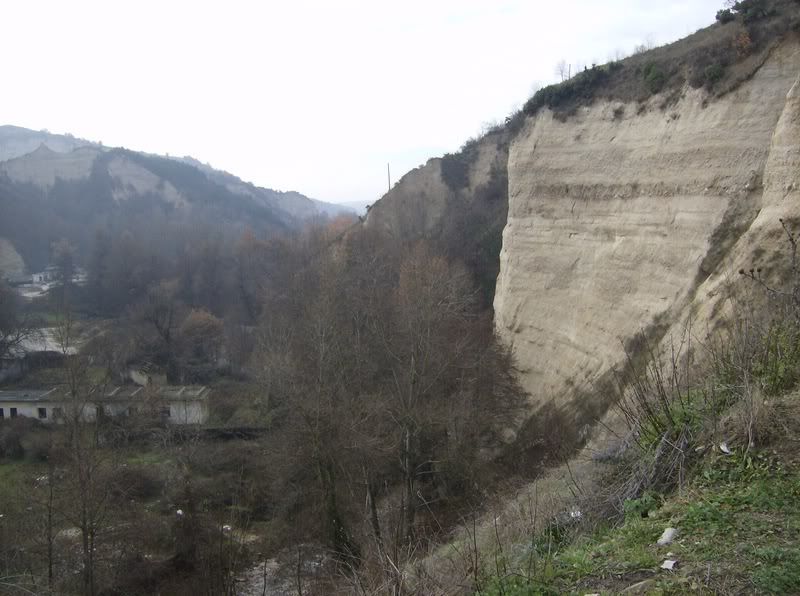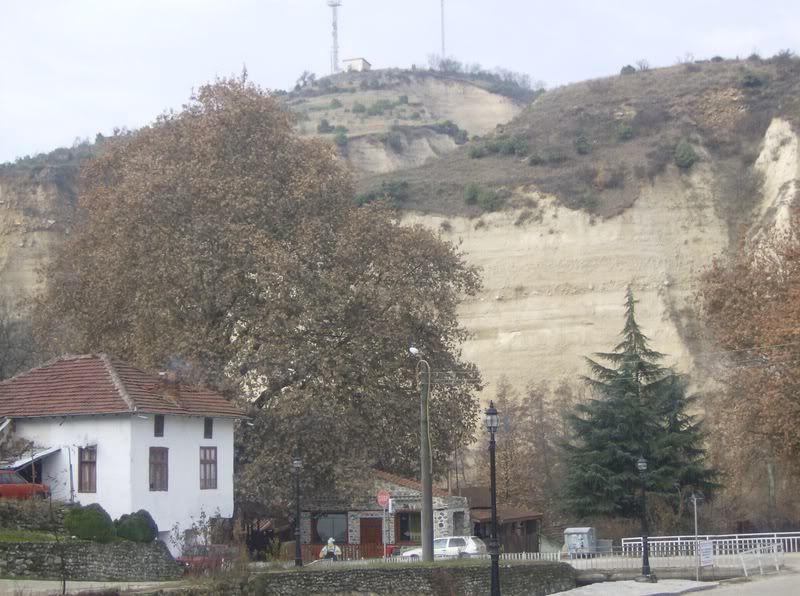 Old Byzantine Cathedral, wrecked.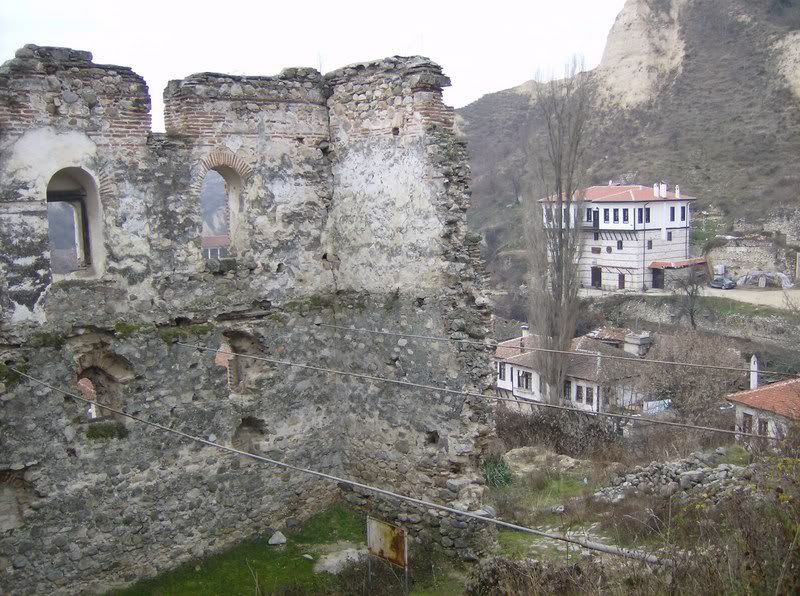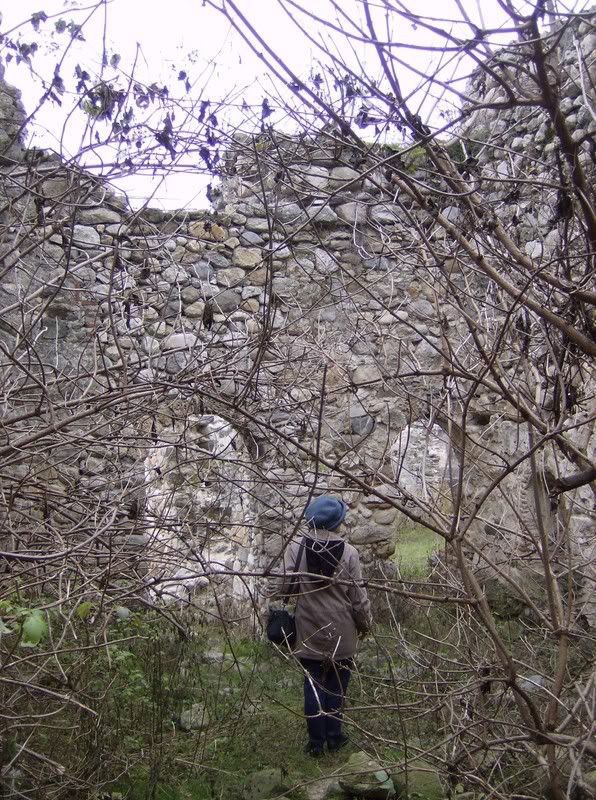 I found the door to the old crypt, but it was kind of borded up, and sadly small. There were no markings of anykind - Louise theorized it may have been a bomb shelter or whatnot. Too many years of too many Melnik teens stealing Mom's rakiya and getting crunk underground.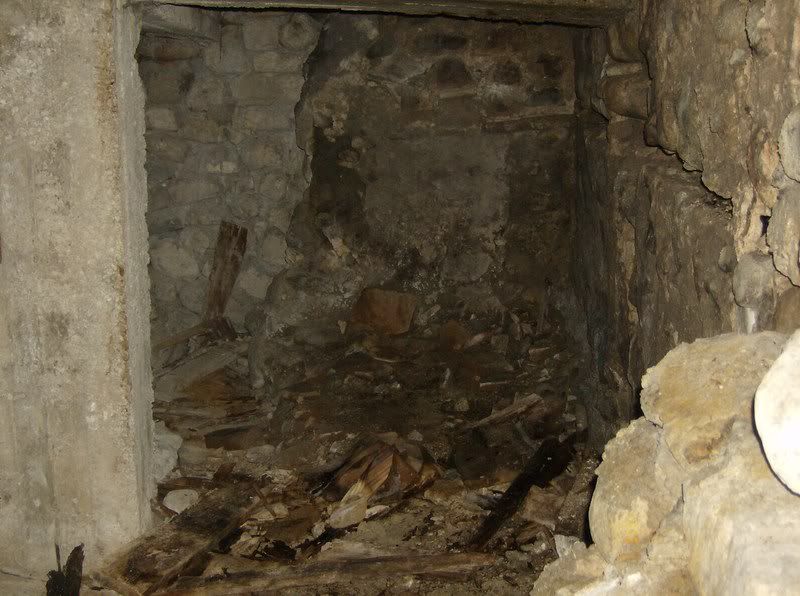 A short ways from Melnik was the Rozhen monastery, in these hills. Mike is clearly not impressed.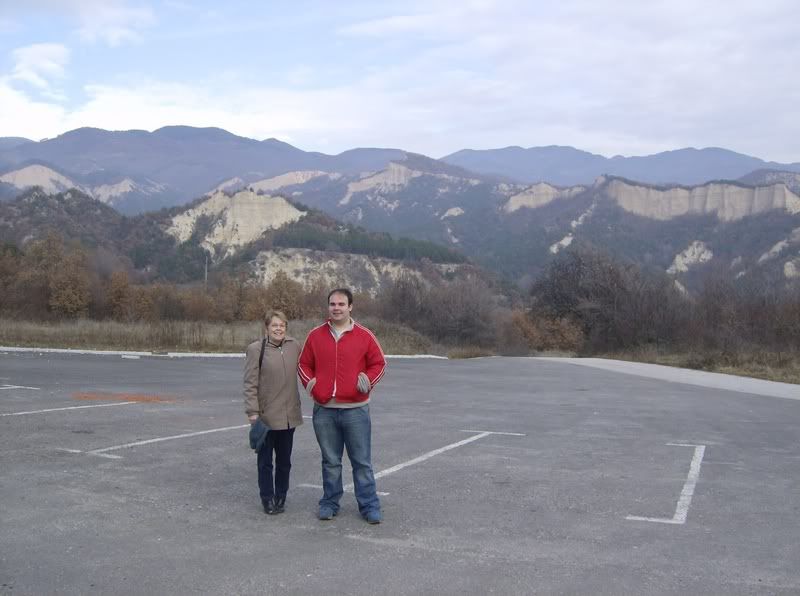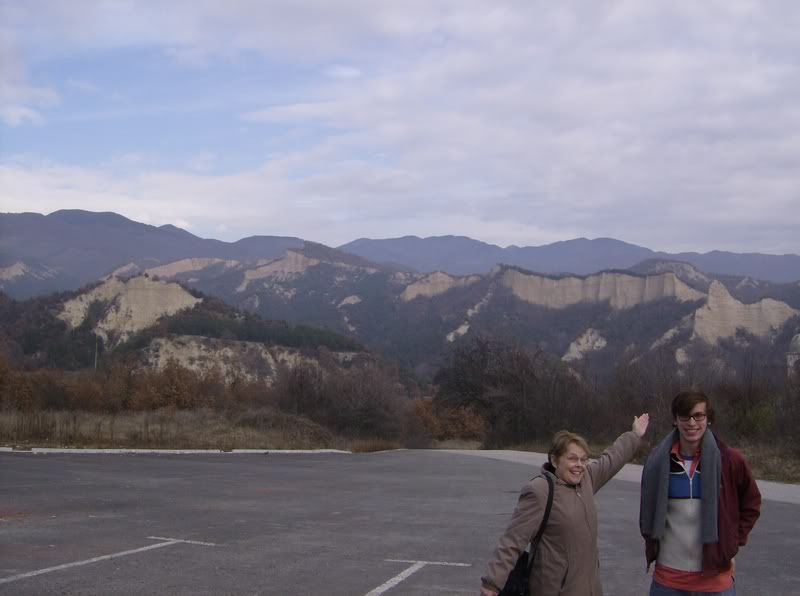 Monastery.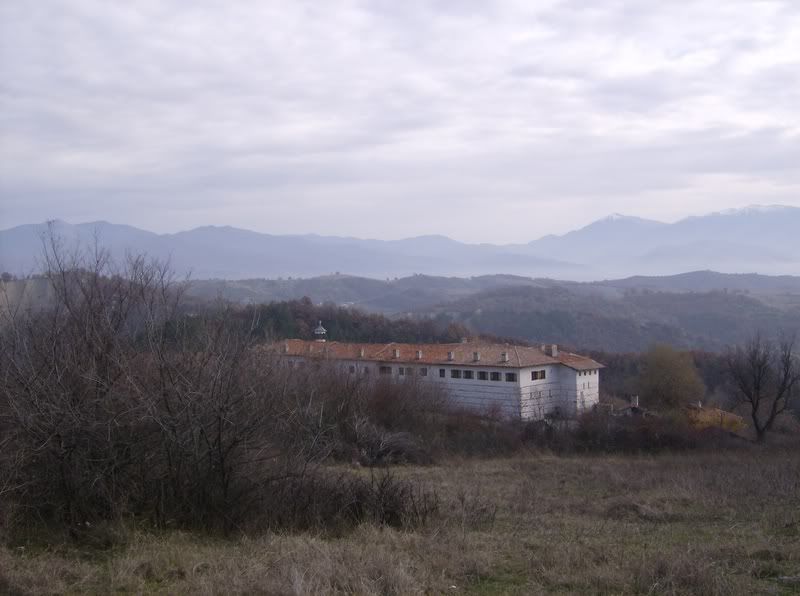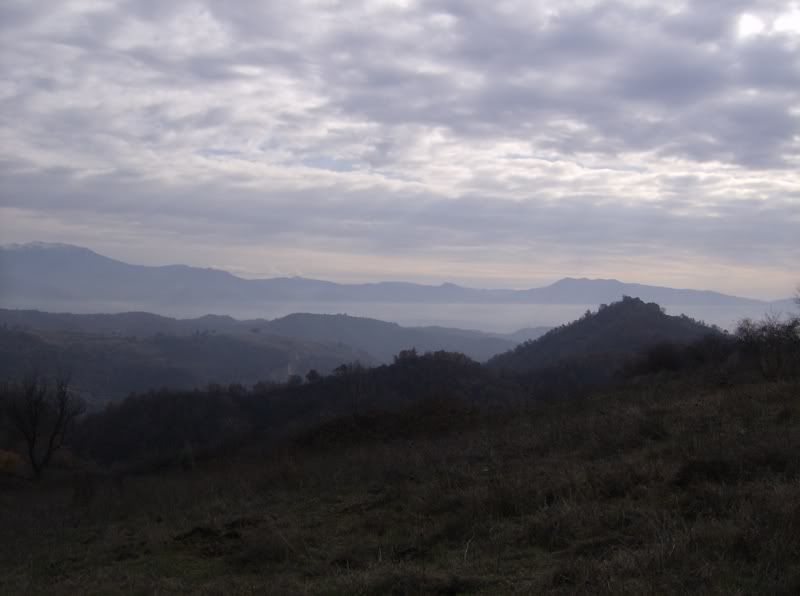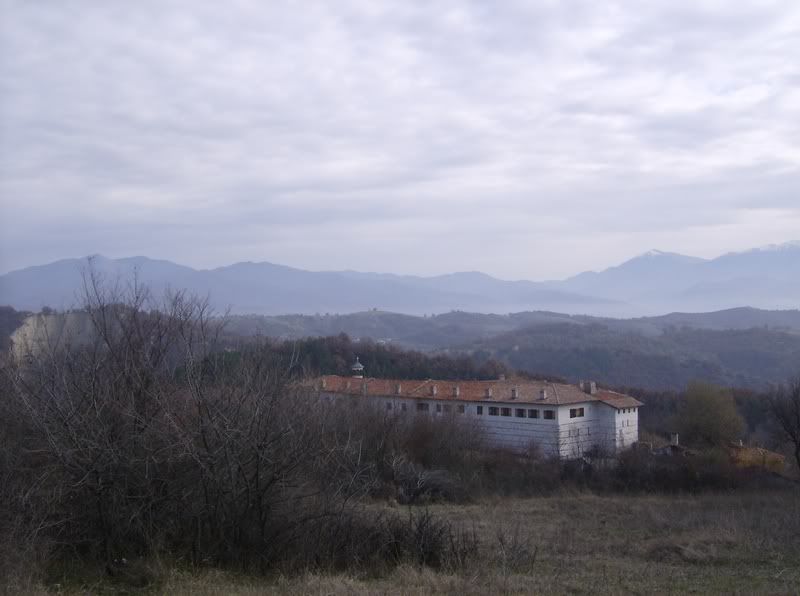 More wild horses. This one greeted us by breaking the front gate open in a vain attempt to wipe his horse-ass. It's how they say hello in these parts, I guess. Guard horses, protecting the Nike-and-Nokia clad monks from the vain, materialistic outside world. Ante up, Mister Ed.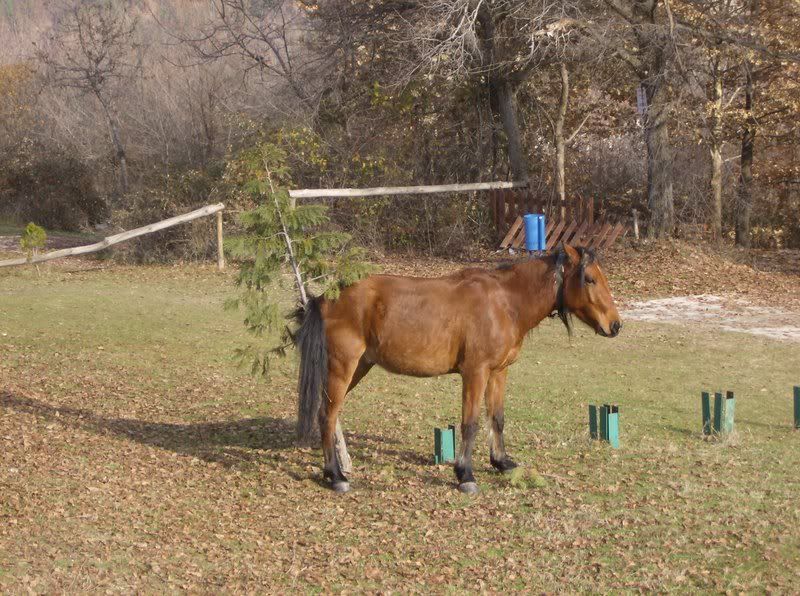 HEY LOOK ANTOHER ABANDONEDGF CHURCHS. These shits popping up like Starbucks in this motherfucker. Such is Bulgaria. I guess no one wants to go to church anymore. HEY LOOK A PRETTY PICTURES.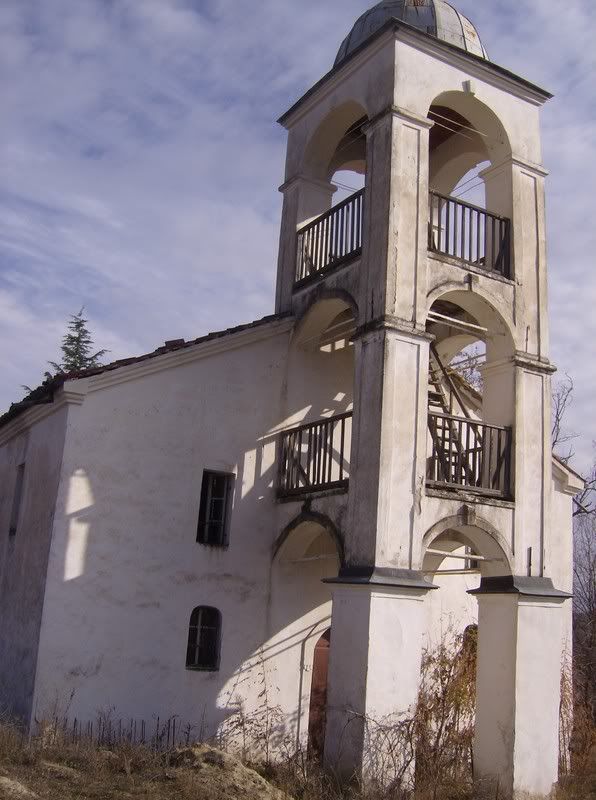 We haven't spent much time on Bulgarian food, but stuff est tres degout. Fresh veggies, grilled meats, eggplants, and wine, wine, wine (better than Moldovas so far. MOLDOVA NEEDS TO REPRESENT). Anyhow, pictured below is arguably the best meal we had on the trip. Grilled sausage, an eggplant and tomato salad, a pepper and cucumber and cheese salad, fried cheese, stuffed peppers, chicken soup, fig nut and honey ice cream, honeyed figs, and the best wine I had in Bulgaria (made, you guessed it, right in the fucking tavern). I should look happier.




One last jaunt in Melnik, to the Shestaka winery. Shestaka means "sixer", because the owner has six fingers, much like his ancestors, who were also winemakers. Five generations in this cave. His name is Mitko and he's charming.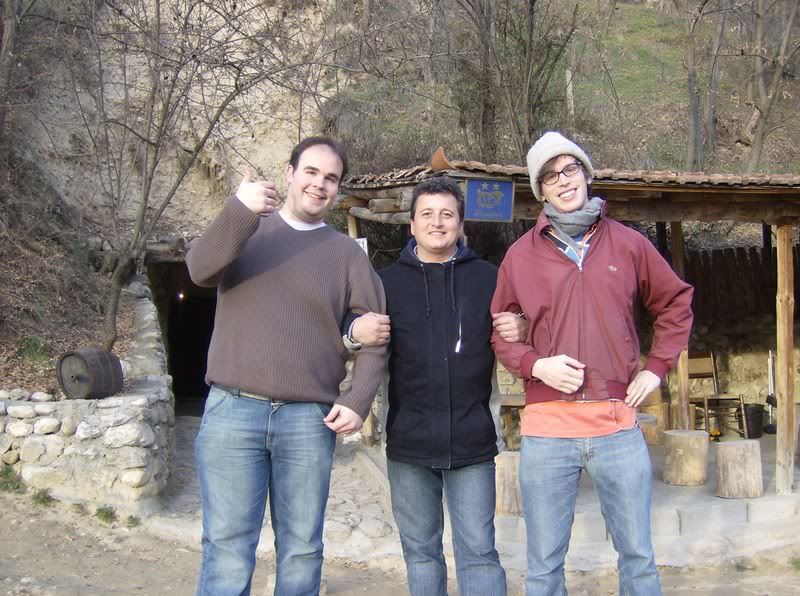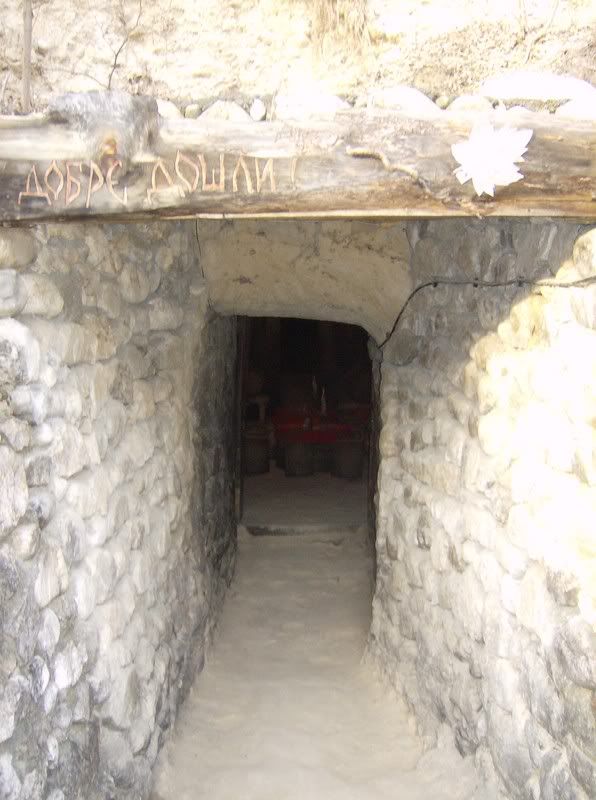 A few final pics of Melnik, before we jetted for good. Louise is making her jazz pose. U GO GURRRLLLL.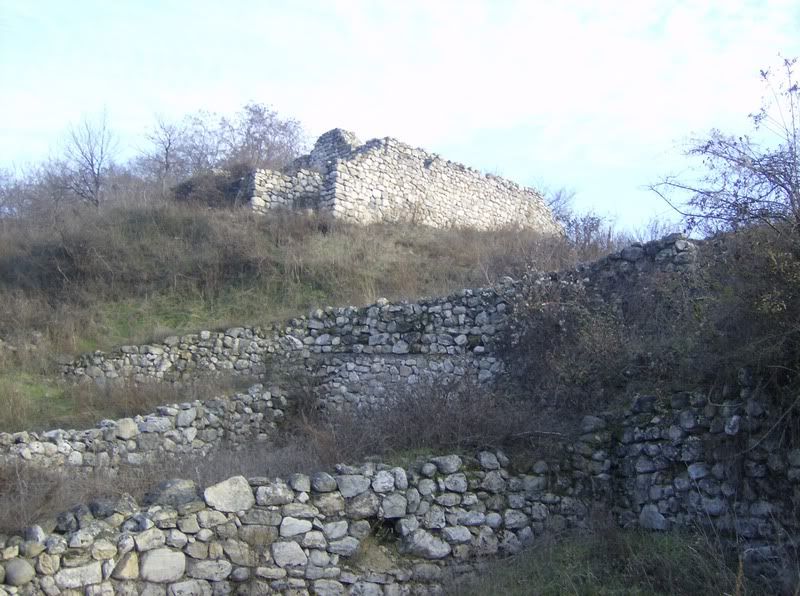 One final jaunt, back to Sofia, with an overnight in Lake Iskar. Not in the lake, just on it, in a fleabaggish joint with a spacious room. The downstairs cafe looked like it was from the set of Pulp Fiction, and the three managers pulled a three stooges routine while trying to scam us, but LOUISE managed to make them stand the fuck down. They told us 50 lev for the night, and then tried to get 60, and then Louise offered her .357, and they called it straight. Steady thugging, Aunt Louise. It's hard out here for a pimp.

Lake Iskar, at night. The hotel had a fleabaggish appeal on the exterior - trailers ruled by stray dogs, piles of dead appliances, and a decrepit waterslide.

Night.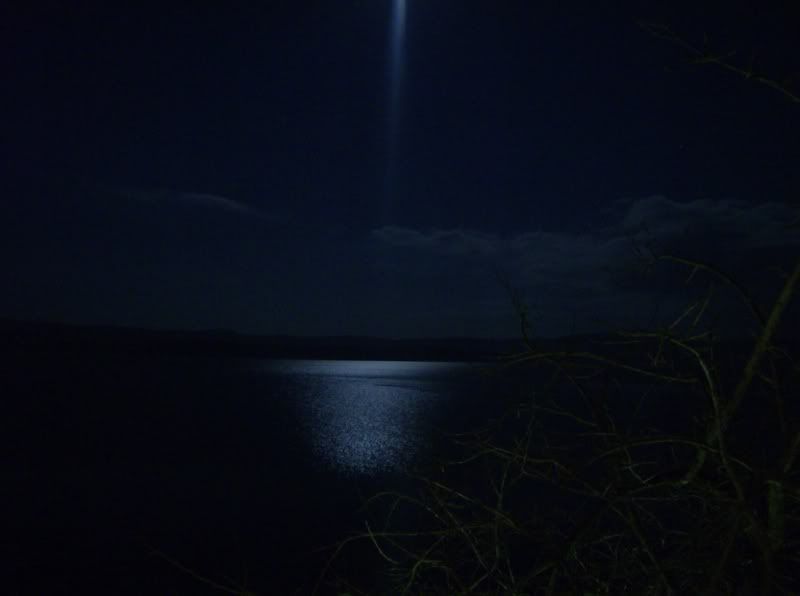 Day.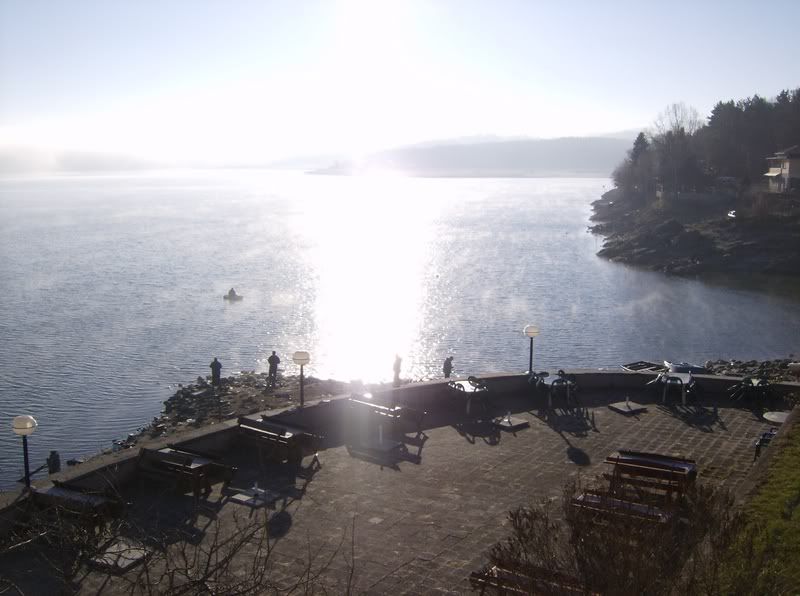 Back to Sofia, where Louise liberally used her road rage to flip over cars in her way. Too bad the map wasn't better, or we wouldn't have gotten so lost. But we found the airport, she made her plane, and we lost an awesome travel partner.

F'reals. We've been on this trip-shit for about 2 and a half months, and it's easy to wake up in strange cities to which we will probably never return, say "I'm fucking wiped," and then sleep til two in the PM. It's an urge I fight, literally, every day. Lethargy sinks in, and sometimes we find ourselves in our hosts apartment in a city like Prague, wholly enjoying ourselves by watching "Friends" for two hours - fucking FRIENDS! - instead of exploring the streets, meeting the locals, scouting the hotspots. We needed a little bit of fresh energy, and Louise's urge to push us forward, her smile, and her flat-out awesomeness made us realize, again, that we're kind of doing something awesome we will never have the opportunity to do again, and the US will be inexorably boring upon return, and we're two blissfully lucky dudes. Bulgaria ruled, arguably our favorite country so far (at least mine), and it wouldn't have anything near this place in our senitments if we travelled with someone else. We miss ya gal. Peace.