BELGRADE CAN YOU HEAR ME?!?!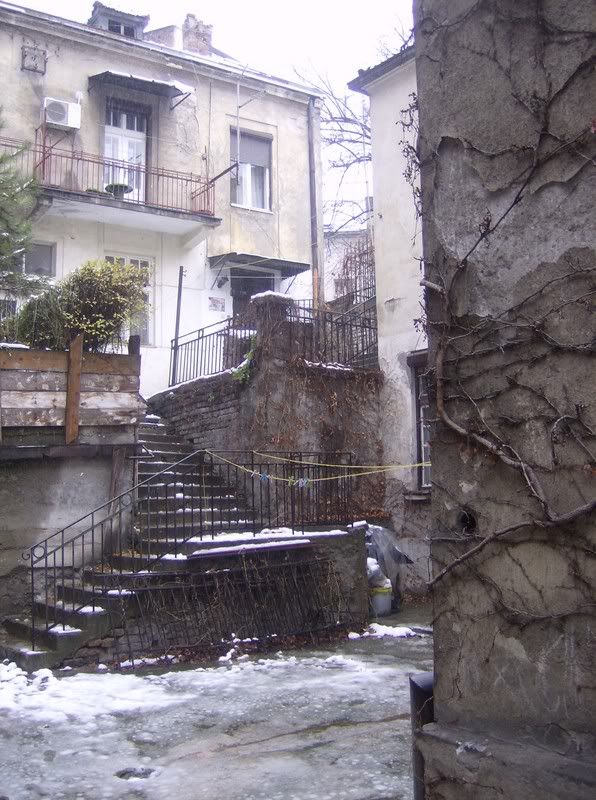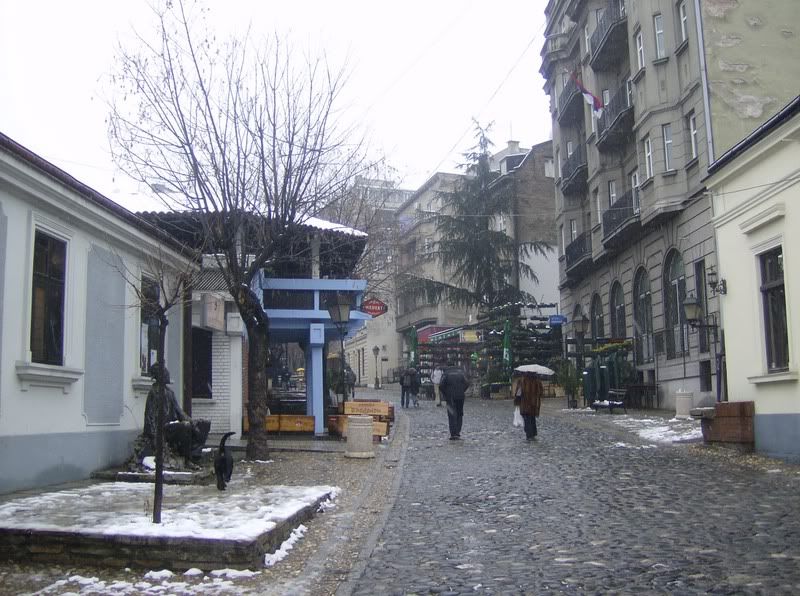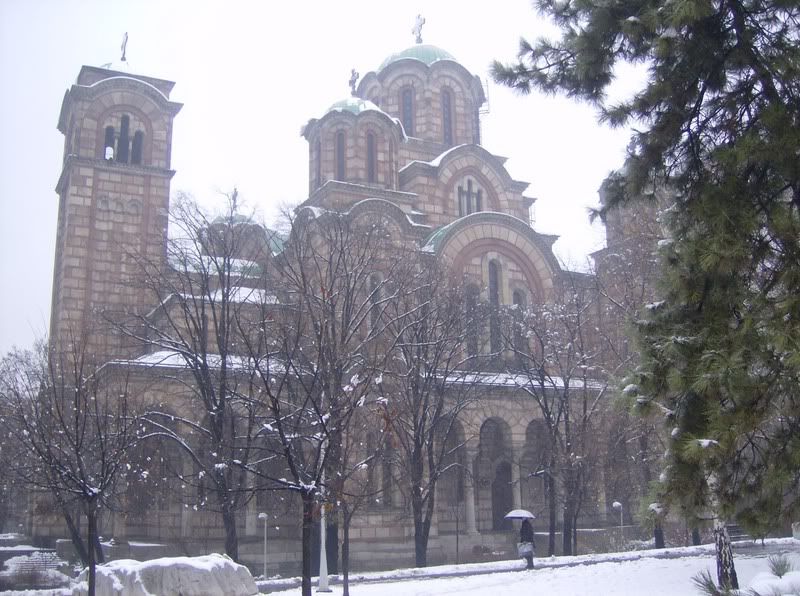 Central Square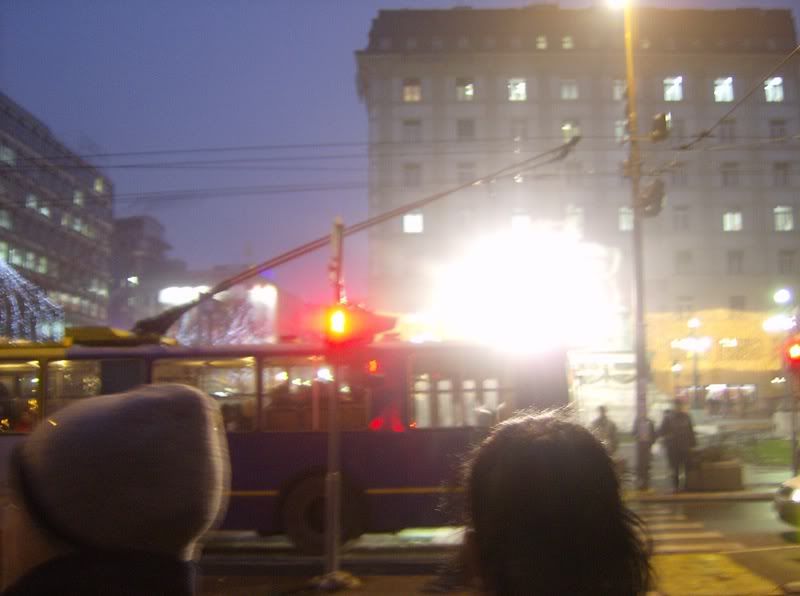 Main Pedestrian Street, I forget the name.




This town is all bustles. Reminds of NYC, weirdly enough. And it fucking rules.

How about that whole "the best places are the ones we're told not to go to" leitmotif that we've been riding on for a while. It's a strategy to go by, kids. Burn your Lonely Planet guides, and beam up into Belgrade.

Surf into space on a BUREK.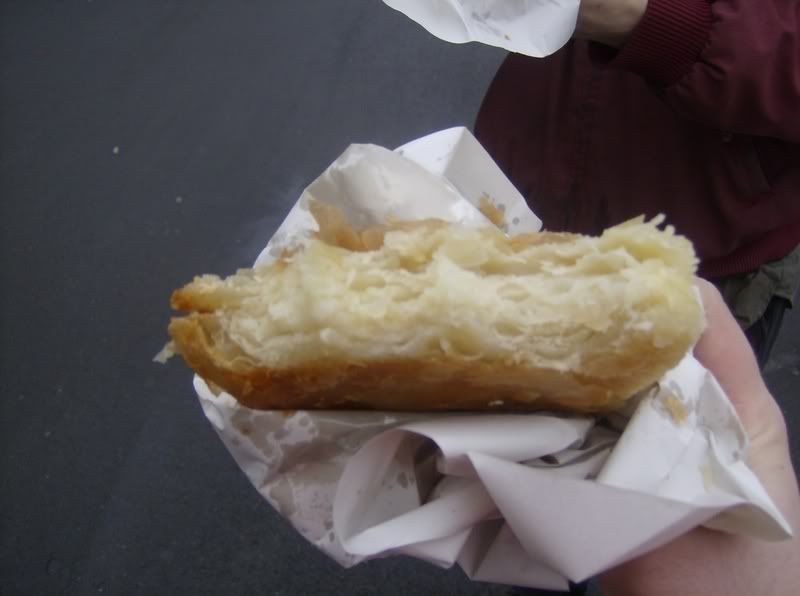 I can't understand how anyone in the Balkans can be angry enough to go to war when they possess such orgasmic breakfast pastries. That's a motherfucking BUREK - stacked-layers of filo dough, feta-ish sheep cheese, and about 2000 megatons of grease. I eat about one of these a day. This is why I'm not losing weight like most travellers. It helps that they're only about a buck everywhere in the Balkans.

Uhuhuhuh, come to Butthead.




Bureks are the first matter of business, only because I've eaten so many that my epidermus and dermus are metamorphing into filo dough, and I am now stuffed with sheep's cheese instead of organs.

The second matter of importance, the Serbians. We present to you the Serbian ambassadors:




Jole, Jole, and NONI. Not pictured is his amazing girlfriend Ivana - the two of them were our hosts, and they were delightful. I want to wrap them up and show them off in America, but too bad Mike and I are the lucky ones, and were shown off in Belgrade by a duo so awesome.

OK, so to be honest, we were a little intimidated. We had a brief run in with the city earlier, during our train excursion from Munich to Varna, and the city seemed a little, well, fucked up. I was getting bras shaken in my face by old ladies in the market, we were tripping over potholes, and were lost as balls (this city is confusing). Plus, there was that whole "should we tell people we're Americans?" tension lingering around. Because, you know, Americans kinda bombed Belgrade 7 years ago, much as how Michael is storming the local military museum in this photo.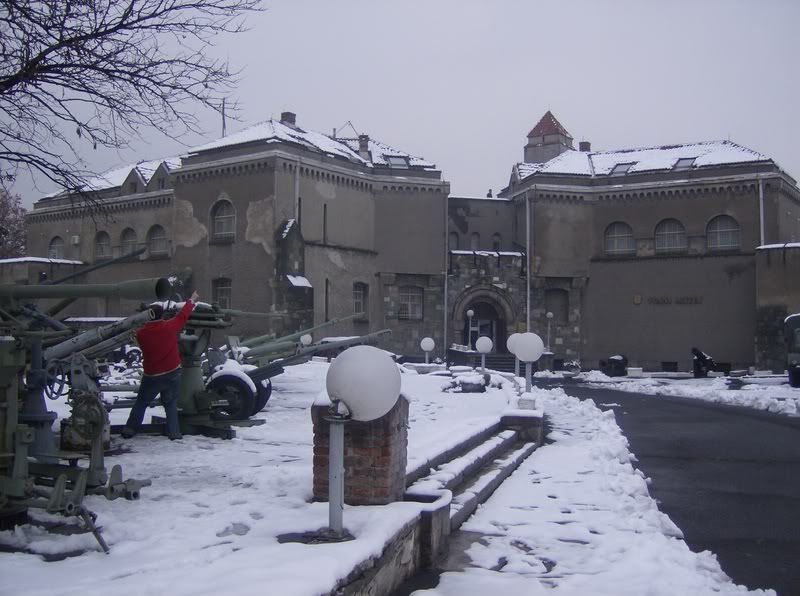 But American hostility is not the case, nor is hostility towards any westerner in general. Serbia will welcome any visitors, and it should have more, because, well, Belgrade is the shit. And as long as you're not running around in an American military uniform pretending to be an airplane and making bomb noises, there isn't shit people will care about America, unless they're dicks. But if you're making jokes about the bombing, you fully qualify for being a dick.

And, so we were told, the Belgrade bombing was the "best party ever" (but don't tell any Belgrader this immediately, let them tell you first). After the initial first few days, the locals realized that only government and media locations were being bombed. So residential blocks were more or less safe. And people didn't have work for the duration of the bombing, which lasted a few weeks. So it was a party in the park, hanging out with your buddies drinking beer and watching the stealth bombers go by, or going back to the home village and hanging out in the square with all the other Belgrade escapees. Sounds like a decent vacation, weirdly enough. Although, in all honesty, people had to have been scared, although nobody really wanted to talk about that--your fucking city is getting BOMBED. But then again, what else are you going to do with your time while your city is getting pummeled by NATO. Might as well go get drunk and party.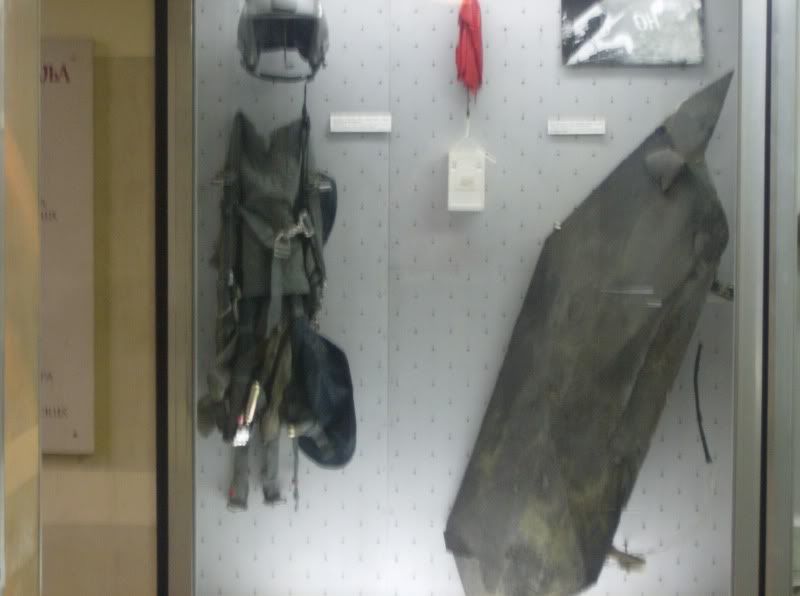 I wonder if Owen Wilson would fit into that suit. Yep, that's his flight suit, and yep, that's part of that infamous stealth bomber that was downed during the bombings, now displayed at the Military History Museum. Not displayed is the pilot appearing on Oprah after eating bugs for a month or whatever.

From the Kalemegdan Citadel, at the heart of Belgrade. The fortess was set up to be immune to raids, right at the top of the hill where the Sava and Danube Rivers met. It's supposed to be impenetrable. That failed, about 40 times. Suck Mike's cannonballs.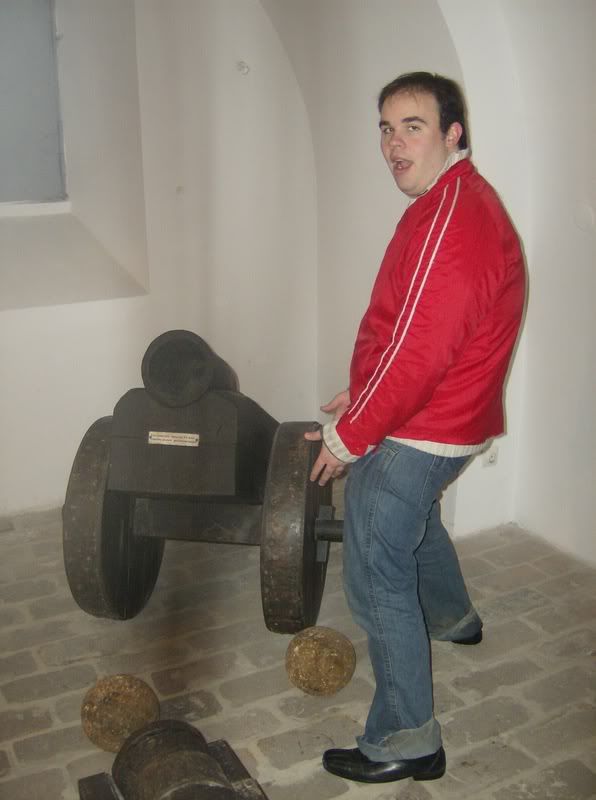 Oh well, it's pretty in the snow.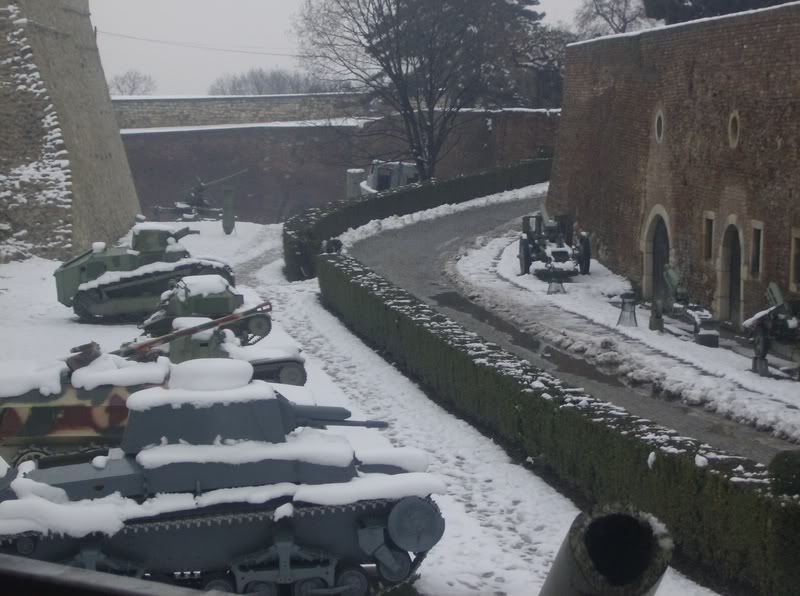 DANUBE.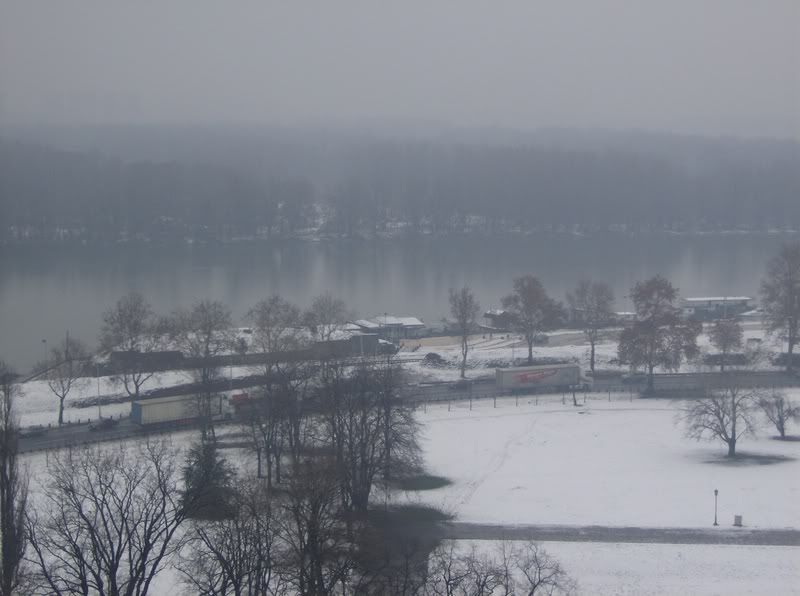 Mike scratches his ass. The world notices.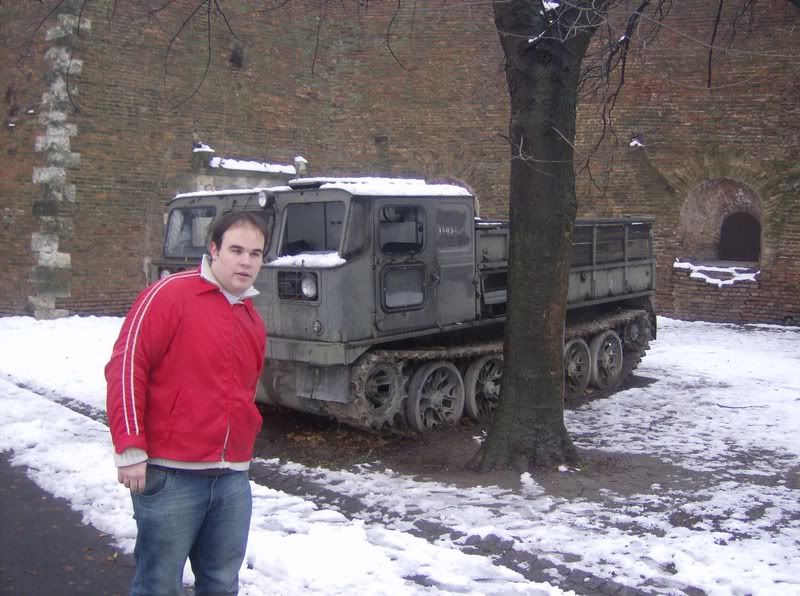 Speaking of butts,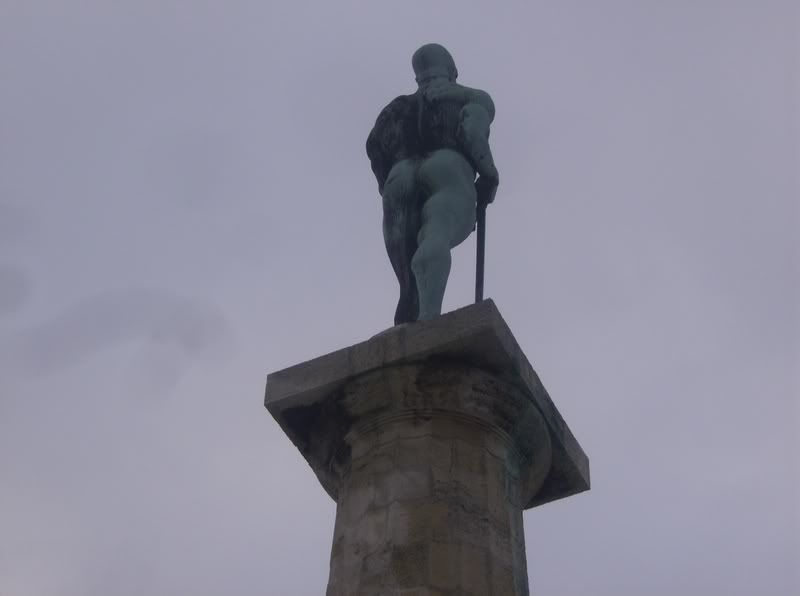 We have statue butt. I'm not sure what this statue symbolizes, but Mike seems to have an idea.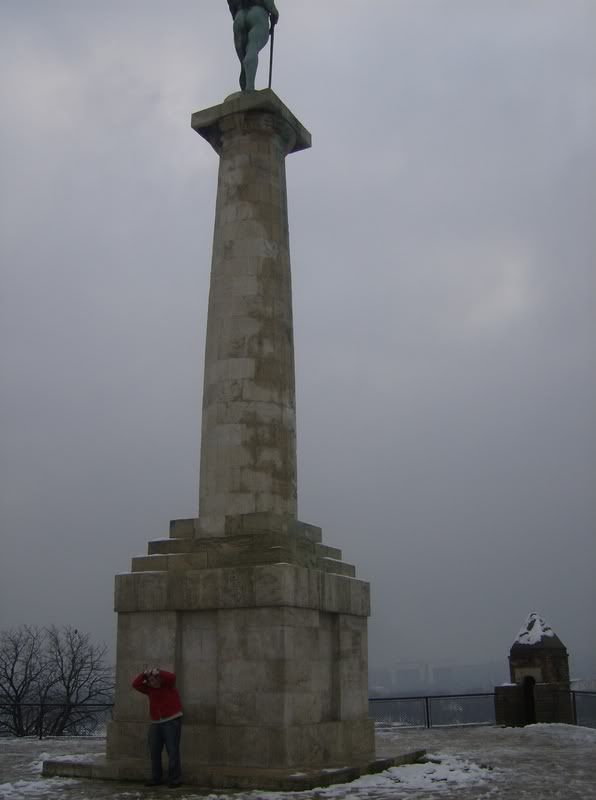 Butts make poopies! Give me my Pulitzer.

This is a well.




It is old.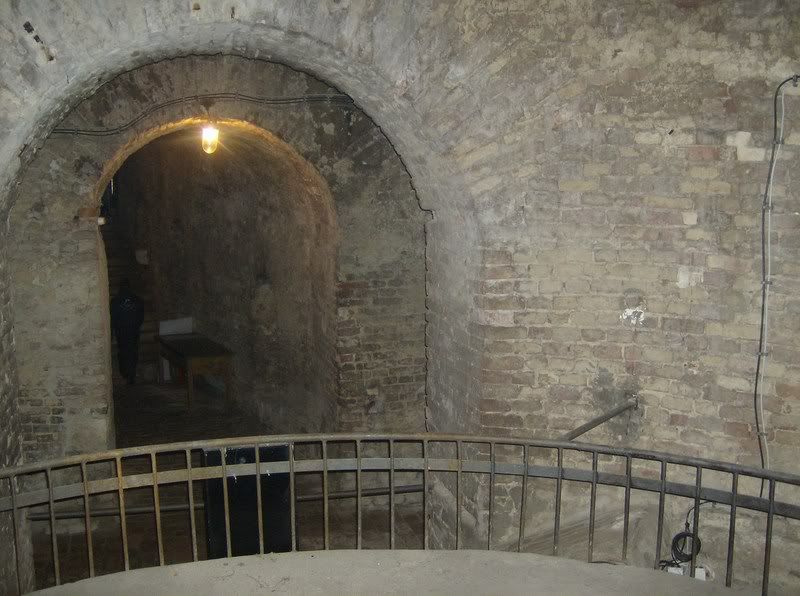 Not much you can really say about a well. But there's a lot to say about this, our host Ivana's Serbian folk quintet. Ivana's the one with the white sweater and black hair. We had a little shindig at her place - actually, she had the shindig. Serb folk galore! The guy with the mandolin is Dillon, an amicably and fun American crustie from Washington traveling on a budget that makes us seem like motherfucking Bill Gates and Warren Buffet. Then again, he admits to scavenging food from dumpsters. We have limits. Yes, this is coming from the guy who said "butts make poopies" about 2 paragraphs ago, but still, limits dude.

Folk!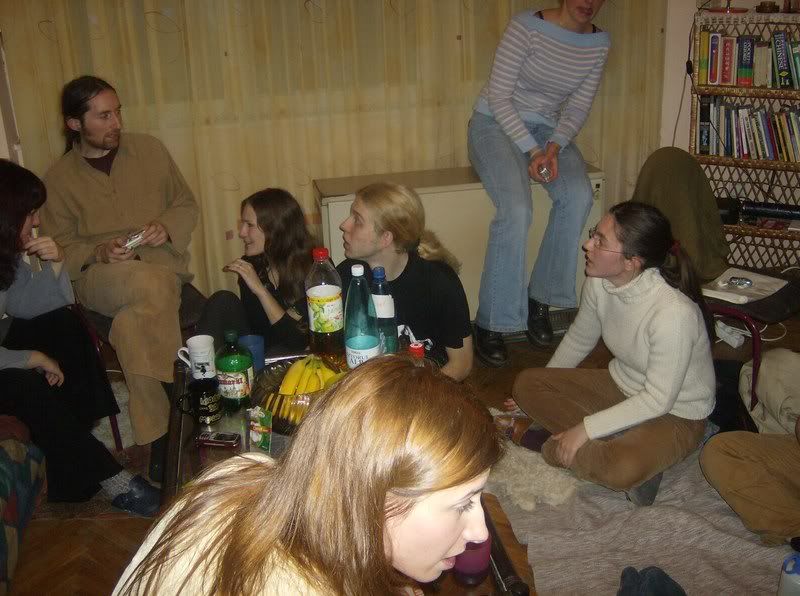 And, as a special treat to Lukashenko readers, we have videos (here and here) of Ivana's quintet's singing. All songs are collected from the source, rural Serbia and Serbian villages in Bosnia and Croatia.

Speaking of music, SUPPORT YR LOCAL SCENE.




What scene? Why, the local air guitar scene. Our hosts entered us into the first ever air guitar competition in Serbia. I was so thrilled by this I had to shove my hand down my throat to prevent my guts from prolapsing.




Mike's getting PREPPED with Noni.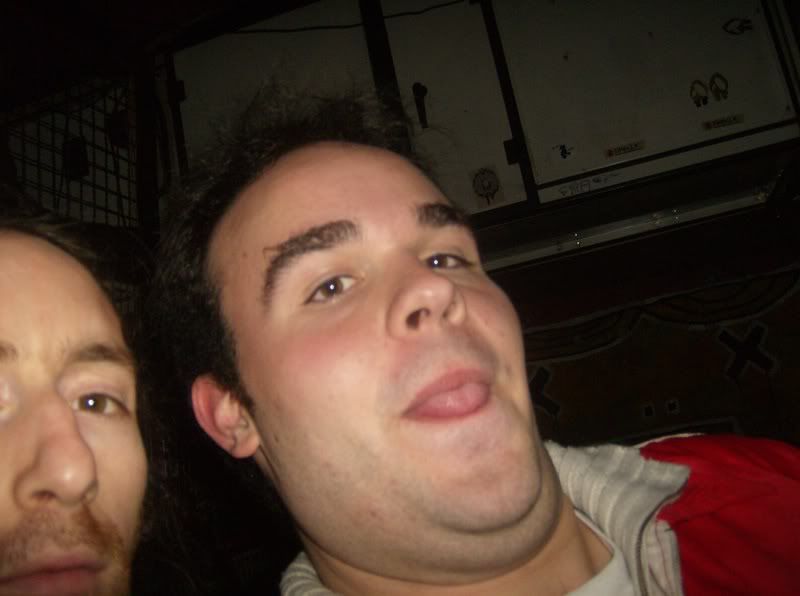 Us performing. Trust me, leave your contrast low!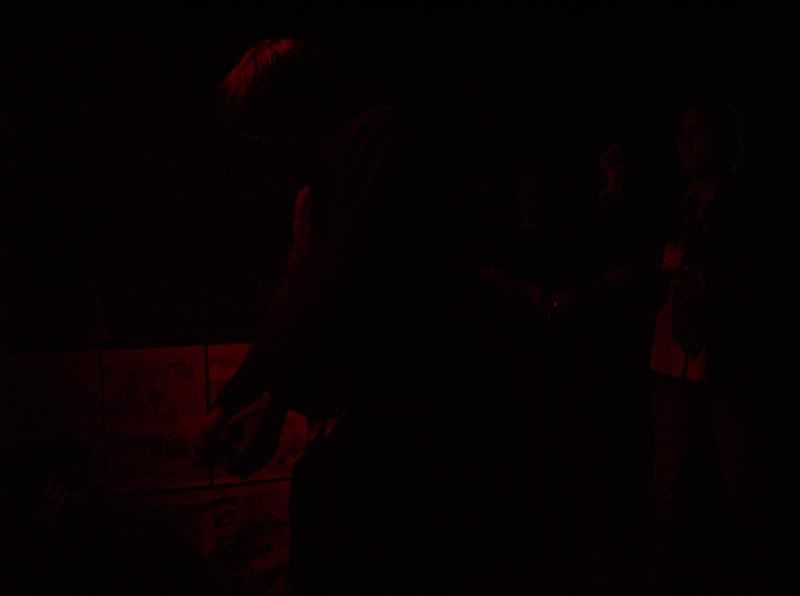 OH YOU HAD TO TURN IT UP. Apparently Mike thought it was a Zombie Impersonation contest, and not a fucking air guitar show. Mike also LOVES Genesis and walks down the streets saying "fart fart drugs fart", so his opinion can't count for that much. Yeah I went there.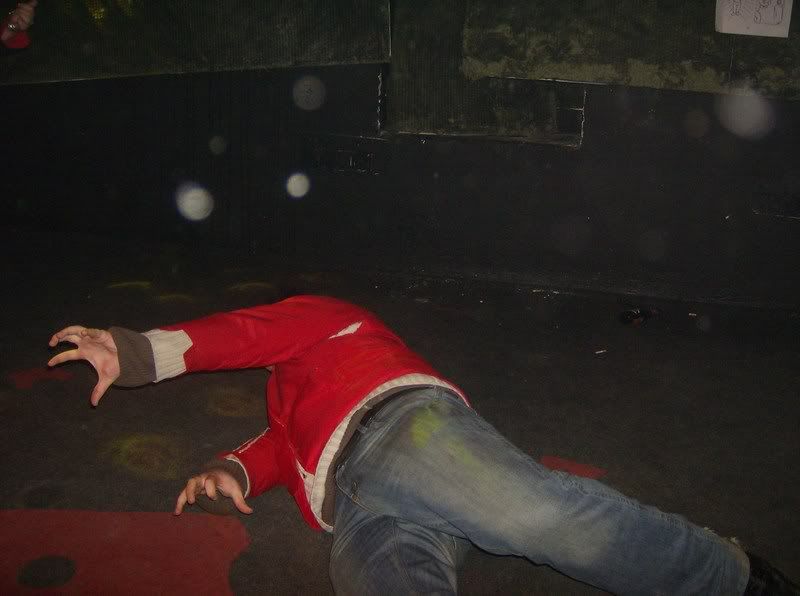 Air guitar trio. Ivana's on Bass. Mike's on vocals, but most of what he did was prance around and lick my face.




And if the Serbian folk was a treat, then this is the punishment. Yes, we took videos. I'm sorry, Mom and Dad. The song is "Killing in the Name" by Rage Against the Machine, which has a lot of weight amongst the young Serbs, which isn't surprising considering that whole living under a dictator for a decade thing an all.

But that's where the scariness of Serbia stops - in it's history. Concerning today, the Serbians we met were waiting to show the world the best it has to offer (including the FOOD, and the best hot chocolate in the world, and a top-runner in the prettiest girls campaign, and a NIKOLA TESLA MUSEUM), and stupidly we only visited Belgrade given time constraints. The city was fucking tops though. A great place to chill out during summer (there are cafe barges all over the rivers) and just a fucking vibe like nothing else. I love this town. I love this town. I love this town. I'm coming back. Word.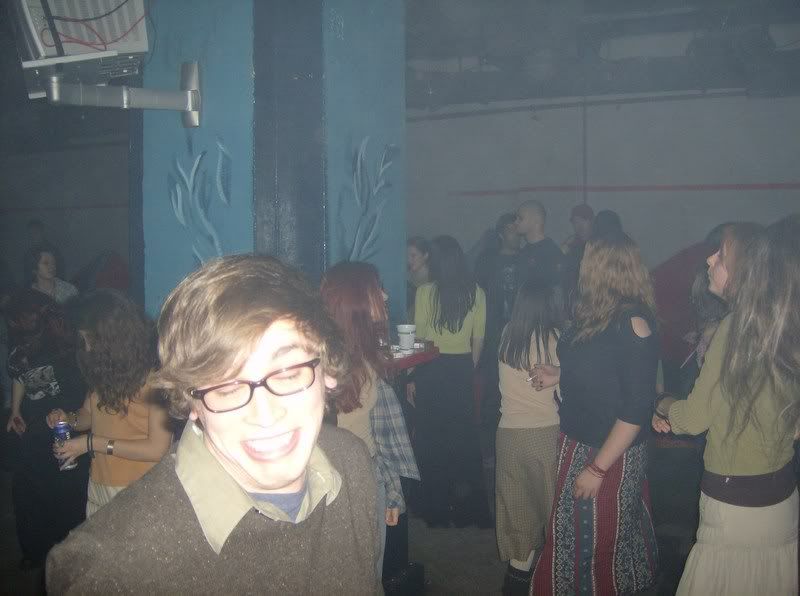 Gypsy band, street scene.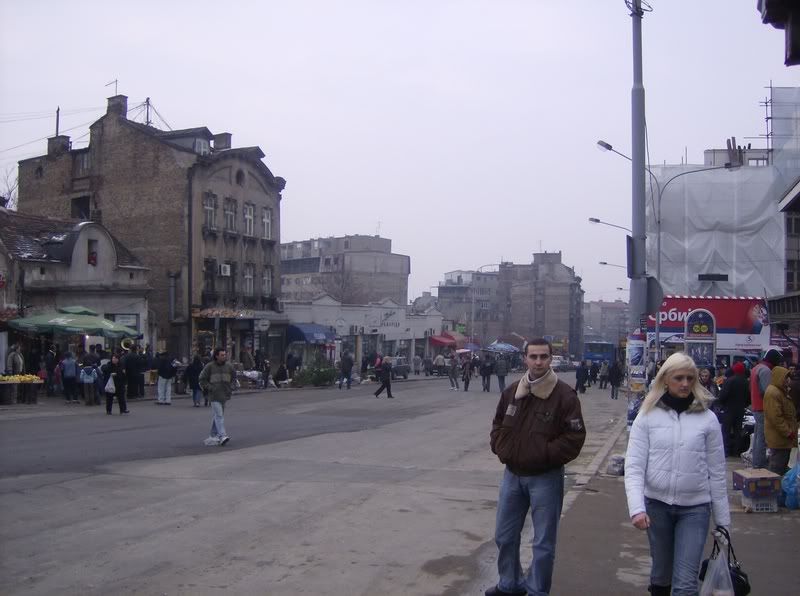 We went to the suburb of Zemun, on the Sava river. All Hapsburg pretty and cakey. Some decrepit: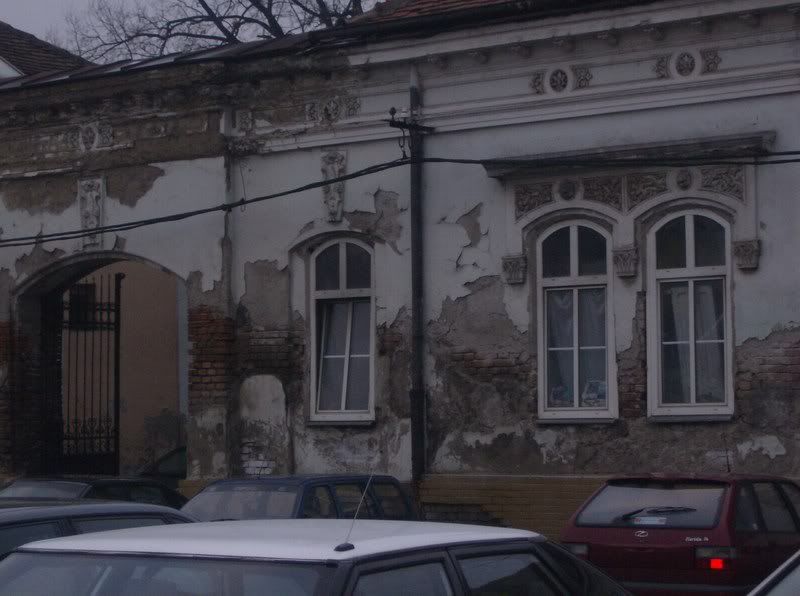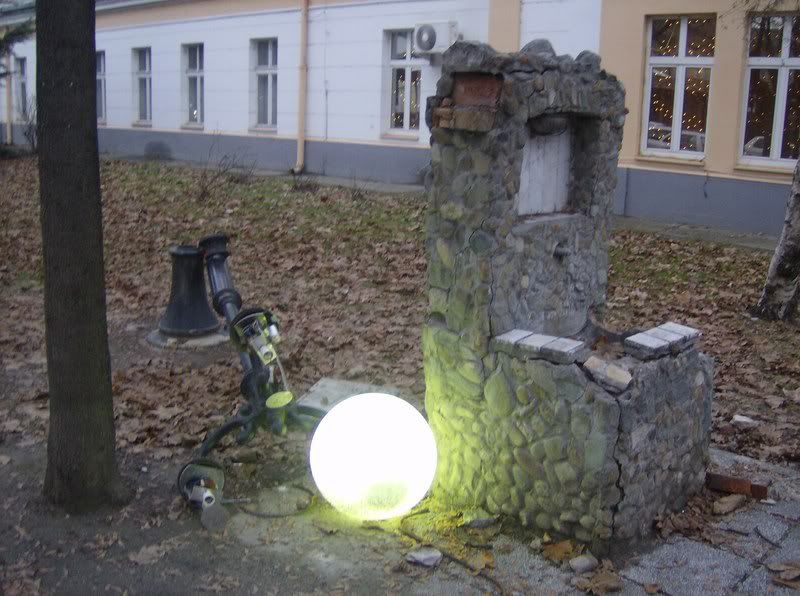 Some delicious. These aren't good photos, but waterside towns on cloudy December days don't usually make for stunning pictures. Trust me, Zemun's worth it: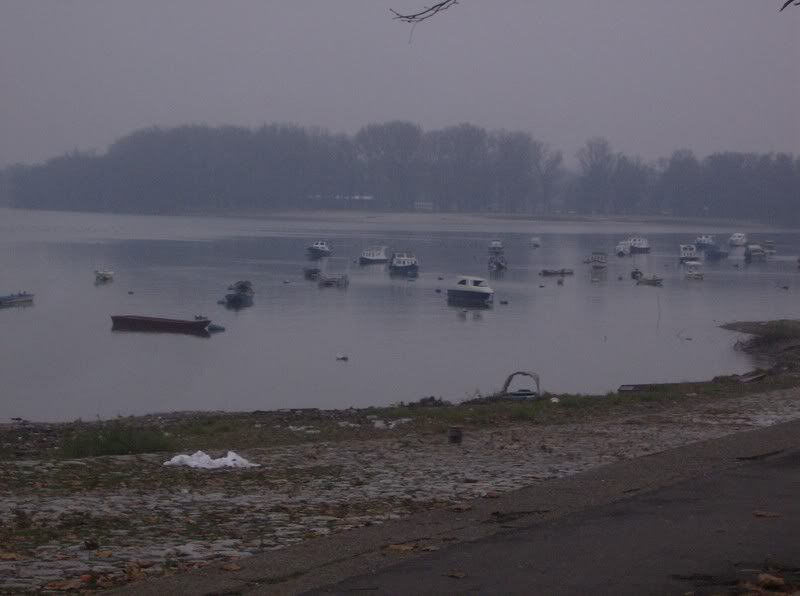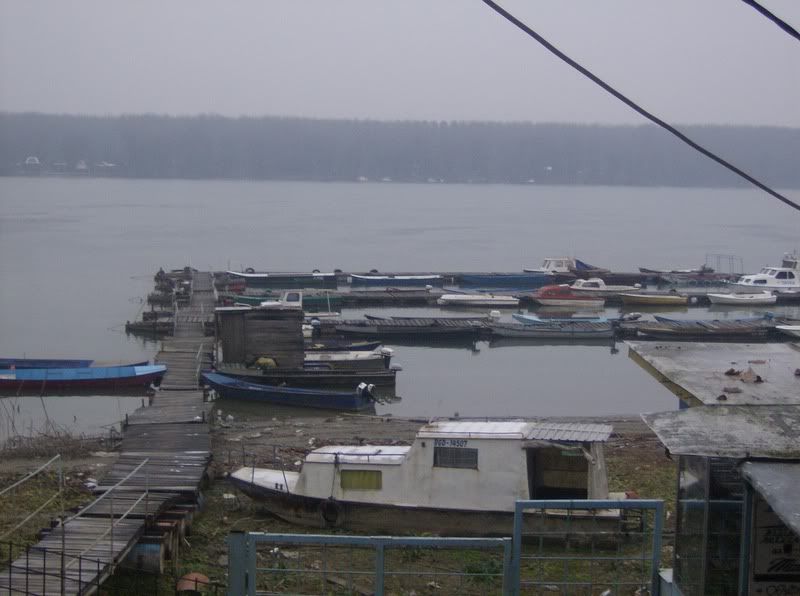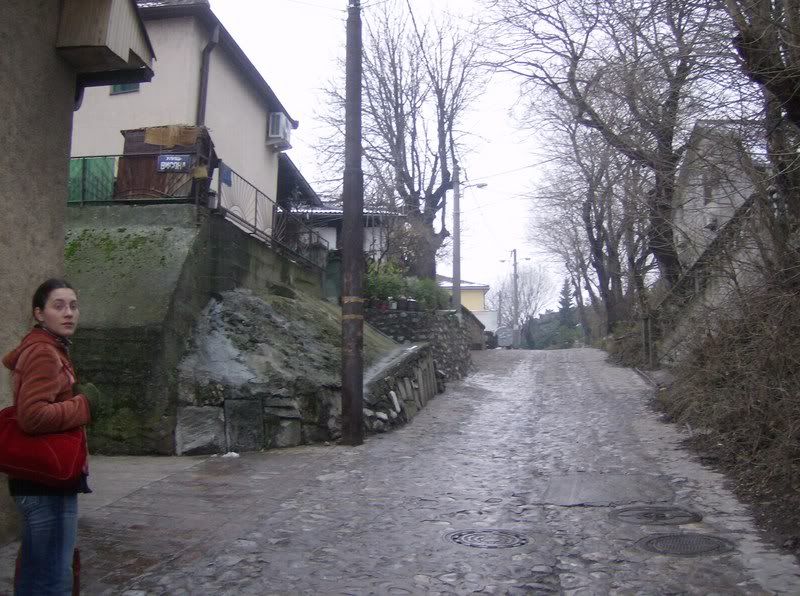 Zemun tower. Notice the graffiti.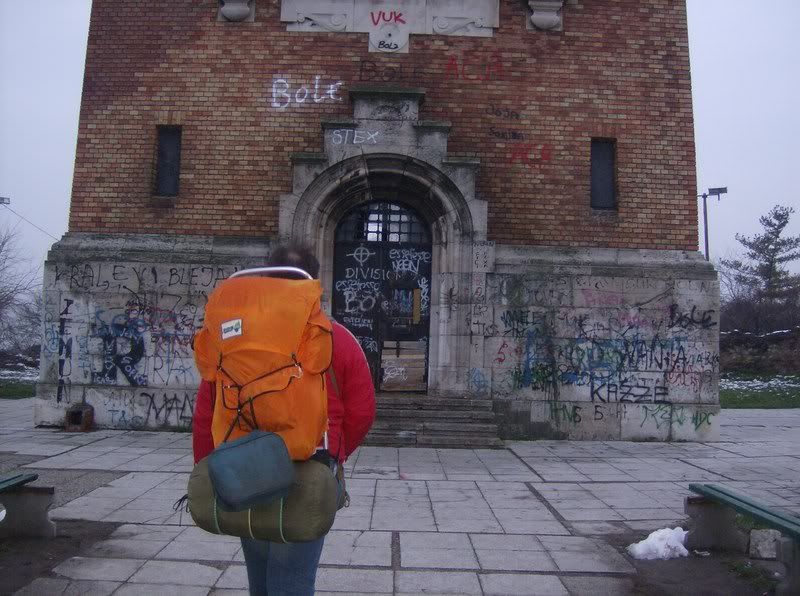 Our hosts, Ivana and Noni, were perturbed by the tower. It used to be a nice cafe and gallery space, and then went to shit. Perturbed isn't even the right word - they seemed revolted. Another Serbian guy, who had not been to Zemun in twenty years, was equally stunned. Apparently some things went to shit. I'd be pissed to. Serbia, just give yourself a few years. We'll spread the word.

We were briefly cheered up by this mail slot on a house during our descent.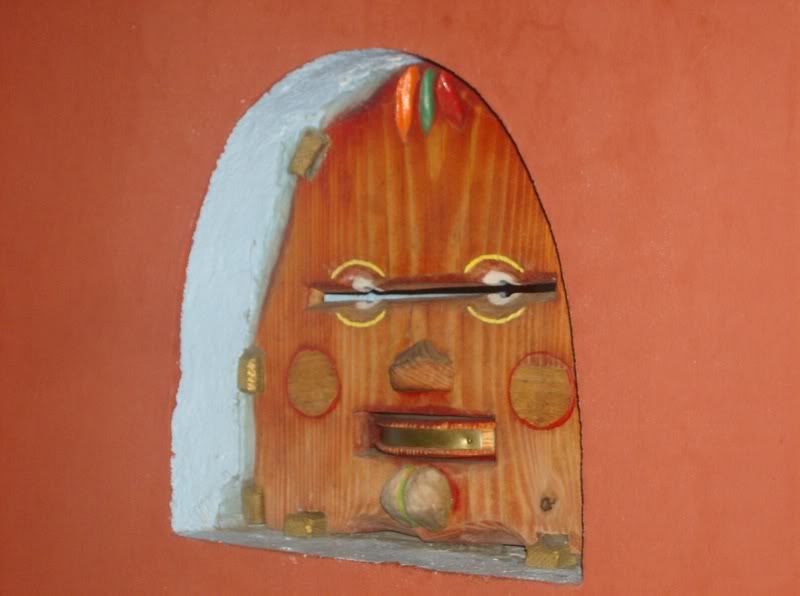 We had our packs on during our Zemun excursion, because we planned to go to Ivana's hometown (Indzija?) afterwards, but those plans collapsed and we headed back to town. Belgrade stonehenge: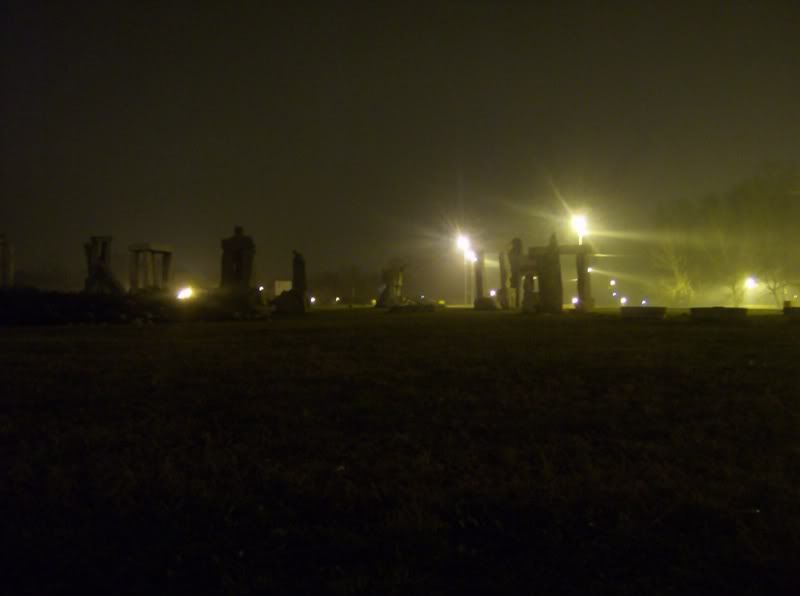 Check it, costume ball. Belgrade parties like THIS. Riverside bar, BYOB, no cover. I am baffled as to how this bar gets away with this, but whatever.

Mike was a robot:




That's "robot" in cyrillic. I donned the robot hat and proceeded to set my circuits to "groove". Props to Gene Mahoney on the "electric wheelchair" dance. I am only an imitator.

I was lazy and just put my underwear on my head and strangely resembled some mujahadeen.




Mike was tired of sweating in a cardboard box, so his next costume was "American Citizen", dancing while looking as such: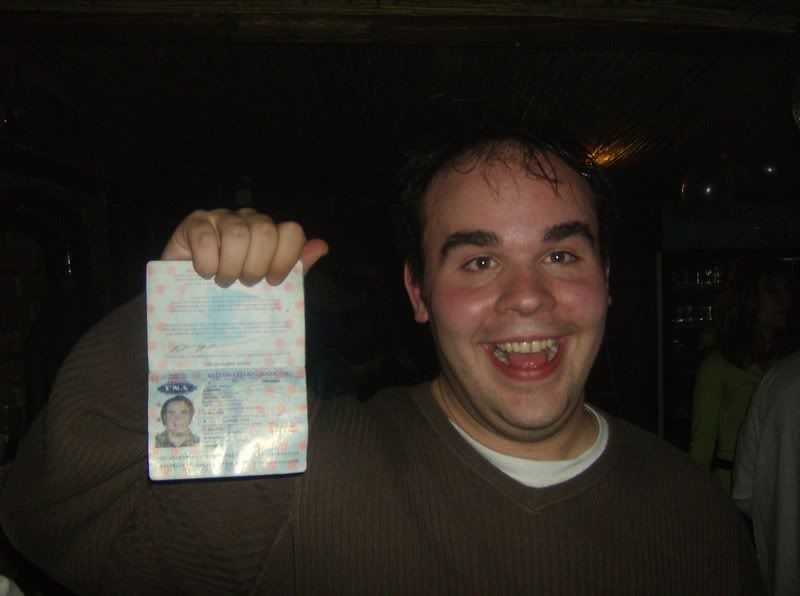 Yes. Sadly, Mike dominion of the camera didn't take pictures of our hosts' costumes, because he is a smelly faggot.

Hosts? Did I say hosts?




Noni and Ivana - champions of the Balkans. These guys are champs, and I would also give Noni permission to date my future daughters but, alas, he is taken. Sorry embryo bros. These guys are champions. These guys are champions. These guys are champions, and if everyone in Belgrade is even 1/10 as cool as them, then that city is in good fucking hands. And as far as I can tell, they are.

On a different note, I go back to America in ten days. It's been kind of real, and last night we kicked in the New Years naked in the Adriatic. Semi-pornographic pictures to come. It's been kind of real, kind of unreal, and consistently awesome, even while being scammed by Brasov taxis, threatened by Lithuanian thugs, and lost in windy Roman roads in Plovdiv with 40 pounds on my back looking for a place to sleep. I hope 2007 is 1/10th as good as the past 365, a large share of which was spent selling ice cream and ducking from health inspectors, wandering around the globe, and meeting someone who makes me hopeful, and it ended with fireworks, the sea, and in one of the prettiest places on this planet (Dubrovnik, Croatia). But I'm almost done with this Thunderdome shite, and then New Jersey, South Dakota, and something else magnificent. All I know is, these backpacks are heavy, I am tired, and I'm a little giddy about it all. Dad, you're making chili when I get back. That's an order.

Montenegro tomorrow.

Peace, SS