TRANSNISTRI-UGH!
Here is is folks, the entry you've been having wet dreams about for weeks. IS IT REAL? IS IT FAKE? DOES ANYONE WEST OF THE EU FRONTIER BORDER GIVE A SHIT?

YES! It's....TRANSNISTRIA! AKA PRIDNESTROVIE. SET YOUR TIME MACHINES TO 1982 AS WE TRAVEL BACK TO A TIME BEFORE MCDONALDS, A TIME BEFORE ANYONE IN AMERICA COULD PRONOUNCE PERESTROIKA, A TIME WHEN THE WOUNDED EAST BLED RED AND YELLOW, A TIME WHEN A HAMMER AND SICKLE WERE MORE THAN PROPS IN LOW BUDGET HORROR MOVIES, A TIME OF PARANOIA, A TIME OF FEAR, A TIME OF BREAD LINES, A TIME OF...COMMUNISM.




When we last heard from our heroes, they had safely arrived at their appointed temporal coordinates, after a scuffle with interdimensional wormhole goons:

GOON: SHTRAF! (A fine you must pay!)
OUR HEROES: NE GEVARYEM PA RUSSKI (We don't speak russkie!)
GOON: AMERICANYET! O VAS MINOGA DOLAROV! (American! You have many dollars!)
OUR HEROS: NYET DOLAROV! (No dollars!)

Luckily, our heroes were able to adjust their flux capacitors and ride their 1.21 gigawatts through a different boarder crossing...I mean wormhole. Whatever.

Shortly after hiding their Delorean in an alley by the bus station, our heroes were greeted by the local police force. Luckily, with their modern technology, futuristic synthetic fibers, and American passports, they emerged unscathed and entered the central park. As you can see, grass and lawnmowers did not exist in 1982.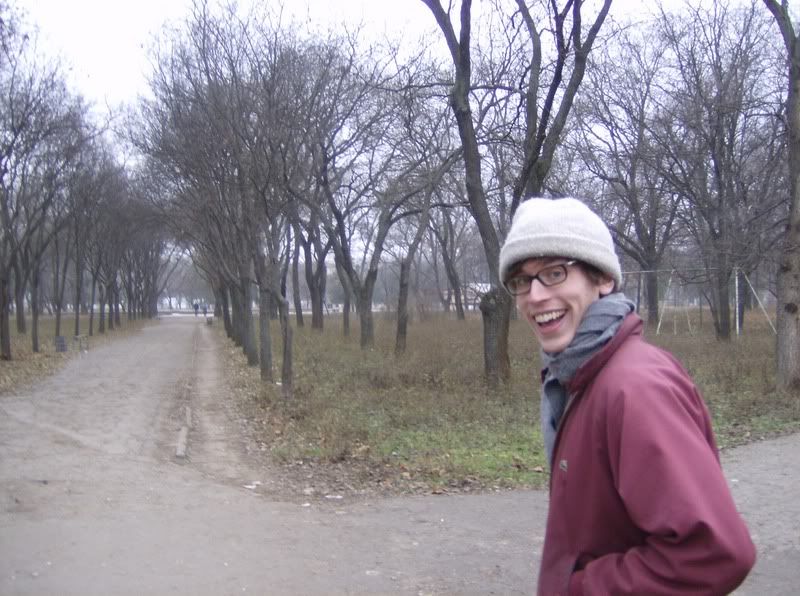 But God apparently did, sort of. But it was illegal to give a shit or make repairs to these houses of worker opression.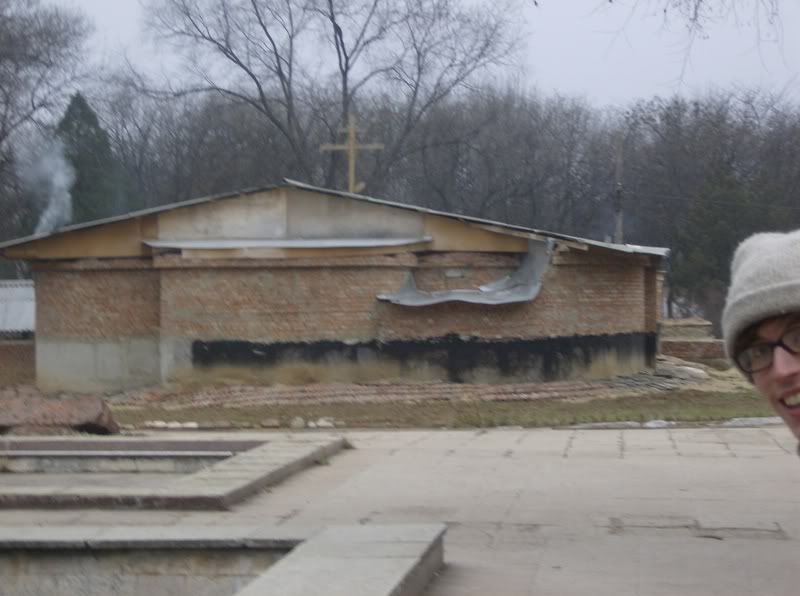 Our heroes discover the ritualistic art of this ancient and dangerous society: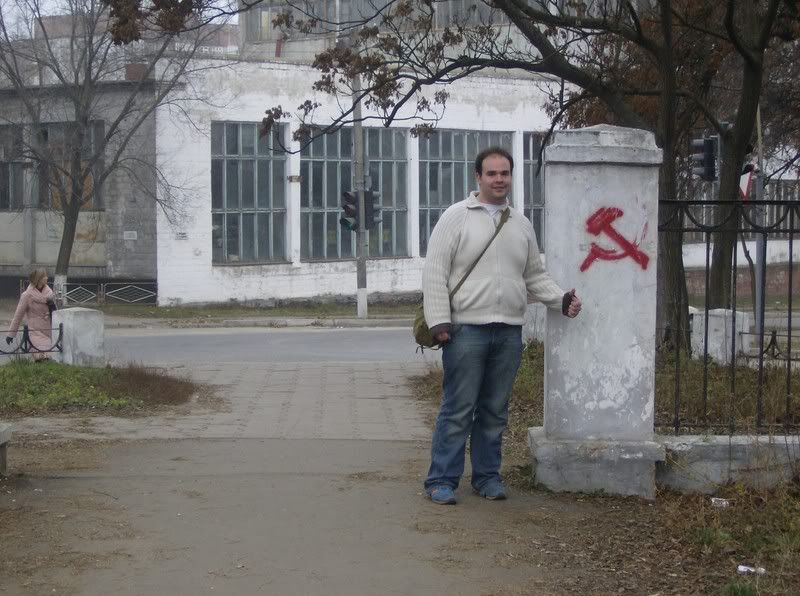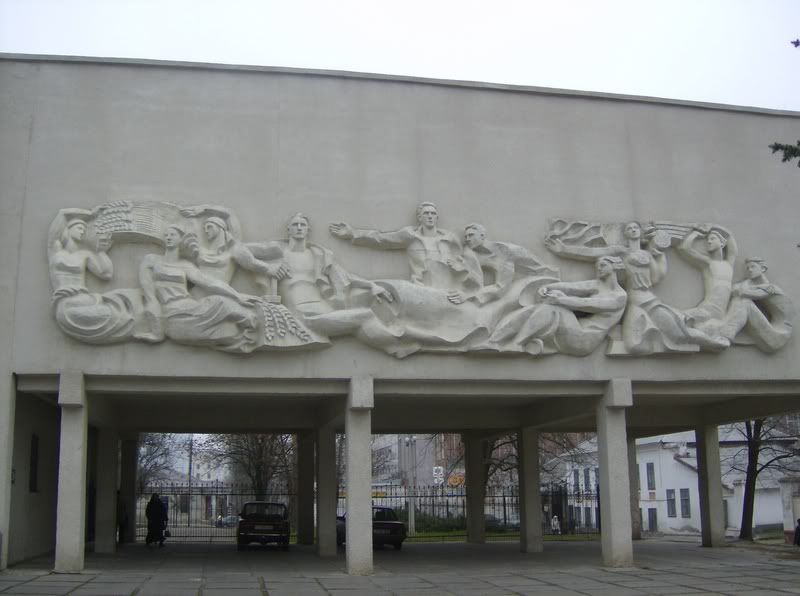 Our heroes were informed that this facade was to celebrate the youth creating a better world. Or something. But they had to wonder--was that really enough wheat to feed all those growing, young, totally buff bodies?

The street was like the landscape of some twisted dimensional cross shift.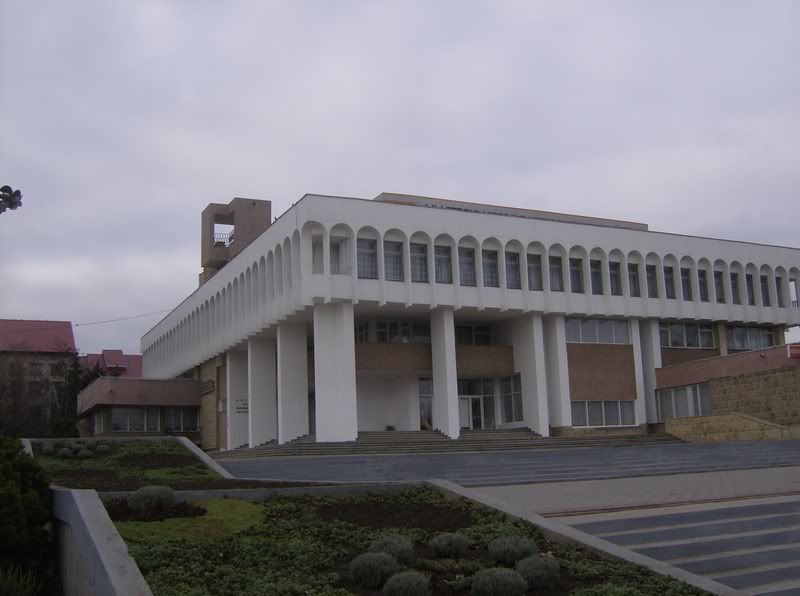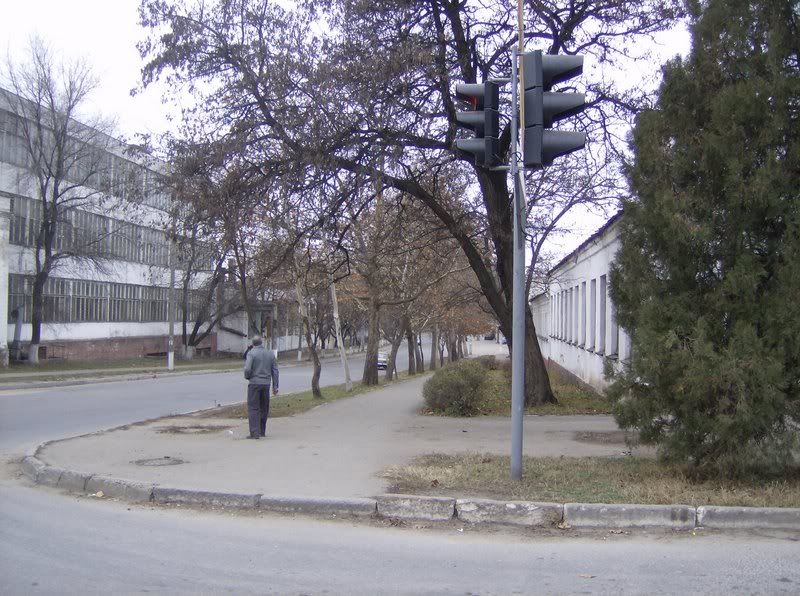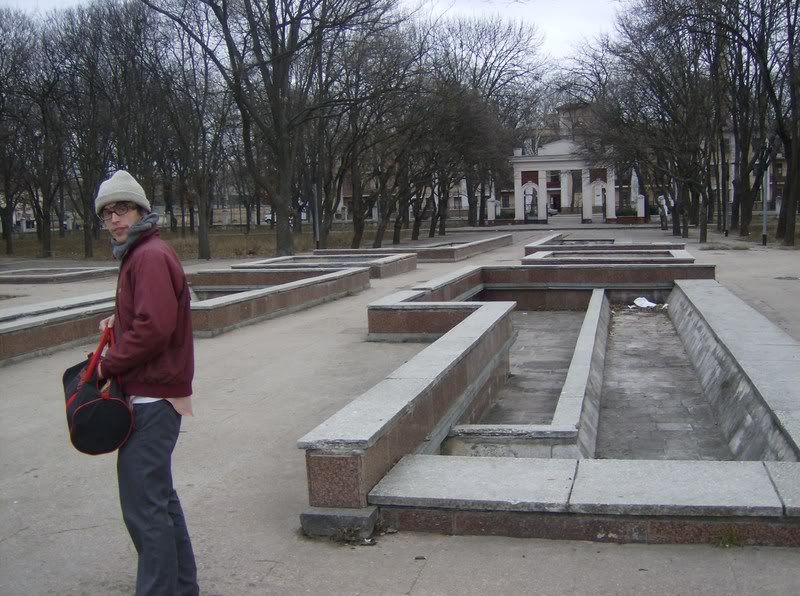 Spies informed our heroes that this building is where the local government stares at piles of paper and pretends to their jobs. The spies also informed them that taking pictures of government buildings is illegal. Luckily, fear is but a mere four letter word to our heroes.




What is that bust guarding the facility?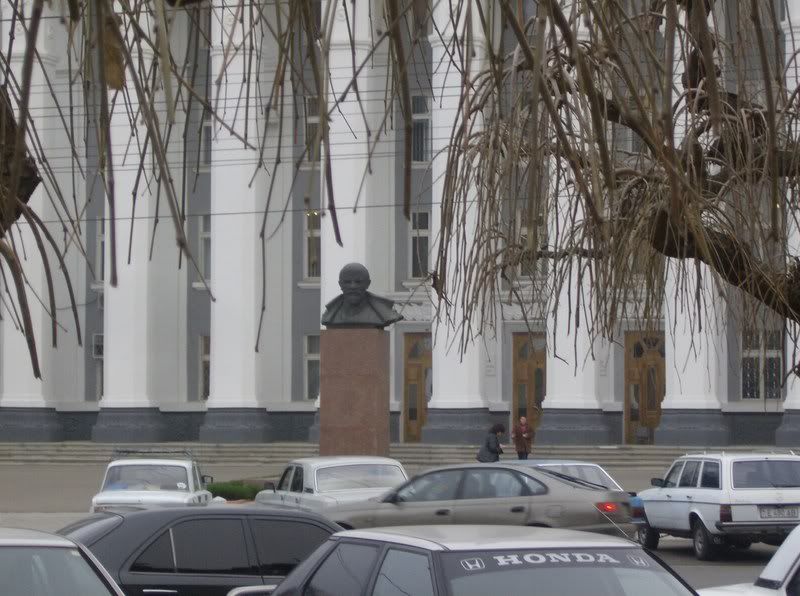 Why, it's VLADIMIR LENIN, the dead king of their society, who features prominently in the local folklore.

It was at this point that our heroes ran into trouble. At the first hotel they went to, the receptionist informed them they had to go to OVIR (the Office of Visa Registration) before they could check in. Sensing bullshit, our heroes ventured to another hotel...where they were checked in and then told to go to OVIR. Sneaky sneaky!

So our heroes ventured to OVIR, but were unable to find it. Finally, a local pointed them in the right direction. But when they entered the office, they discovered that they were number 39 and 40 in the line. And the door was shut, so the line wasn't moving. After some broken attempts at Russia, our heroes learned that they had to go to a different window. But this window was shut, even though the opening hours posted on the window said it was supposed to be open. It was only after a local cut in front of them and knocked on the window did they discover the shocking truth--the bitch was there all along!

Having successfully registered their visas, our heroes relaxed in their hotel room: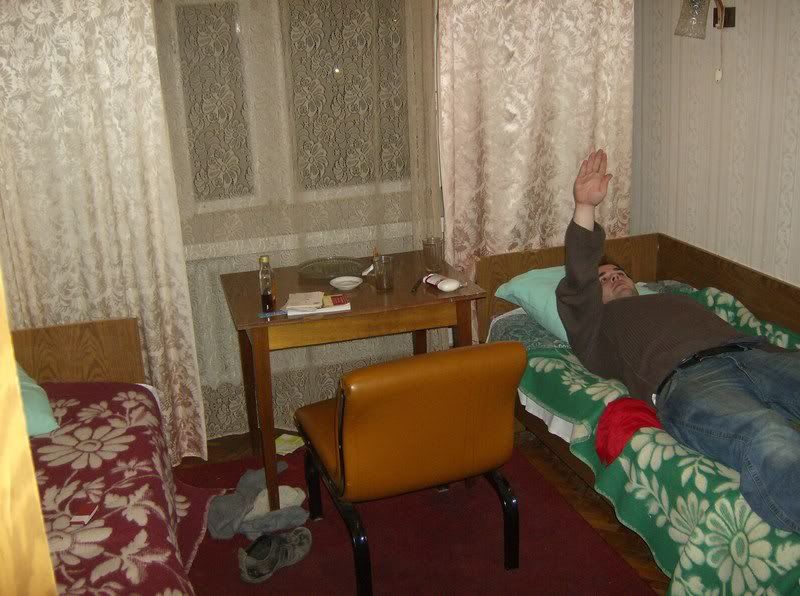 Even though the government was hostile to our heroes, the locals were curious and friendly. Charmed by our heroes' monochromatic low inflating currency and perfect teeth, a few locals agreed to pose for a photographic document.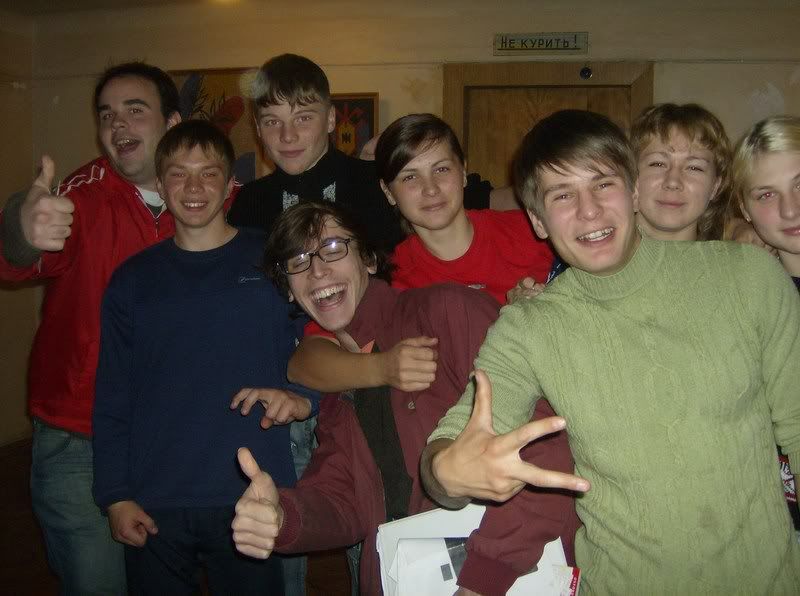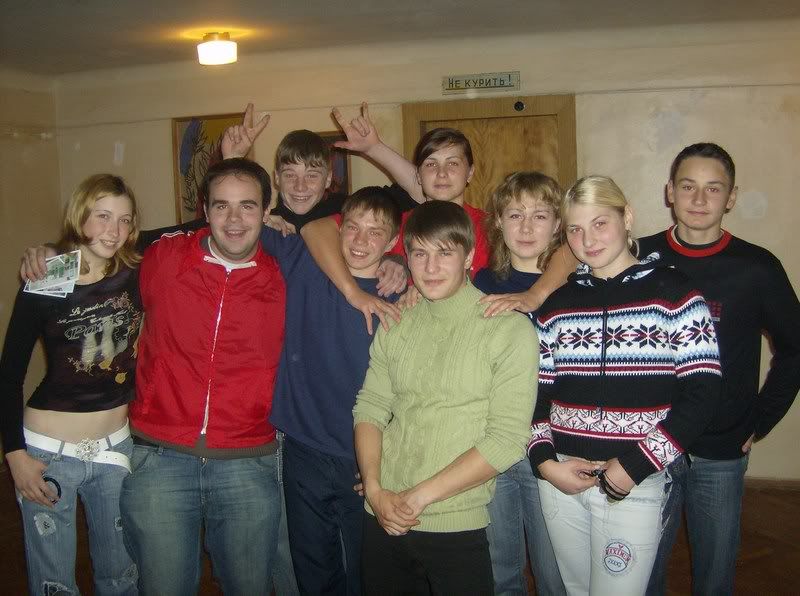 Check out the babe on the far left. That's what I'm talking about. Unfortunately, our heroes were dismayed to learn these youths were travelers from Mother Russia, no less, the nerve center. They were part of a crew team that was rowing in the Nistru river. That's the border between 1982 (Transnistria!) and, well Moldova (1992 maybe?)

Feeling famished after a long day of bureaucracy, our heroes decided to eat dinner.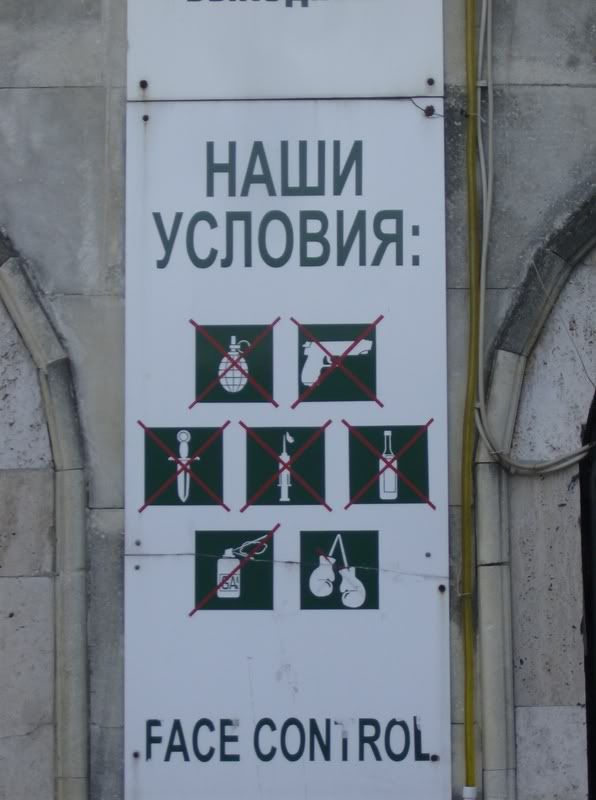 Perhaps this sign should have been taken as a warning. After settling down at their not very cozy table, our heroes were approached by the waitress. She took their order, and asked them to buy her a beer. Our heroes agreed, since she was kind of hot, and because she seemed to speak English. They figured they could pry her for information. But the bitch turned out to be a fraud, and didn't even sit with them. And her English was non-existent. Then the two other waitresses sat down, and proceeded to ask our heroes their occupation. Obviously, our heroes could not say that they were heroes, and the waitresses were disappointed to learn that they did nothing, and were not businessmen. After our heroes refused to by them drinks, those bitches left too. Bitches.

But all was not finished! Our heroes choked down their ancient cuisine, and then received the bill, only to see that the prices of everything had been marked up! But our heroes were too clever for this! After much arguing with the barman, who insisted the menu was old (and the brandishing of a pen and a threat to change the prices in the menu--all of this in Russian by the way), our heroes were able to get the bill corrected. Victory!

Then our heroes went an partied and it was kind of lame, except for this 40 year old Russian woman...but that's another story.

The next day, our heroes met some more locals, who were keen to meet real Americans. They informed our heroes that they could score some mad gash yo with their American passports. Our heroes were skeptical until they stopped a local female, who kept walking until she heard the word "American". American indeed. Smile!




Our heroes then set out to see the local sights. Look! God!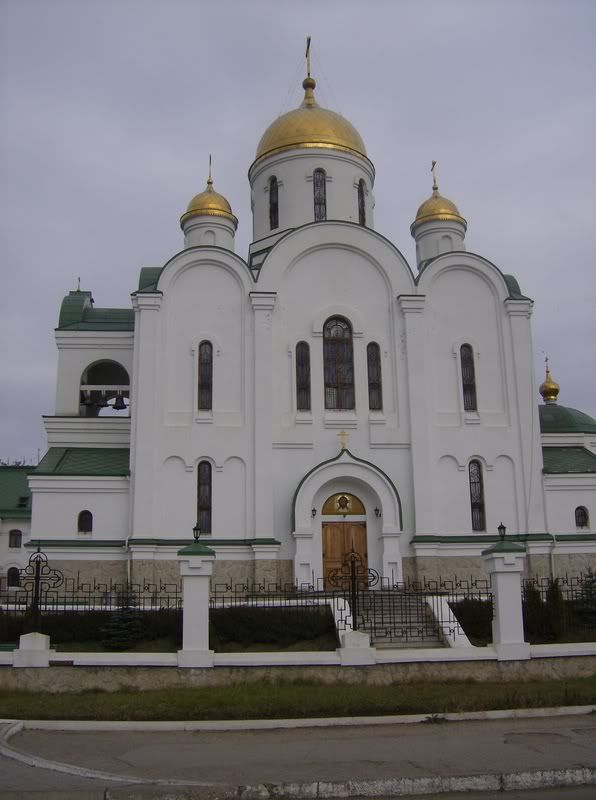 And here's the local hero, Igor Suvorov. He's on the money.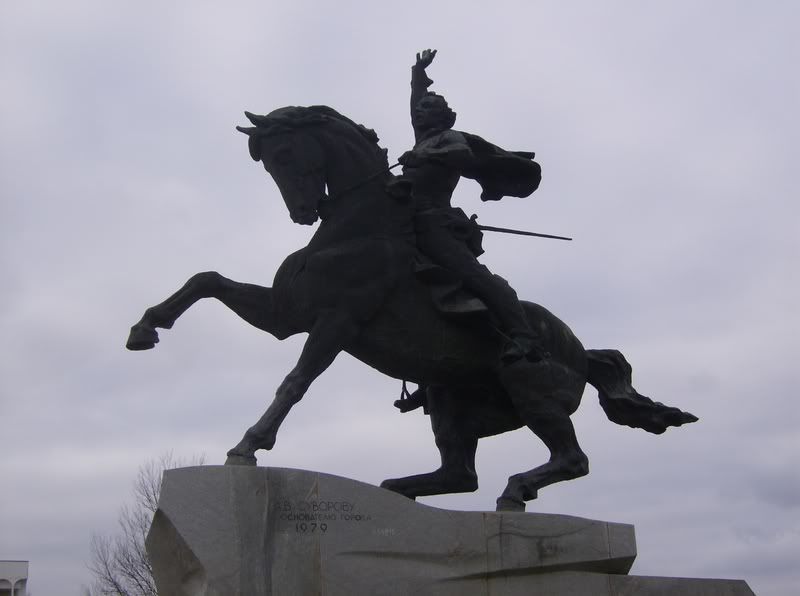 Apparently, people get married in front of this. Our heroes saw one in the countryside too, but were unable to document it.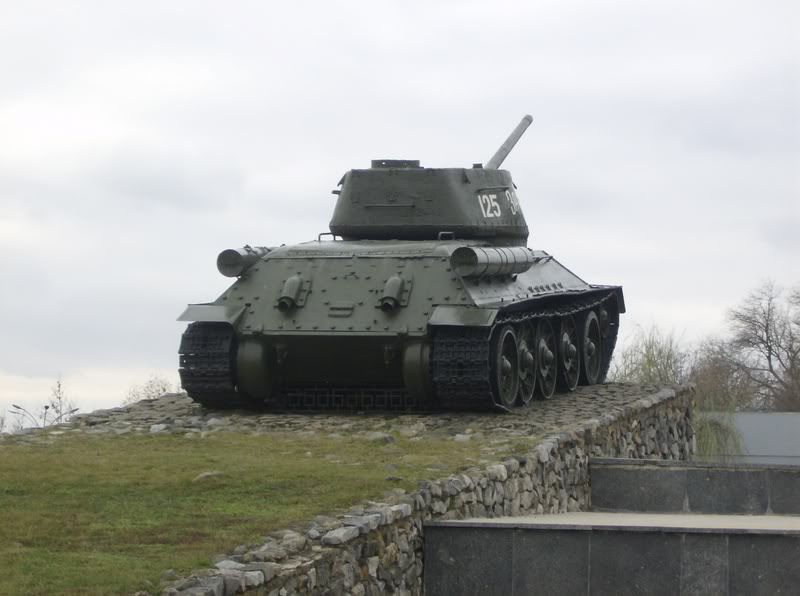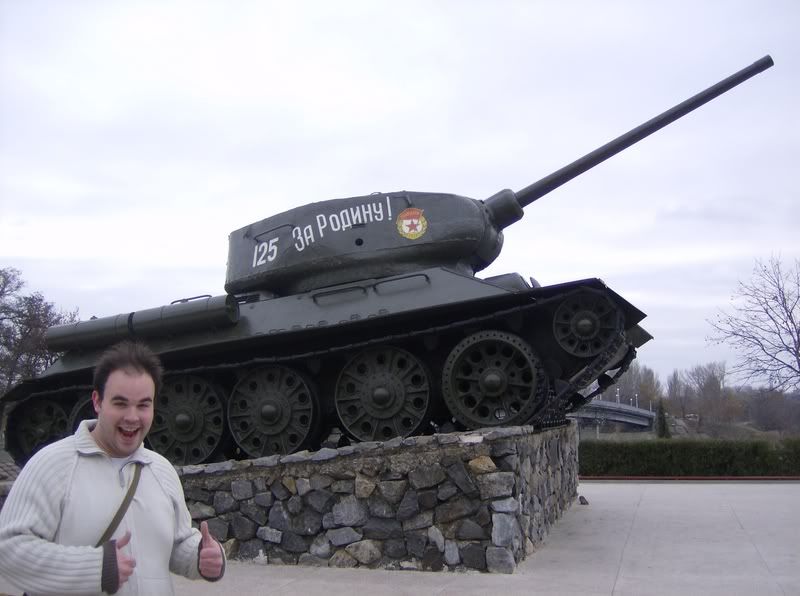 And the eternal flame, dedicated to the unknown soldiers fallen in battle. Our heroes think they were maybe fighting to get ahead in the breadline.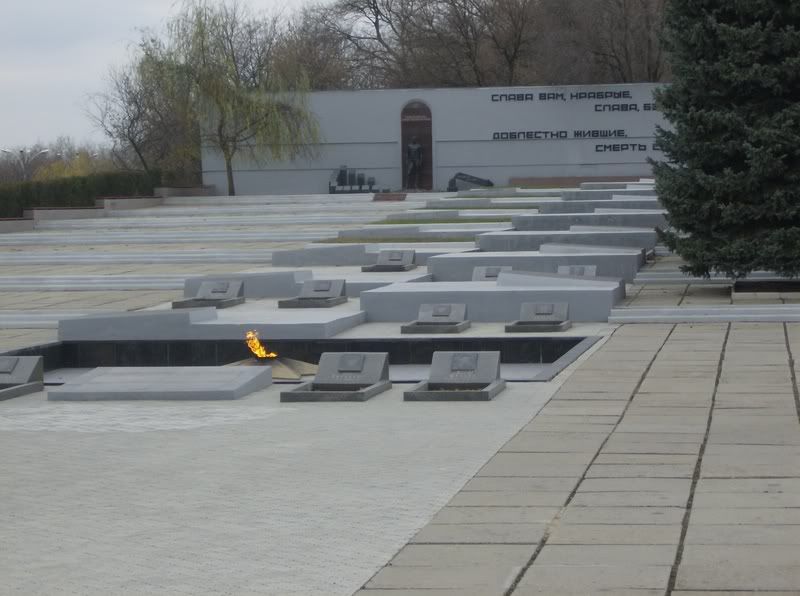 THIS GUY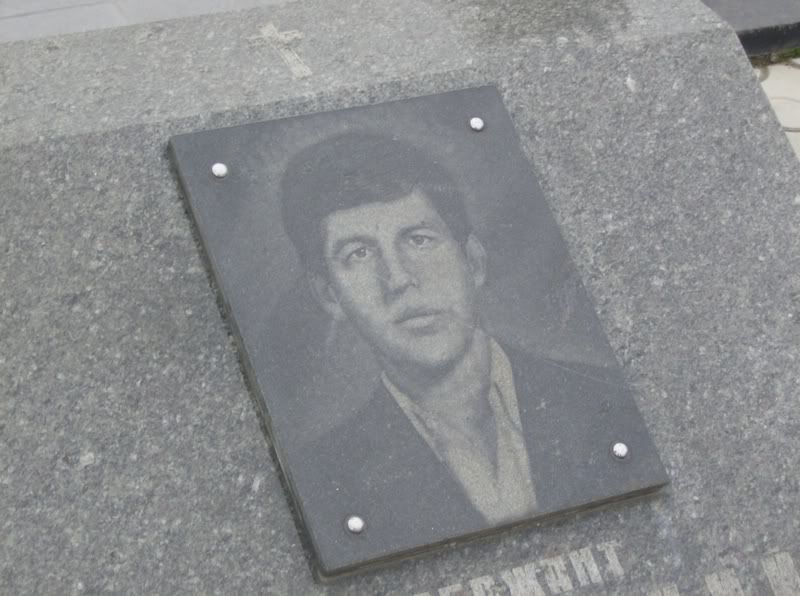 Our heroes believe this is a memorial to the glory of homosexual subtext: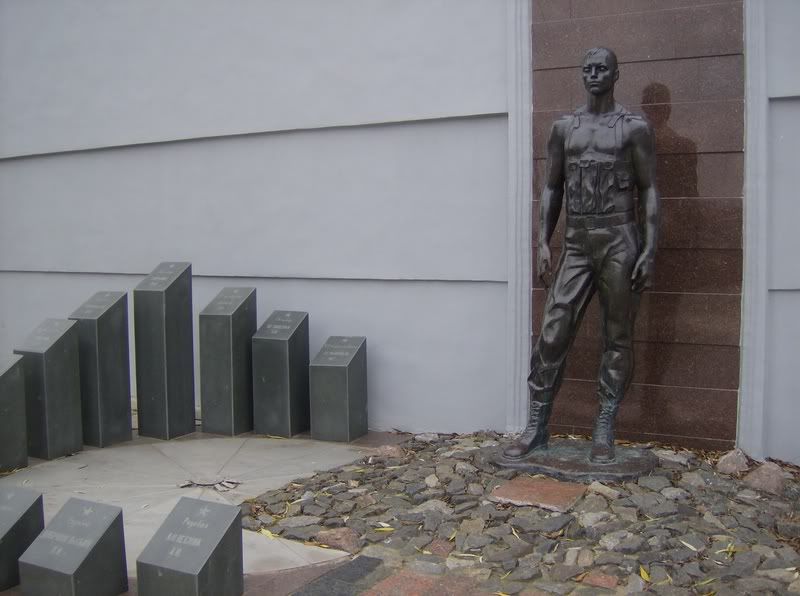 And behold! The presidential palace! From whence Igor Smirnov rules his evil empire!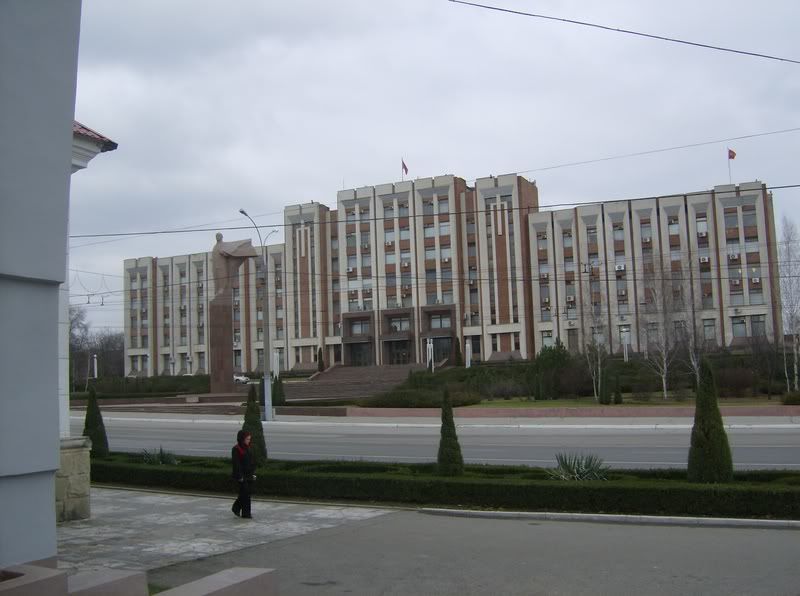 Once again, the dapper V. LENIN!

Seeking more information, our heroes ventured to the local history museum. Where they were greeted by a model of ancient Tiraspol:




And other amazing things! Excitement! Suspense! A traditionally furnished Transnistrian room, circa 1980 according to our heroes' analysis:




And who's that dapper fellow in needlepoint? Could it be...




VLADI DADI, WE LIKES TO PARTY.

Look! A Soviet telephone. Our heroes have a photo of their technology. Victory!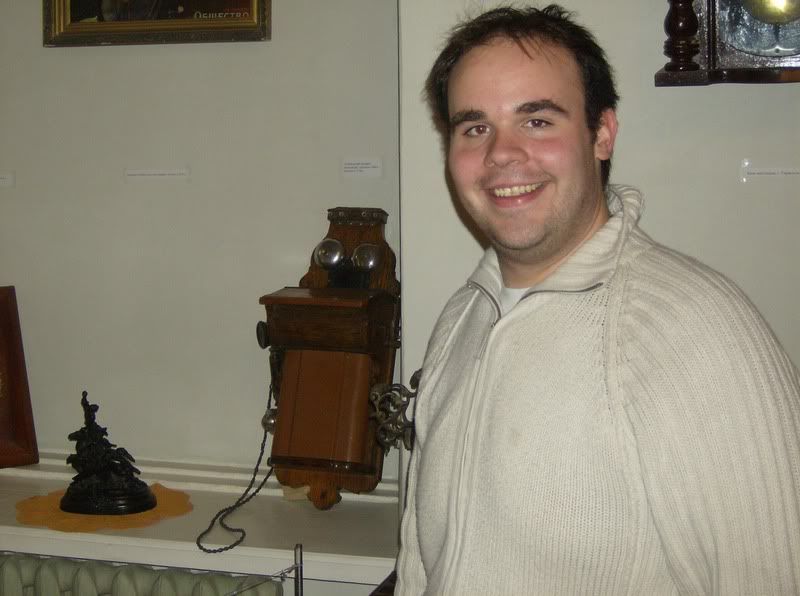 And then our heroes discovered the showcase of Transnistrian history. Display cases! Hurrah for independence!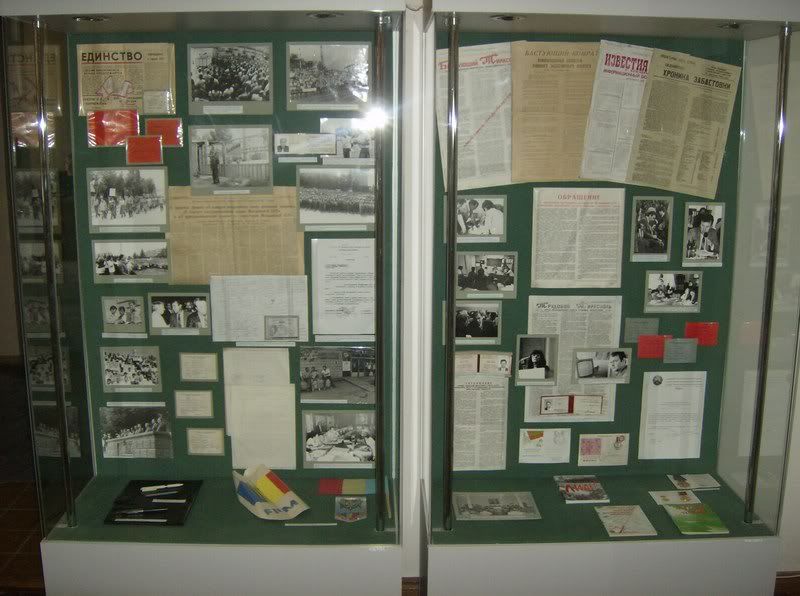 Our heroes are marveled by the unique treasures this museum holds: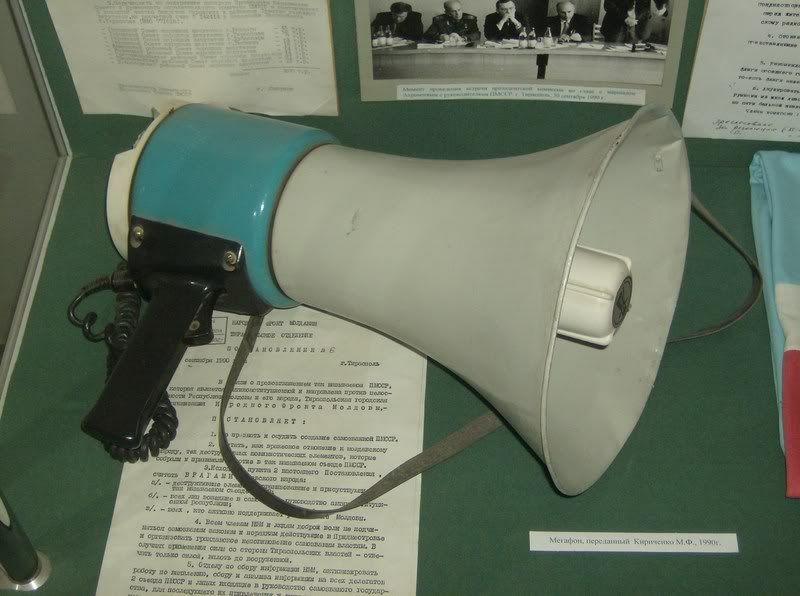 And here he is...Igor Smirnov. The President of Transnistria and sworn enemy of all time travelers:




But shit, even our heroes have to admit that's some fucking awesome facial hair.

And of course, old timey photos from ye olde independence war with those Moldovan fascists: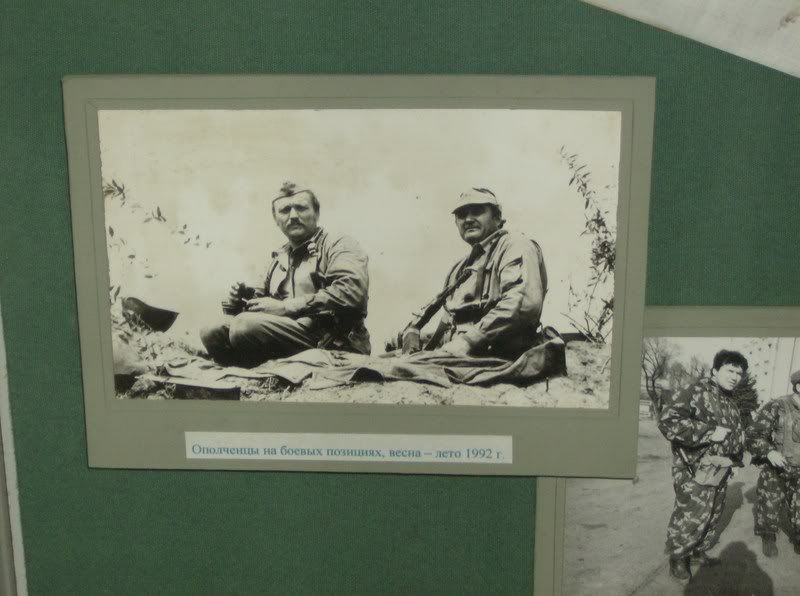 But wait, our heroes smell a rat!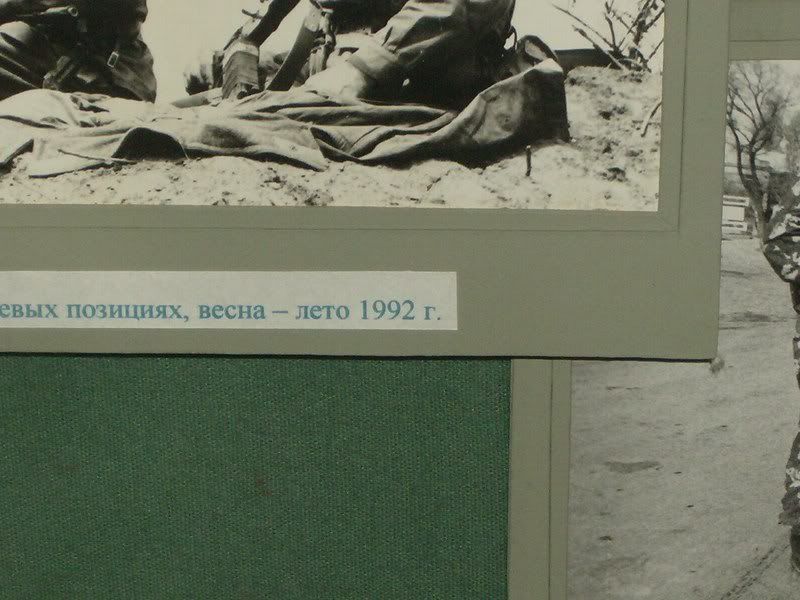 Indeed! The photo is not old timey! Some sort of rip has occurred in the fabric of the space time continuum! These photos are from the future! Perhaps they were created by an evil force to lend credibility to a government created on questionable pretenses. But our heroes are too busy laughing their asses off to give a shit.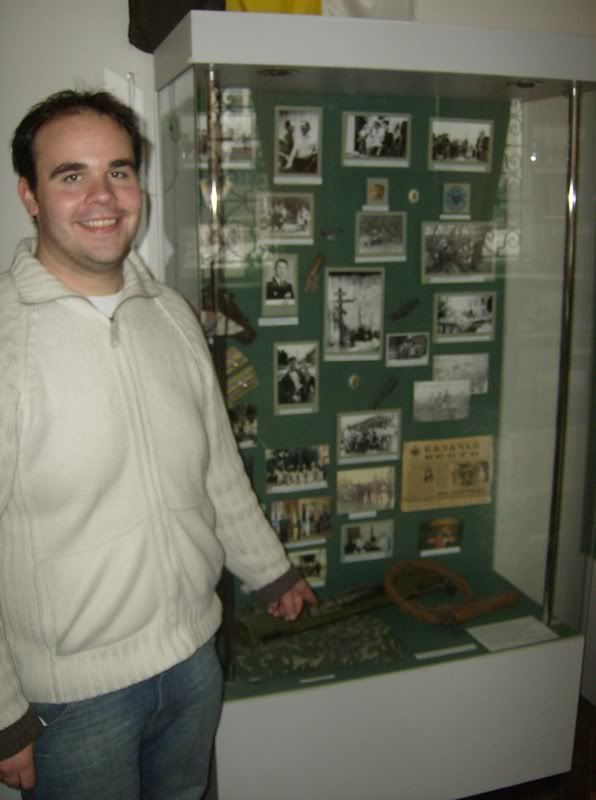 Authentic unexploded ordinance!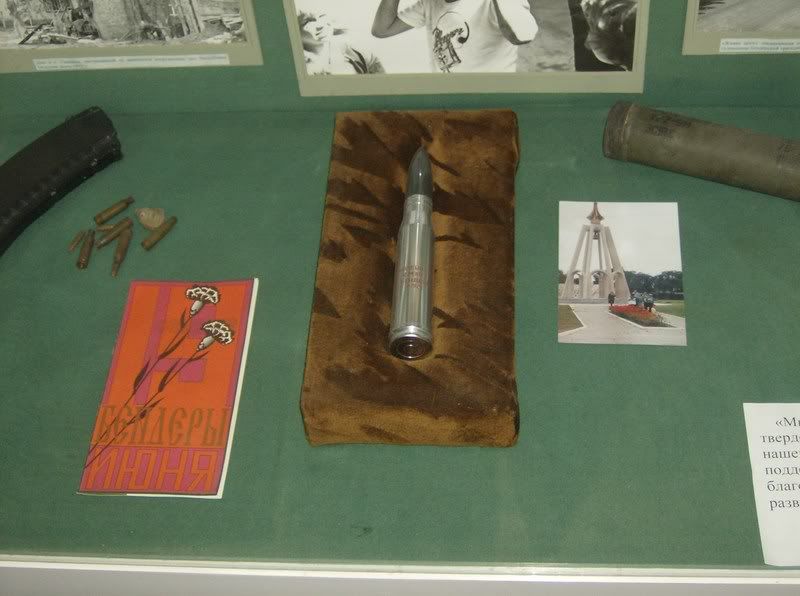 A display about the early stages of the Transnistria government! Zounds!




And a display case about Transnistria's premier corporation: Sheriff. Yes, like the guy who rounds up outlaws. Sheriff is owned by President Igor Smirnov. THAT'S TOTALLY NOT CORRUPT AT ALL.




Hey, it's FC Sheriff, the official football team of Transnistria! Sporting their official Adidas gear!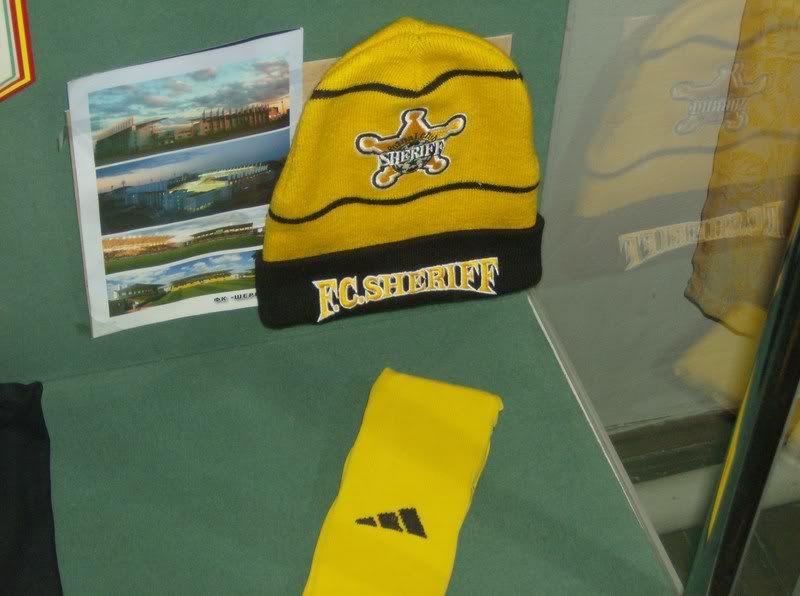 And of course, an exhibit about how the citizens of Transnistria aren't starving: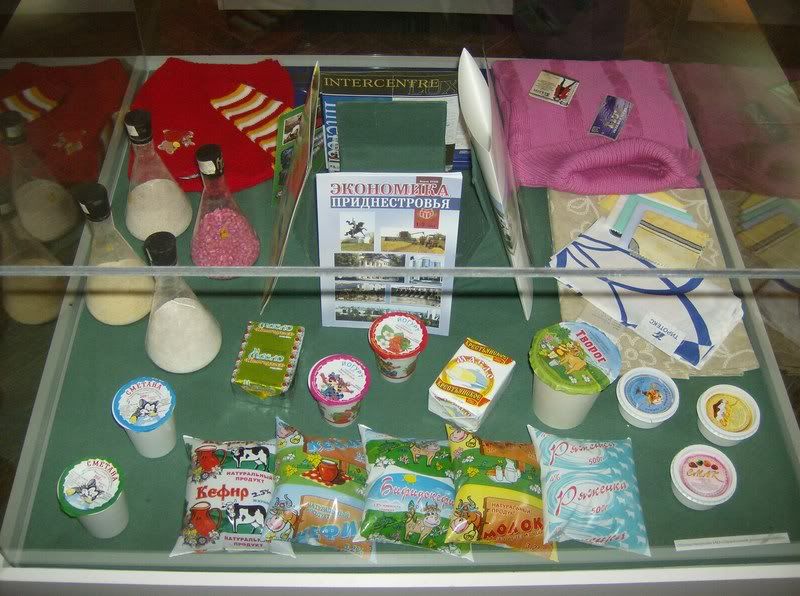 And apparently, not sober either: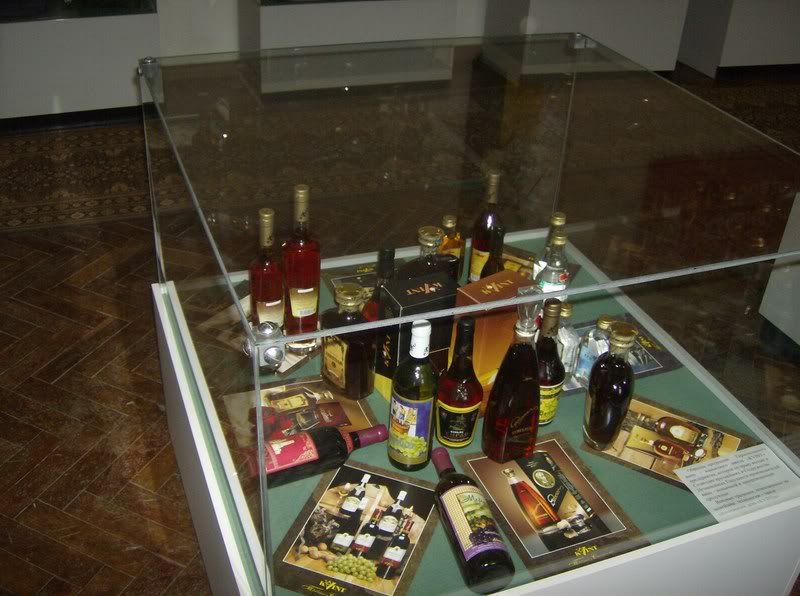 So that's how the government stays in power. Our heroes, of course, sampled the local beverages, and found them to be quite delicious.

Our heroes aren't in Kansas anymore: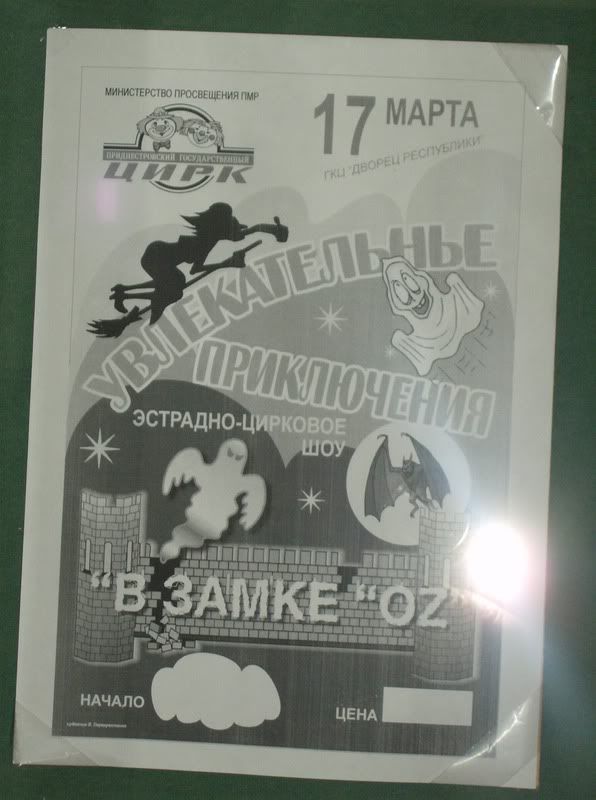 After leaving this room, our heroes explored the rest of the museum. Unfortunately, transdimensional wormhole goons disguised as babushkas informed our heroes to stop taking pictures. So, alas, they failed to document the room full of Transnistrian painting, and the room about all the people who died in the so-called "War of Independence". Or the "War of Moldovan Aggression". Whatever you want to call it, one thing is clear to our heroes: How stupid is it that people died for this "country"? That's like dying for your football team. Oh wait...

At this point, our heroes had to leave Transnistria. Time was running out before the lightning strike would come--the one that stopped the clock tower. And they were going to need that power. But first: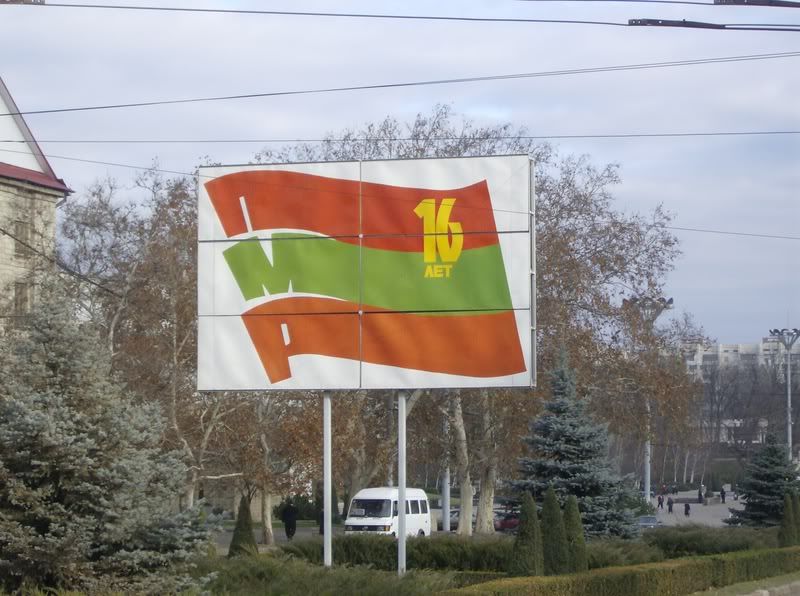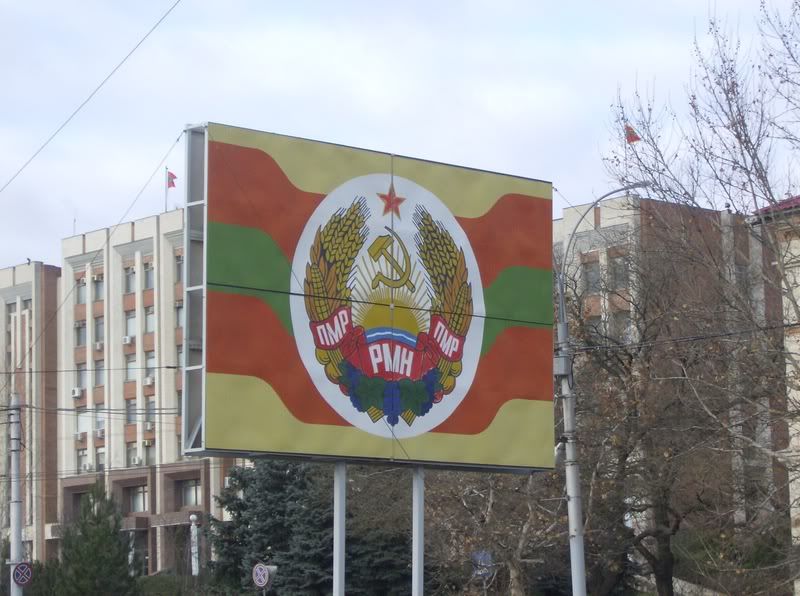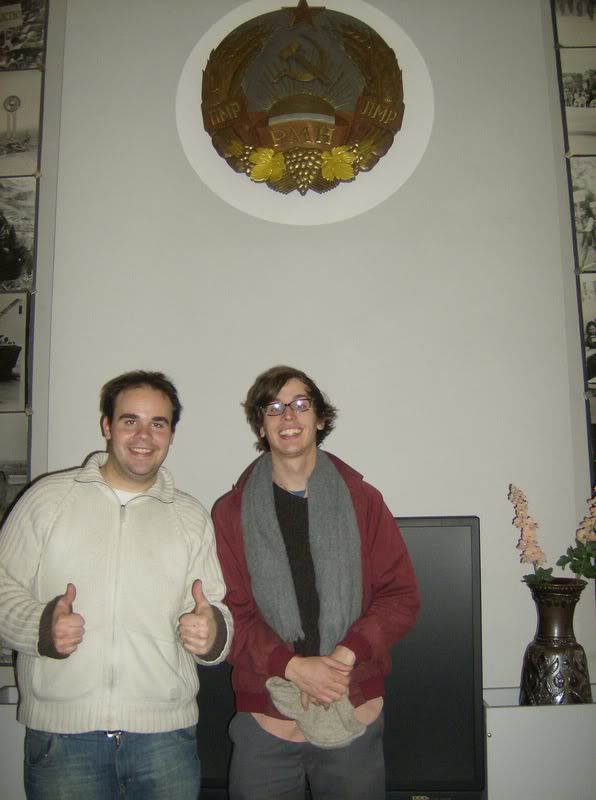 Our heroes safely made it out without encountering any wormhole goons. And then they rode their bunny rabbits up a sunbeam, back to sweet, modern Moldova.