Catch up to fucking SARAJEVO!
The Sherman Brothers are the smartest human beings on this fucking planet, and when you look at us you will melt with desire and then you will be lapped up by our furry glory tongue and thereby digested.

Sarajevo-o-o-o!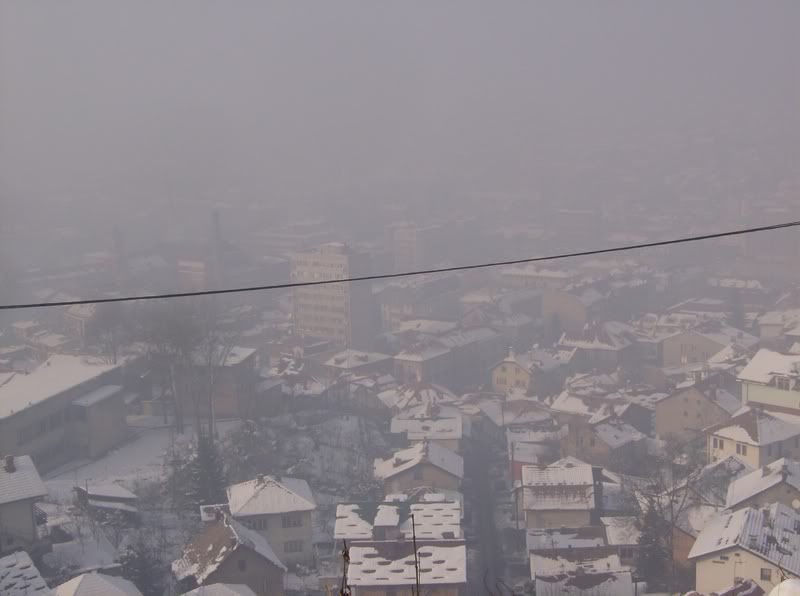 Word, we at the Lukashenko HQ have fallen the fuck behind AGAIN, and moreso now that the camera has apparantly fucked over Mike!

Luckily the memory card is still intact, so while Mike does his digicam shopping in Albania or whatever, I willeth blogeth about the forthcoming events in Sarajevo, the city that never sleeps!

Whoopie! We're gonna do something a wee bit special for this city. There will be two entries. The first one is the one you are reading now, the general Sarajevo blahdeeblah which I'll dispense herein.

The second entry, which will be posted shortly after this one, relates our experience from the Bairam ram slaughter, the religious holiday which took place during our time in Sarajevo and involves, among other things, the public slaughtering, skinning, and butchering of sheep. Yes, we have pictures. Yes, we have videos. The pics are not safe for work, small children, vegans, or hypocritical meat eaters.

On that note, warm up on the fire of our wretched blogging, and warm your ass on that eternal flame, and shelter yourself from the Sarajevo cold reader, because you're about to get smacked!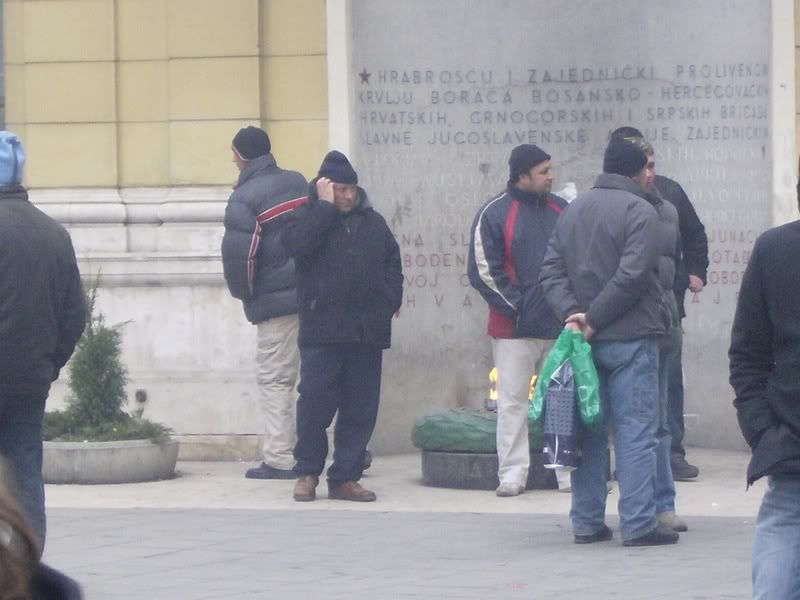 I'm so angry I haveth not the words.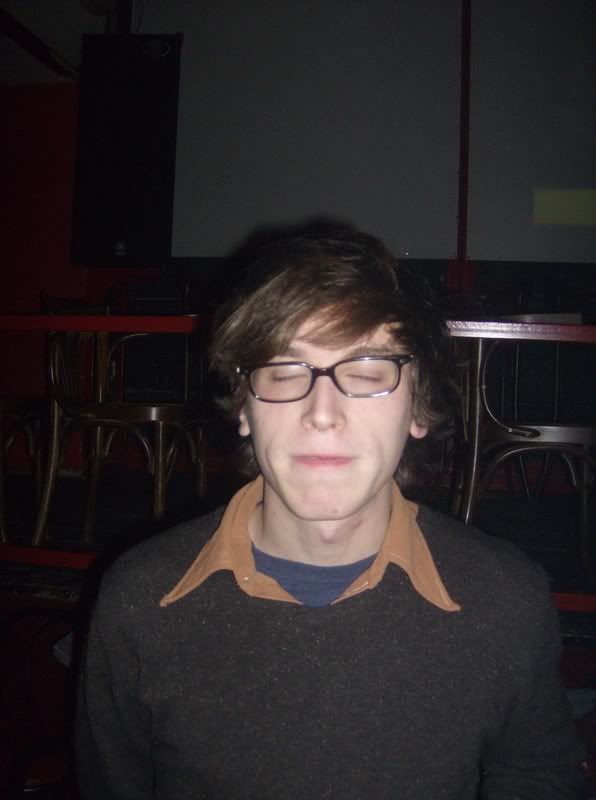 First order of business in Bosnia was eat at Bill Clinton's favorite restaurant in Sarajevo, where I enjoyed some stuffed onions and frech fries. Then we jetted to here, the most crowded club on the planet. Pic doesn't convey shit...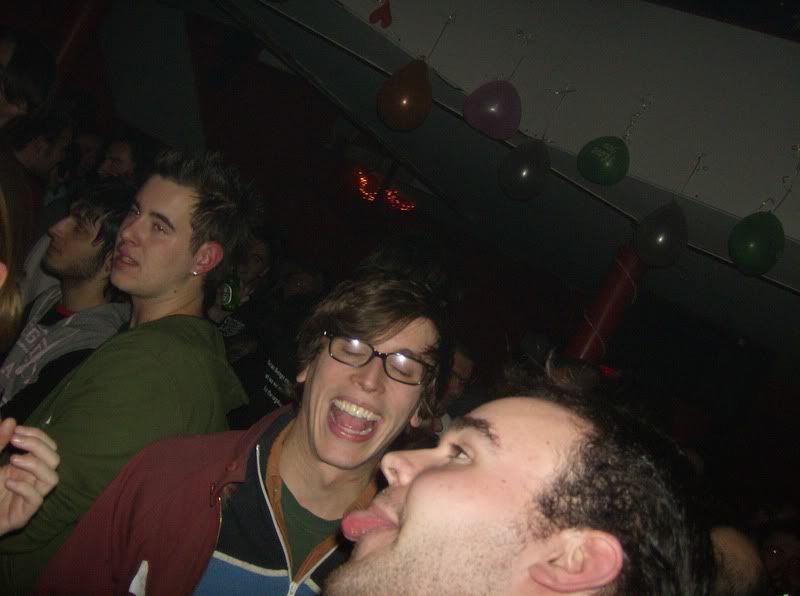 ...but I think I got a handjob simply by walking to the bar. The soundtrack to this riot were these dudes, who enjoy soft melodies and serenading the heathen's Christmas tree.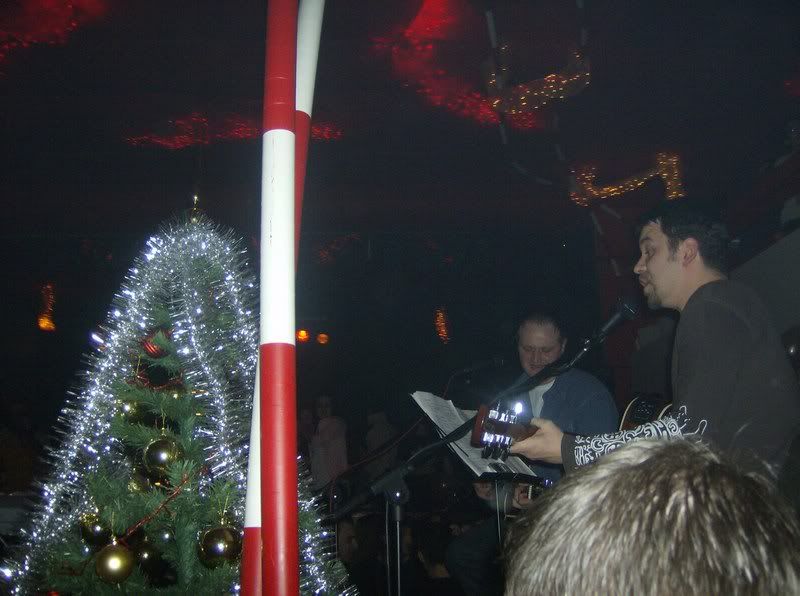 Fresh!

Another day exploring the city, where we find, you guessed it, another closed Jewish Museum!




Destroyed buildings.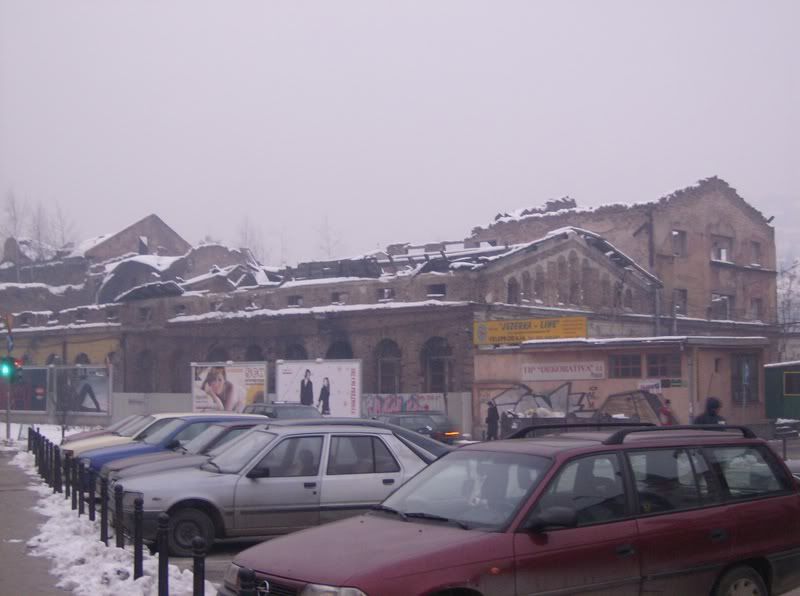 Not that I'm too excited about this, but tis true. Sarajevo was a fucking trip though, with calls to prayer jostling out the speakers ever few hours, and the hustle and bustle I'm looking for in my cities. Younger, and prettier than a lot of places, and totally a joint worth checking out. First Muslim country I've visited, and respect is required at mosques, such as no fraternizing with the opposite sex (bottom right), and the firm order to RESPECT YOUR FUCKING DROOPY SANDWICH (bottom center).




Respect. And unlike Jajce, you can actually find YOUNG WOMEN out at night. Shocking! Intrigue! Check the youthful exuberance.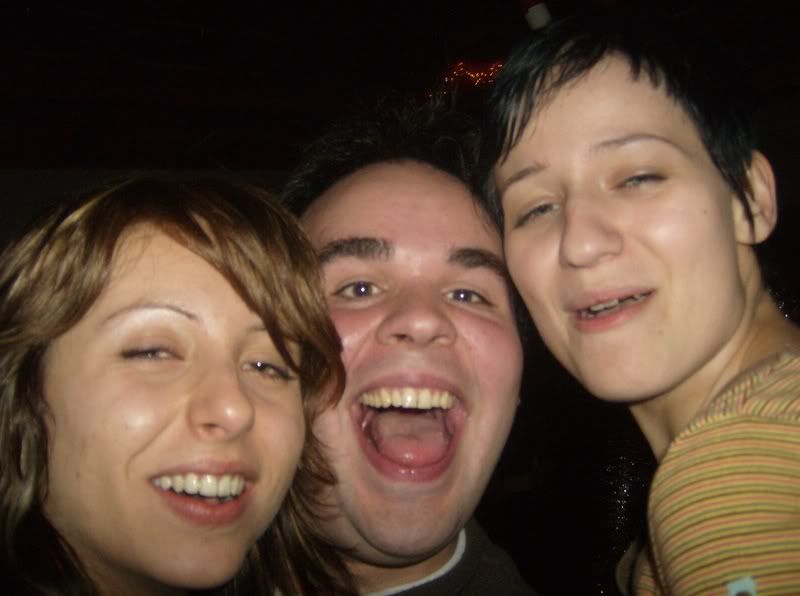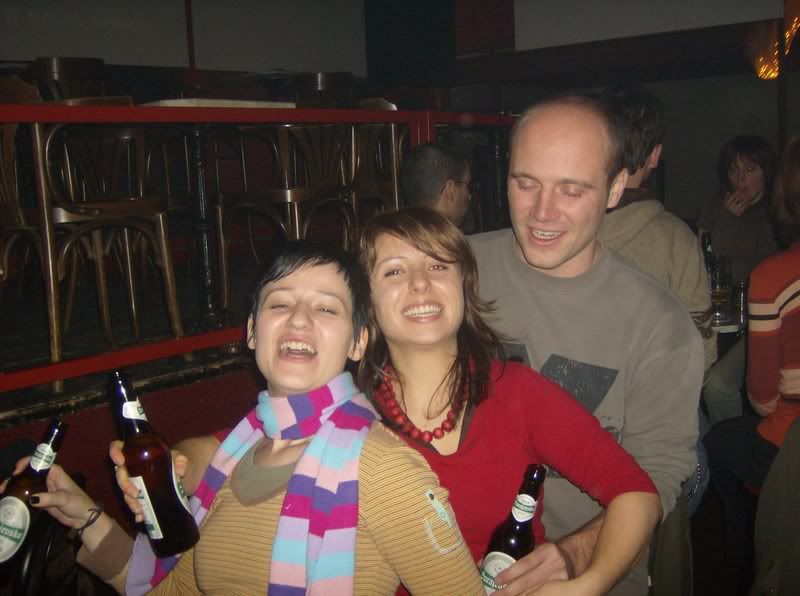 And you shall give a thumbs up. It's a requisite for any picture like this.
Fucking recognize Michael Sherman and study your notes, philistines.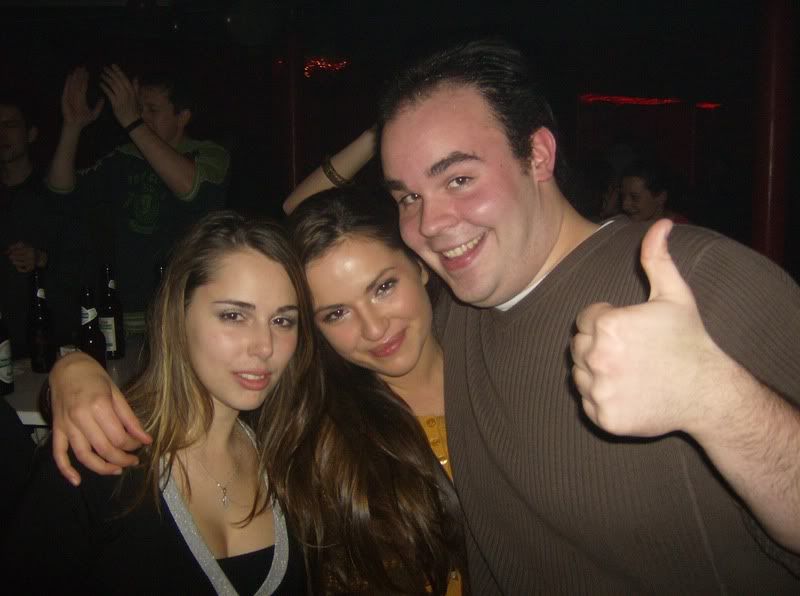 Fucking fog gets in the way of our view of the city.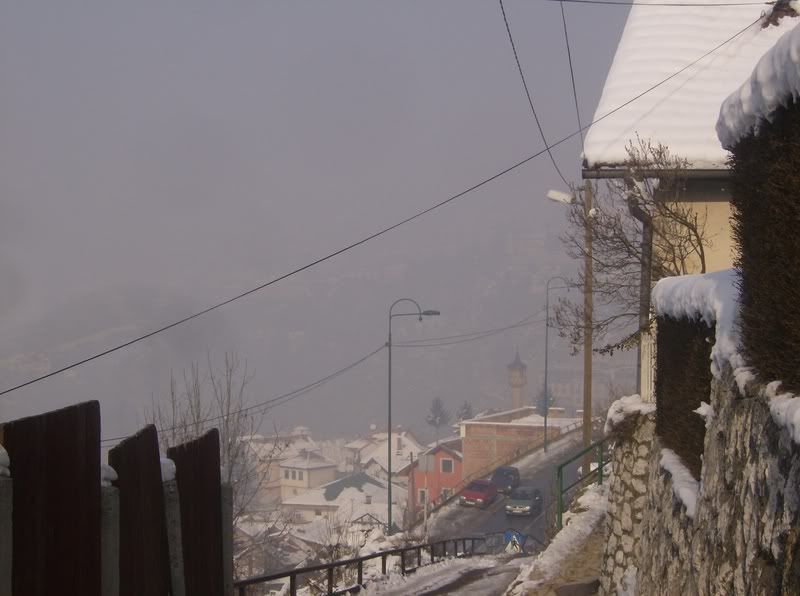 Mike spots something...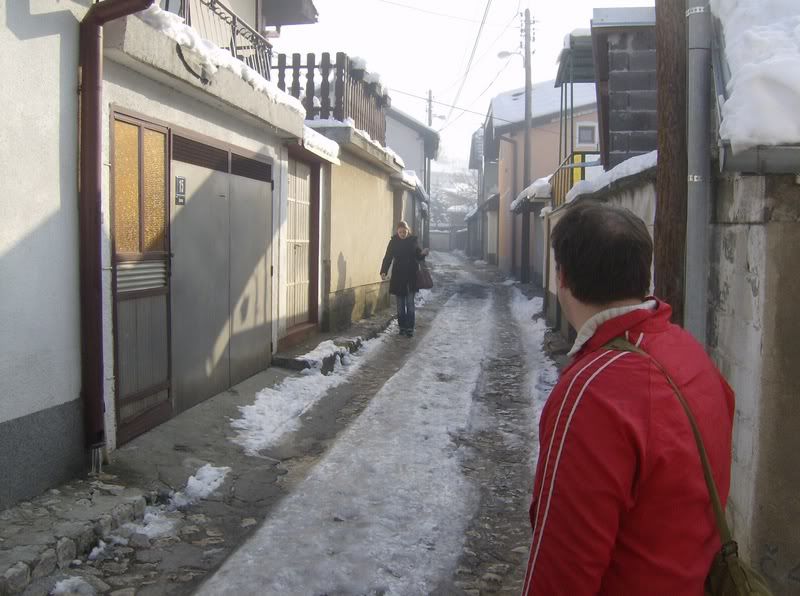 Why, it's Fells, Rose, and David!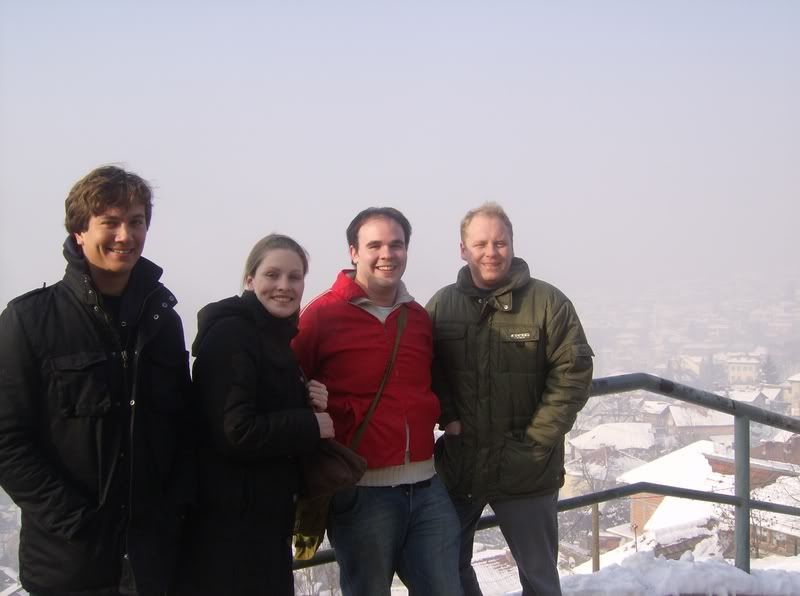 David the Dutchman, on the far right, was our host during this sordid affair in Sarajevo. He, along with his buddy Fells on the far left, are clerks for the war crimes prosecutors. They tell stories in lurid detail about war criminals, gang rape, mutilation, and whatnot over dinner and any other common activity - it's the result of doing this day in and day out. Desensitivity ensues, naturally. David, might I add, is also a wonderful cook, a very intelligent human being and a wonderful conversationalist, and the first person we've met abroad who actually defends the United States (and convincingly 'cause he's so fucking smart).

And even when some freeloading HospitalityClub fucks from Poland showed up at his door, David was too nice to turn them away, even though they didn't call him or let him know shit. This being said, I would've promptly chokeslammed them fuckers for showing up and placing me in some ethical conundrum, but I'm not as forgiving as David.

And you're fortunate, Lukashenko reader, because David has a blog, a blogspot one nonetheless, now linked to on our right sidebar over there. Check it out.

Anyhow, more pictures from wanderings: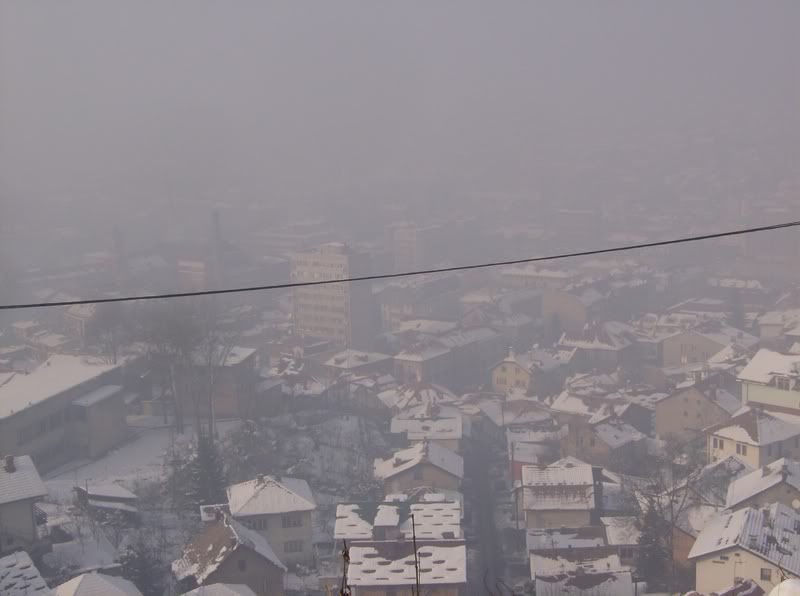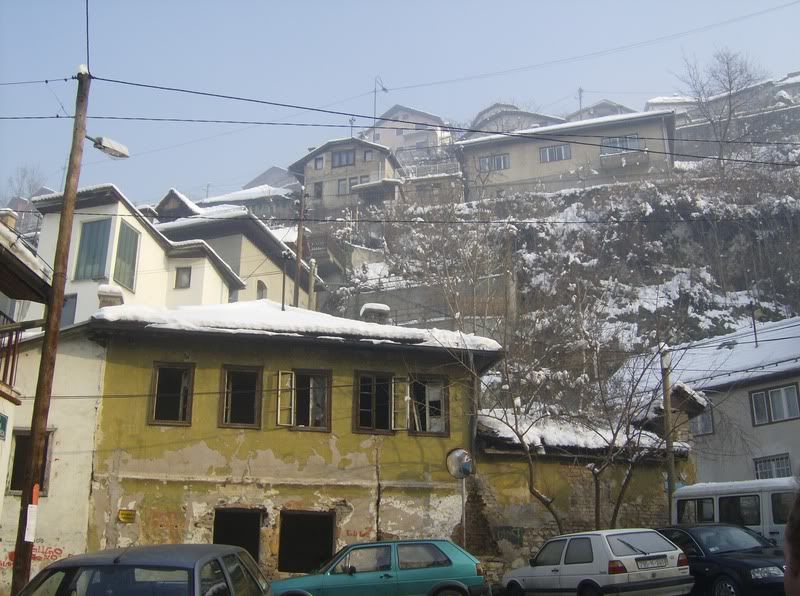 I actually spent more time wandering than Mike, who was incredibly tired from the four days of rest in Zagreb, and thusly slept in Sarajevo some more, while I meandered through the cold streets and bought books (note, read "Nowhere Man" by Alexander Hemon - dude writes like a genius 3rd grader, sayeth Michael) and ate the requisite bu-bu-bu-burek.

Franz Ferdinand died on that bridge.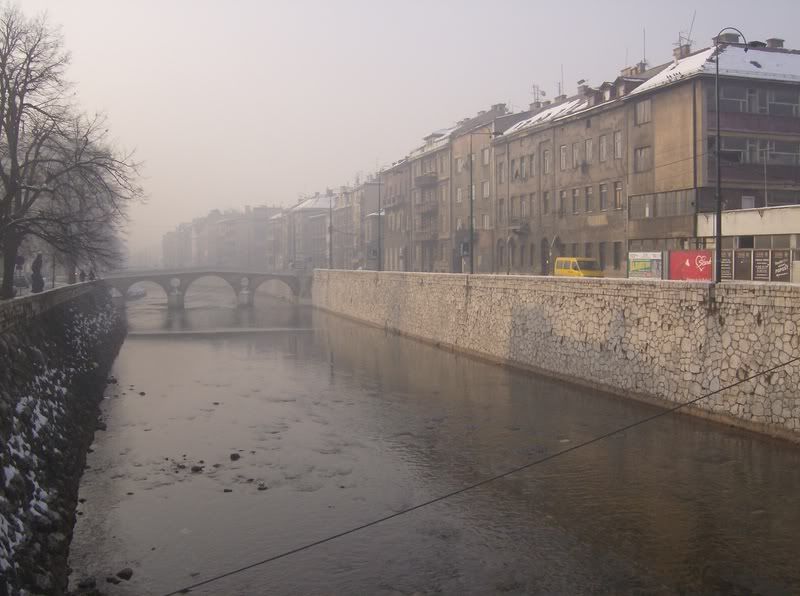 Take that, Hapsburgs! Fucking Austrians....

Anyhow, look at this cuteness.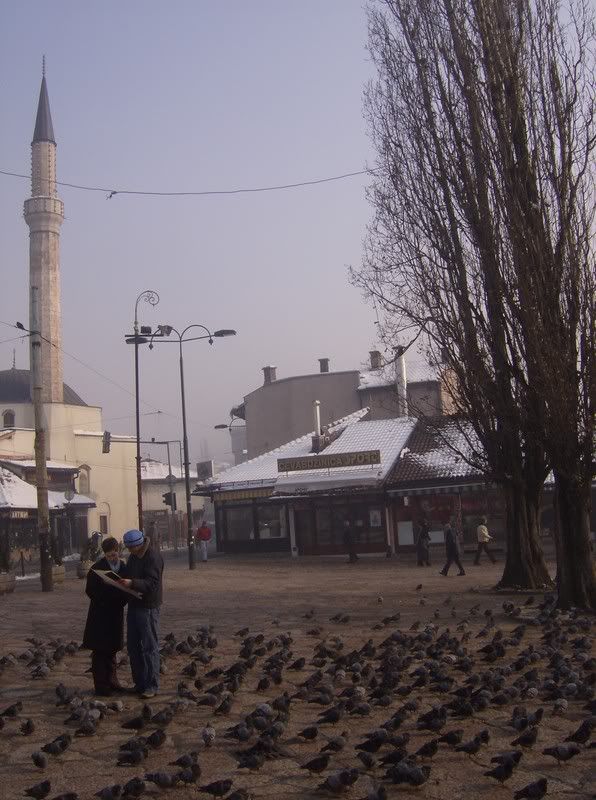 Sarajevo keeps it real with the brick streets and crowded cafes. Unfortunately, we made the mistake of visiting during a major holiday, so major attractions were closed, though the streets were not near Zagreb-level deserted. It's nice place to lounge, and would undoubtedly be stellar in the summertime, when you're not walking with hole-y shoes in the snow and the clouds lift up. And it's safe, no doubt - Philadelphia stands a better chance of fucking you up than Sarajevo. Look, they even have a Wal-Martish thing!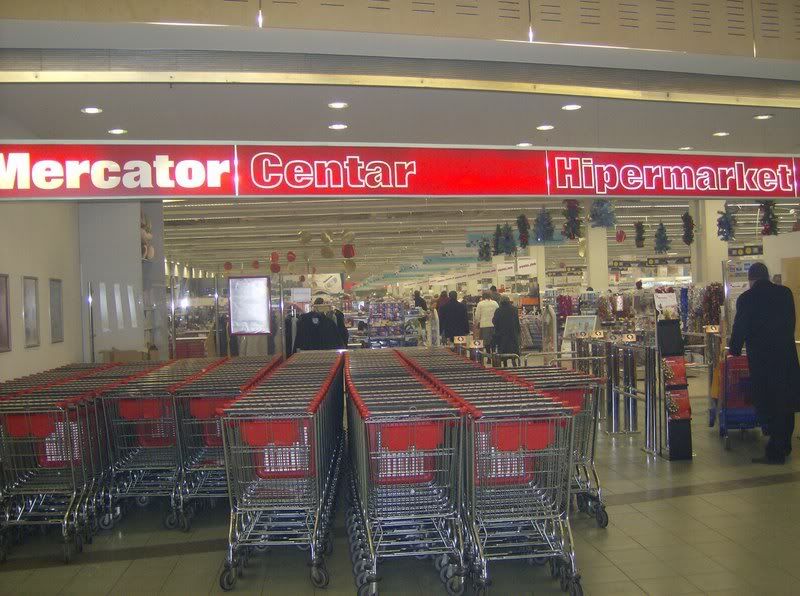 Wait another 24 hours for the Bairam entry, and be prepared, and preferably eat a vegetarian breakfast.

After three nights in Sarajevo, with pleasant wanderings and excursions and the surprise awesomeness and blonde-haired Amir, we took the prettiest bus ride of our trip from Sarajevo to Dubrovnik. Transit is a treat.