If you can read this post, you're probably not in Tirana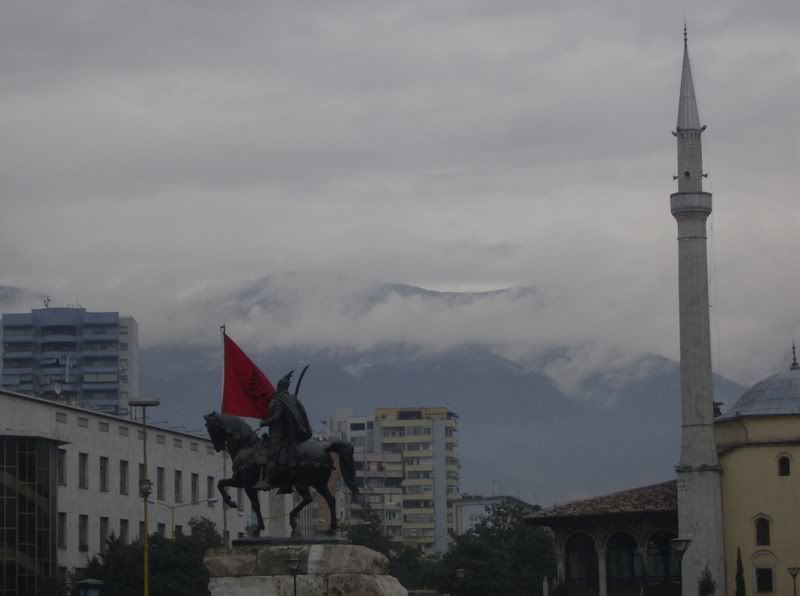 Why's that?

Well, because you have electricity!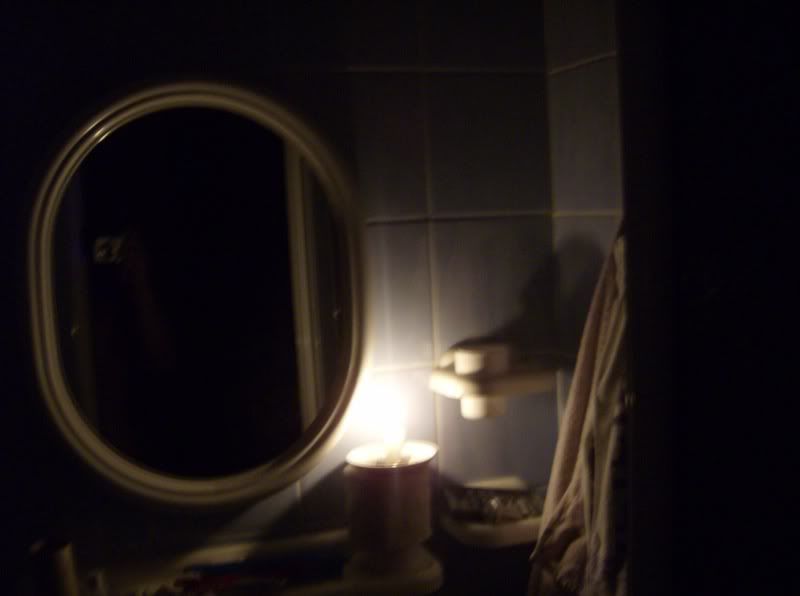 How about those rolling blackouts? Pretty much 8 hours of every day are dark in Tirana, and not a storefront/house is without either an gas generator, or a candle.

Kotor->Tirana trip summary! First, bus to Ulcinj, Montenegro (5 euro), which was pleasant and pretty and the place we could get buses to Shkodra, Albania. So, when arriving in Ulcinj, we discovered that there were indeed busses to Shkodra, but that all the buses had left for the day. At this point, a taxi driver approaches us, telling us he can take us to Shkodra (30 Euro). Considering that a night in Ulcinj would be just as expensive, we said "fuck it" and hopped to Shkodra.

Crossing the Albanian border went like so - Montenegrin checkpoint was OK, then you cross an invisible line (i.e., the border), and the roads look like a bomb went off. We needed to pay to enter Albania (10 euros a person), and the border guard proceeded to put our entry stamp in that nebulous, non-gridded "endorsements" section passed the visas in our passport, because I guess Albania is special.

We spotted some bunkers, some casually built into the foundation of houses, some turned into gardens, but most just crumbling and then we arrived in Shkodra.

Now our blog is called "Beyond Thunderdome," but I can assure you, dear reader, that Shkodra Albania is actually "beyond thunderdome". So far beyond thunderdome I was expecting Master-Blaster to be stationed at roadside; so far beyond Thunderdome that it can't even be photographed. We were too shellshocked for pictures, but something about the wood-plank bridges (for cars), the corrugated-tin shacks featuring old women selling stolen cell phones and live chickens, and the dirt roads, and the palm trees, gave us a bit of that good 'ol third world shock we've been missing on this trip.

Not only does Albania lack a "tourist infrastructure", but it also lacks a "working infrastructure" - dirt roads, massive potholes, electrical shortages, no public trash dumping grounds, vicious air pollution, and all those other lovely things. If someone managed to fix this place up, which it eventually will be (I frankly don't see how it can't be, given how cheap land is and how gorgeous a country it is), this will be the mountain and beach resort spot of Europe. White sand beaches, gorgeous rocky mountains, and tons of historical ruins all over the damn country. I was shown a book of pics of Albania by air and was stunned, shocked, and shit-head floored and I can't remember the names of most of the places because there are too many. It's just that someone needs to build a big enough broom to sweep up all the trash, and build some roads and bus stations while they're at it.

Before arriving in Shkodra, we briefly fancied staying there - after arriving we immediately reconsidered. We were scammed for the minibus from Shkodra (5 euros/person), and 5 hours later, and 70 euros less, made it to Tirana.

So this was Tirana when we arrived:

1) In the dark
2) Absolutely without street signs, whatsoever
3) In a rolling blackout
4) Crowded
5) Tirana

Our lucky Lonely Planet map would prove useless. What could have been a hotel-search disaster that ended with a either Michael or I dead by homicide, instead was much easier, thanks to this guy: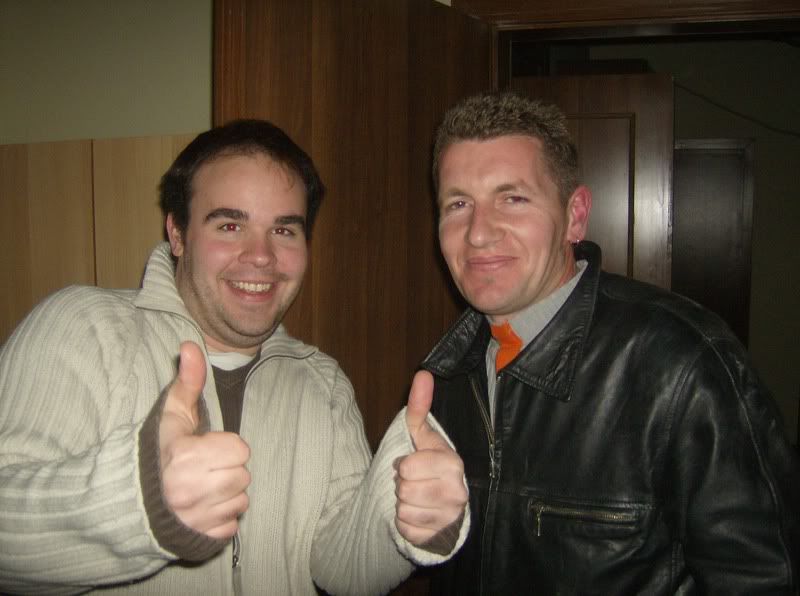 Props to Gezim, who we met on the van. Gezin was carrying a banana-box filled with plastic Jesuses which he was taking to the souvenir shop he owned. After arriving at his shop, he told us where a decent, cheap hotel was. It was certainly cheap. "Decent" is probably the best adjective, though we were thoroughly charmed by the condom wrapper found under my bed, and I was later charmed when a native Tiranan told me he used to take his girlfriend there to exploit the hourly rates.

But this was an OK hotel, albeit a hooker hotel. And the location was good, the people were nice, and Gezim came by often to check up on us the next three days. Props to Gezim!

And props to the Albanians in general, who are so shockingly polite and hospitable - close their stores to help you polite, give you extra plates of food at a restaurant polite, ask for a pen and they'll give you one polite. Yeah, word, this is a country filled with insanely friendly, helpful people, who will approach you at cafe and show you pictures from their trip to Washington, D.C. while you sip your pudding-thick hot chocolate.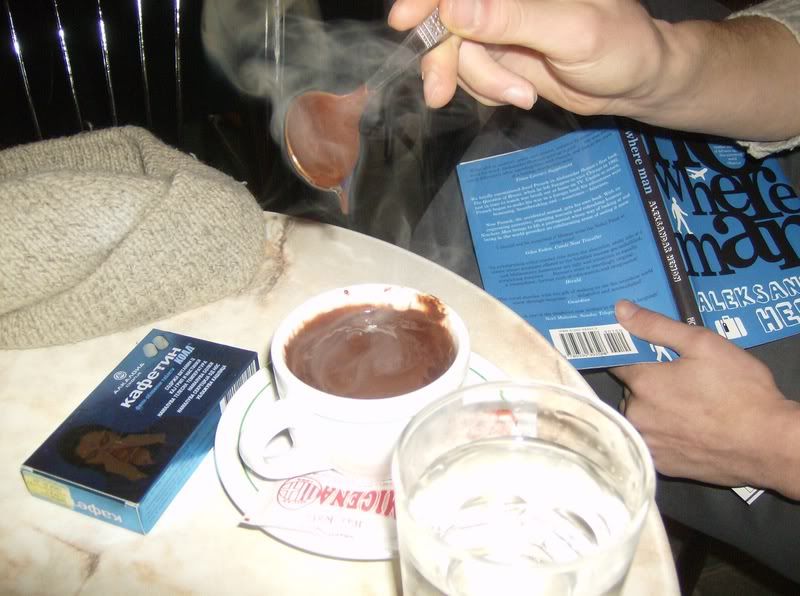 So I suppose I should get to the pictures? This is the main square in Tirana. What the photo doesn't show is that these drivers are going 5,000 miles per hour. There were no traffic laws in Albania until 6 years ago, and most people seem not to care - the M.O. of driving in that country is GET IN FRONT OF THE GUY IN FRONT OF YOU, at all costs, and hopefully don't run over the paraplegic begging in the center divider.

Main square, Palace of Culture in the background: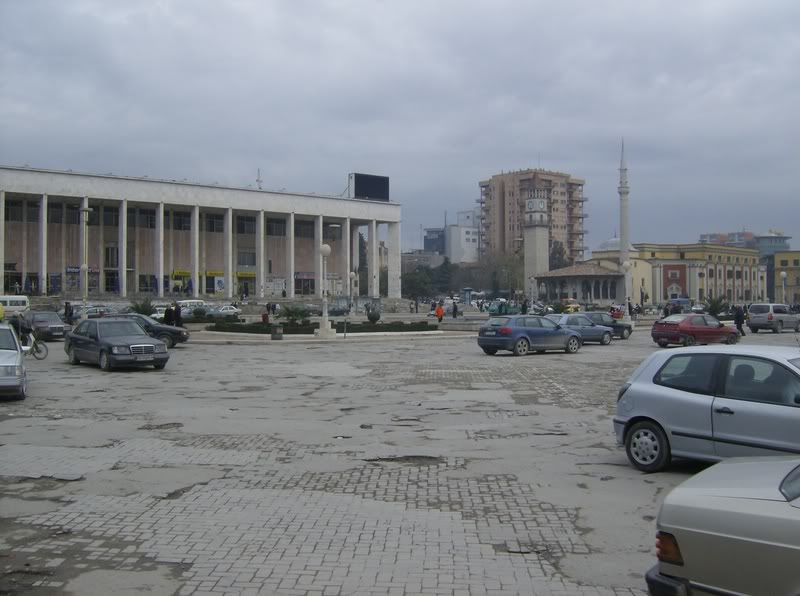 If someone owns a mode of transport in Albania, it's either a Mercedes or a mule, and that's less of an exagerration than you think. No mules in Tirana, though.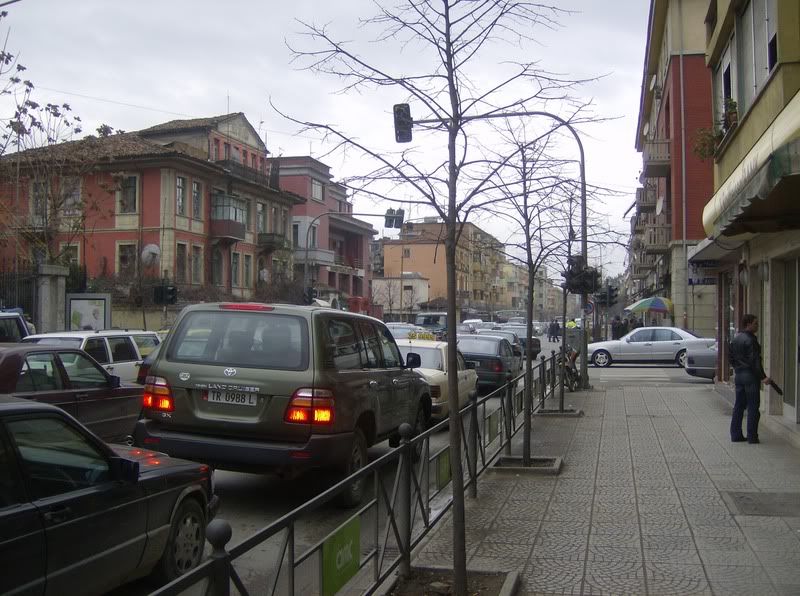 Mural above the entrance of the national history museum - it shows the history of VICTORIOUS ALBANIANS, from the ancient Illyrians to the Partisans. Yay Socialist Realism!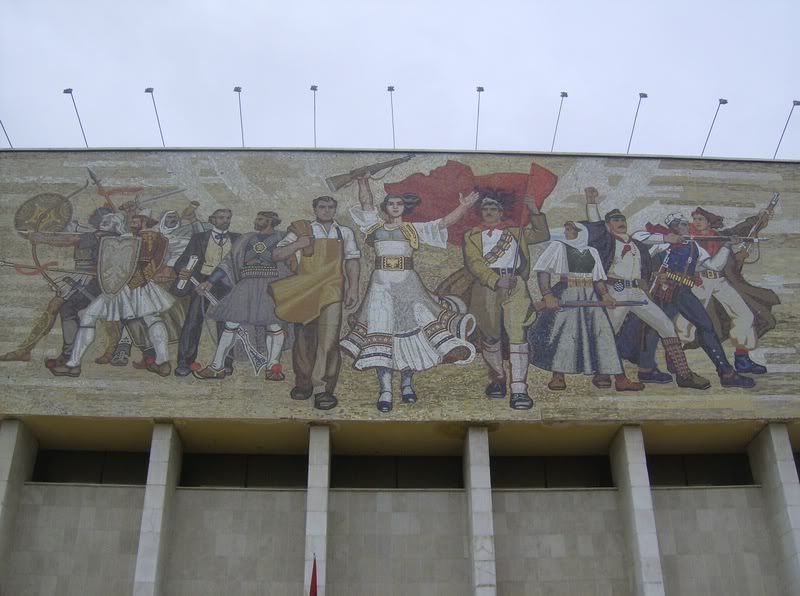 More Tirana: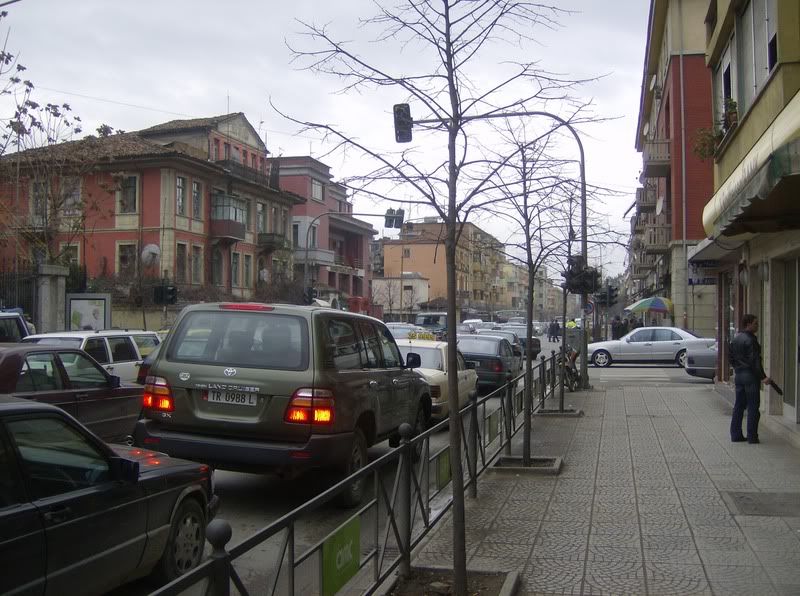 How about that traffic?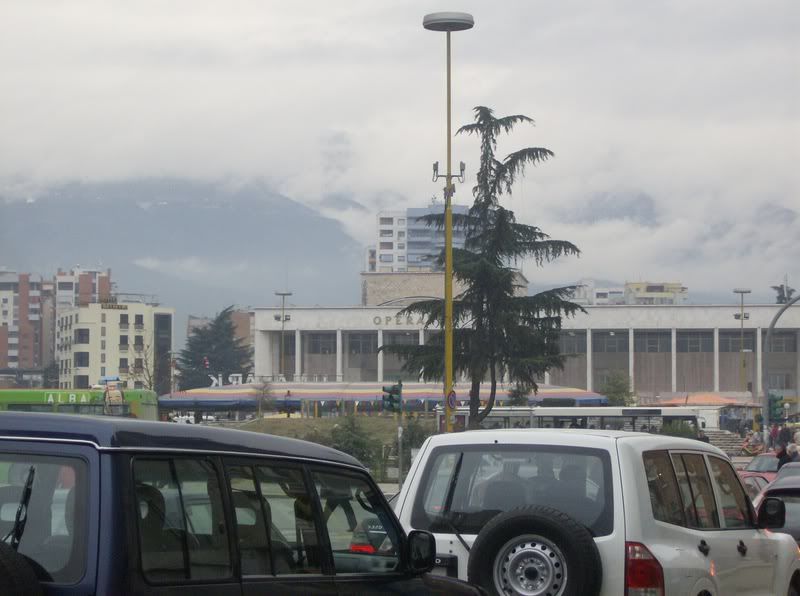 One of the first matters of business we conquered in Tirana was the guidebook-recommended Communist walking tour. It was my last city in the Eastern Bloc, so I needed to have a long, sad goodbye to Socialist Realism, and what better place to do it than the subtropics?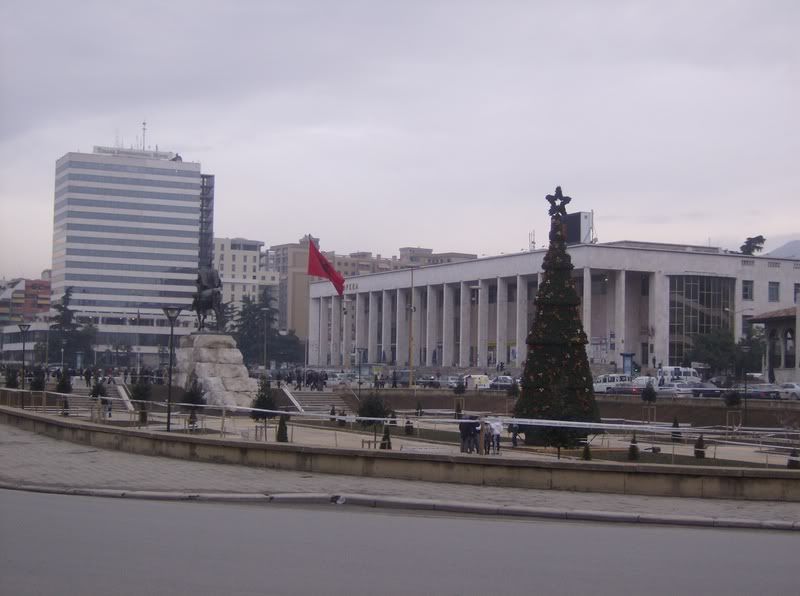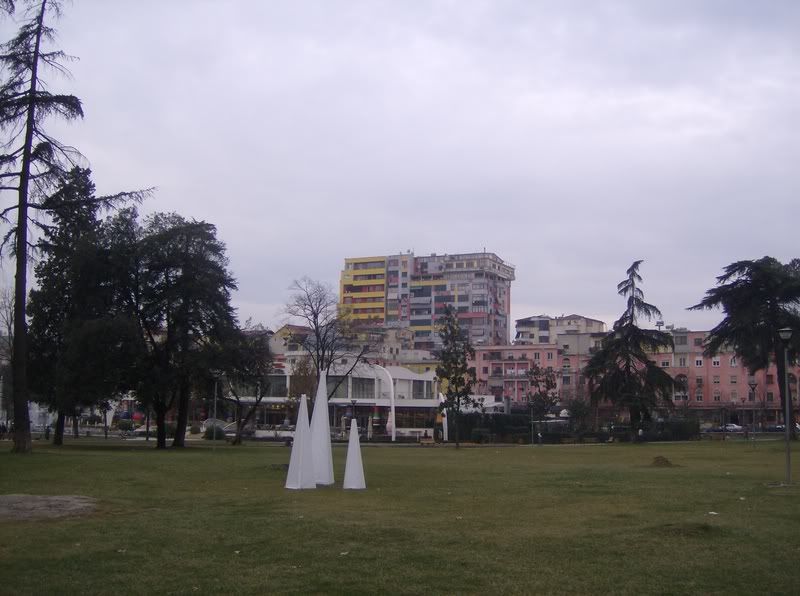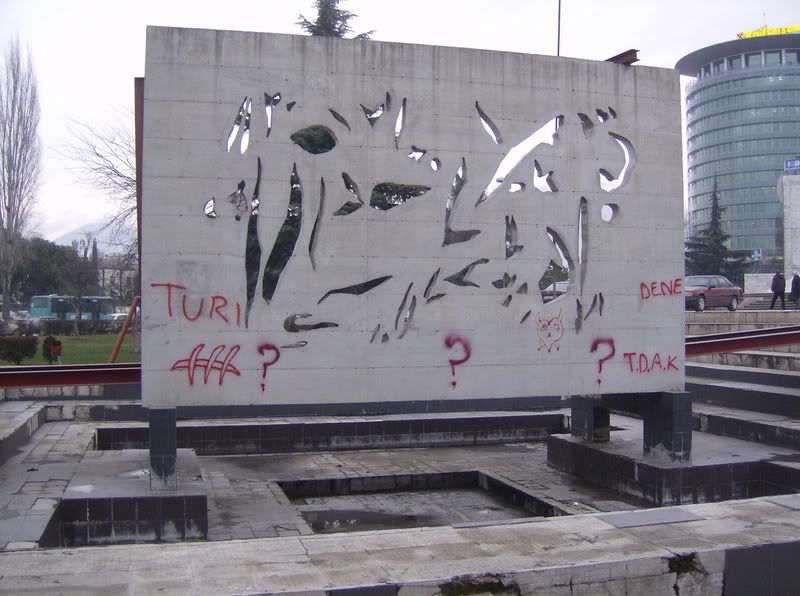 This pyramid was supposed to be the museum of Enver Hoxha.




Today it is a disco. And a sweet graffiti spot! Yay Slipknot:




Satan is Mike's lord and master.




Check out these sexy stone relief communists.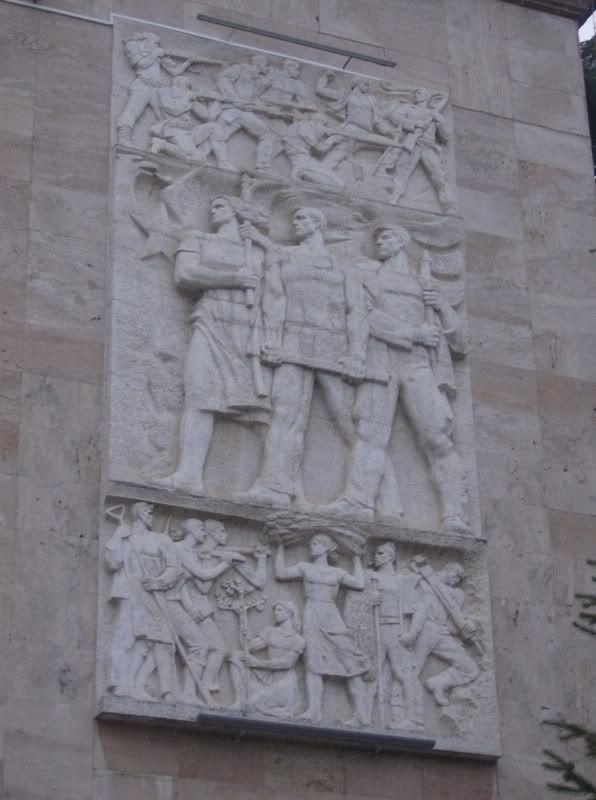 In this district of Tirana, south of the River, we have some colorful apartment buildings with 24 hours of electricity. Their color scheme reflects this, somehow.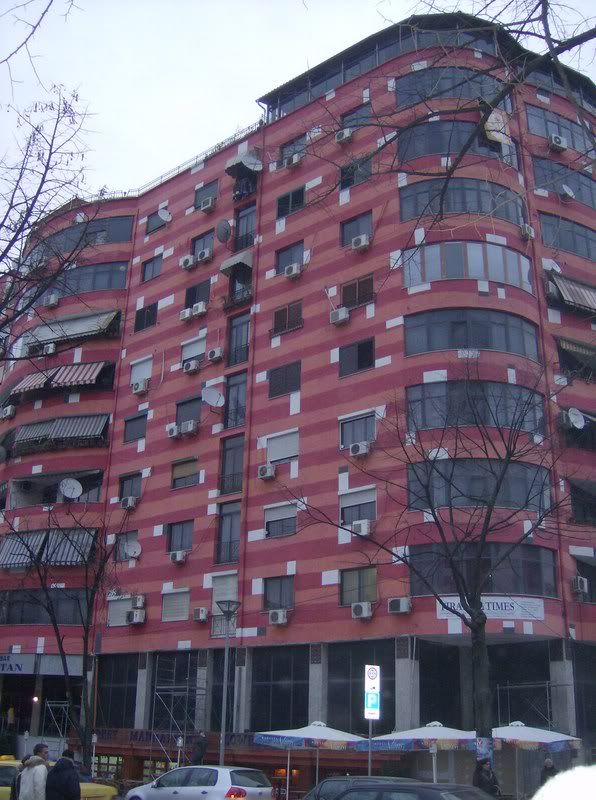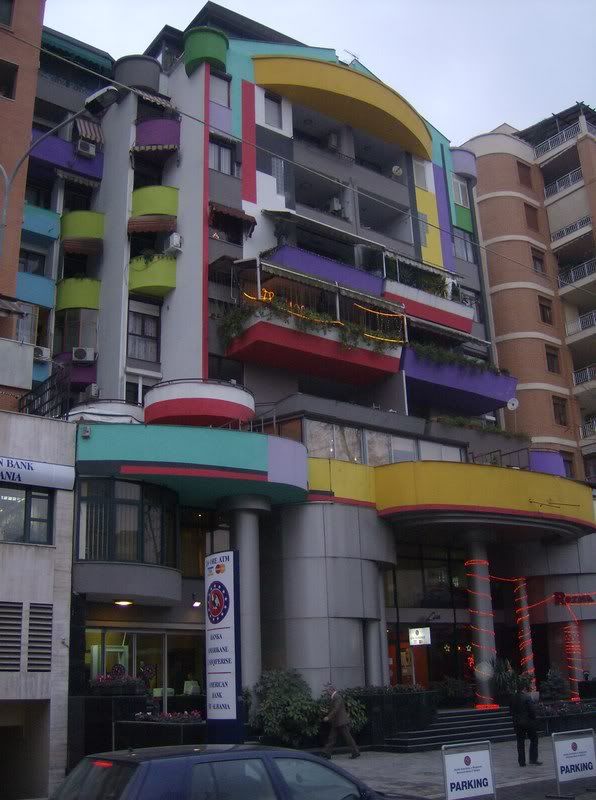 This is Mr. Hoxha's old place. It's not that flattering for a communist despot's residence. Today there is a swanky bar (source of more puddingy hot chocolate) and the Lincoln English School located in his house. And for some reason, there's still some guy patrolling the joint strapped with a kalishnakov. He is not pictured. Hoxha house!




***SWID INTERLUDE***

This is for Mike's friend Swid - I only know him as the guy who rubbed meat pies on his bare stomach, but here you go dude. See the Tirana hummer, Swid?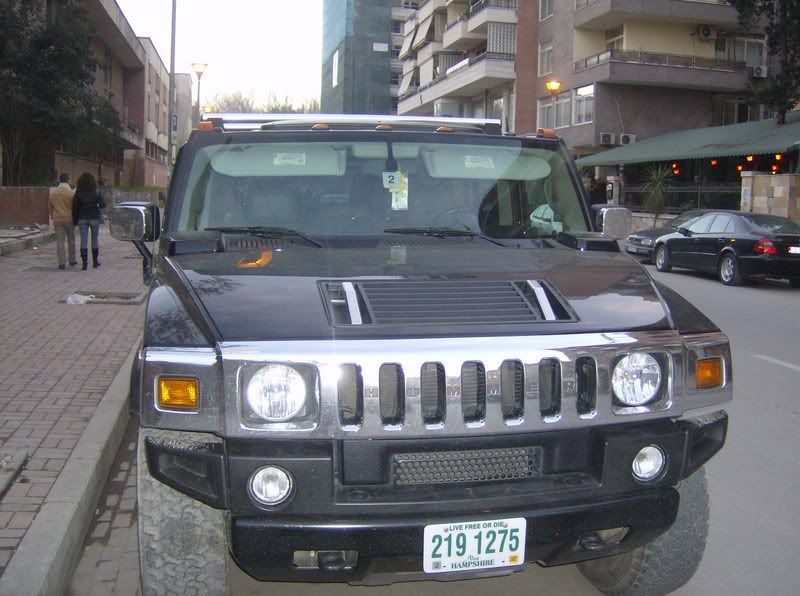 Look at the plates! Stolen from your motherland.




We care for you dude.




W/ LUV FROM ALBANIA!!!!11

***END OF SWID INTERLUDE***

And this week in foreign copyright and intellectual property violation, we have Kolonat, the falling-over McDonalds.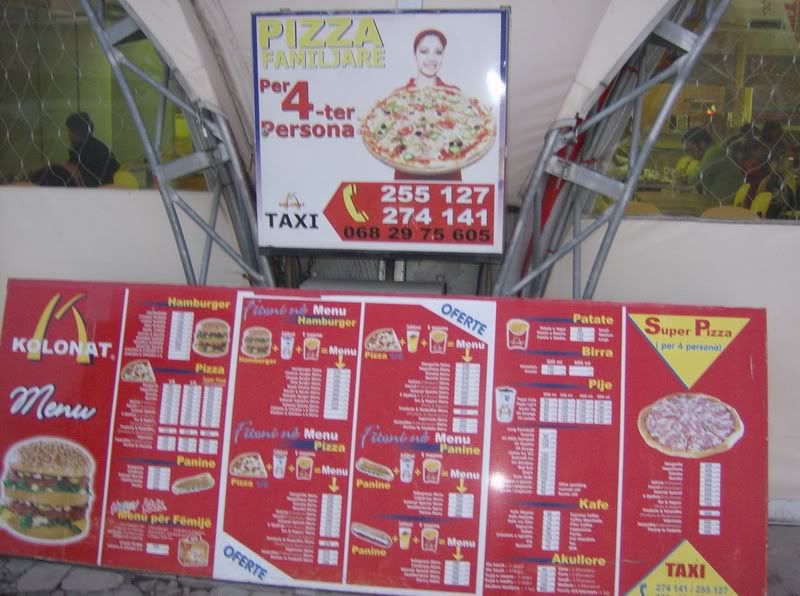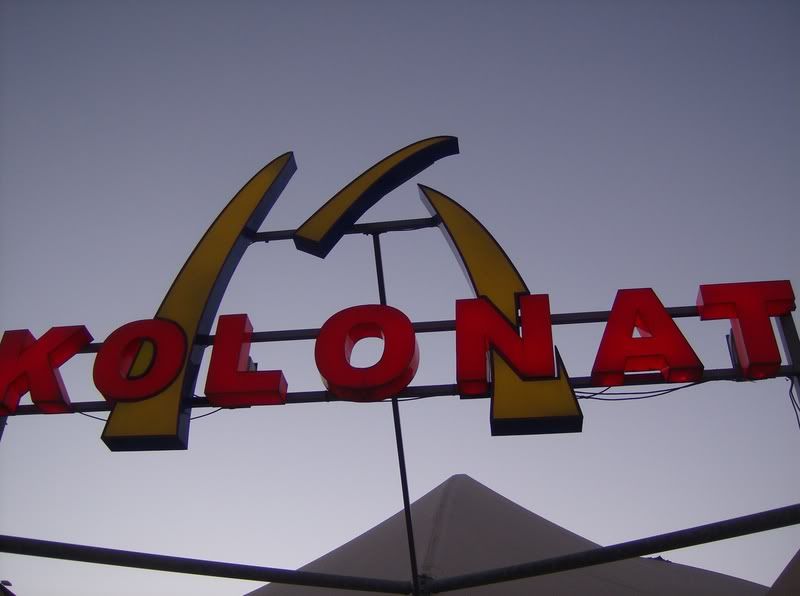 Hail Tirana.

We wandered around some more, took more pictures, and I ate my fair share of burek while talking to smiling Albanians and avoiding fireworks thrown by sidewalk children.

Albania was also our final stop together, Michael and I, and we've since parted ways. And I can't think of a better way to celebrate this whole trip than, well, living beyond our means! What a leitmotif there. Look at how fancy our western-catered desserts are!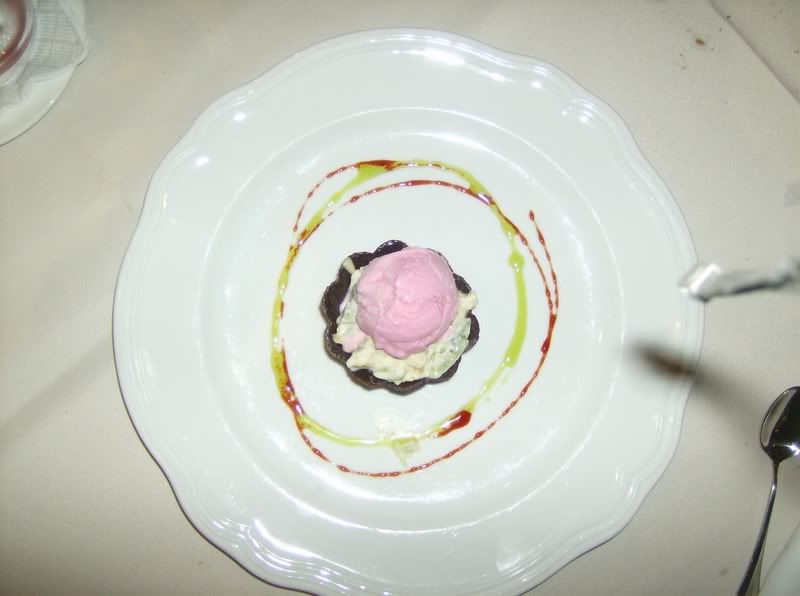 What's this bullshit? Well, it's expensive (by Albanian standards, more on that later).

Look at my chocolate crepe stuffed with candied quince and garnished with an orange and grape reduction!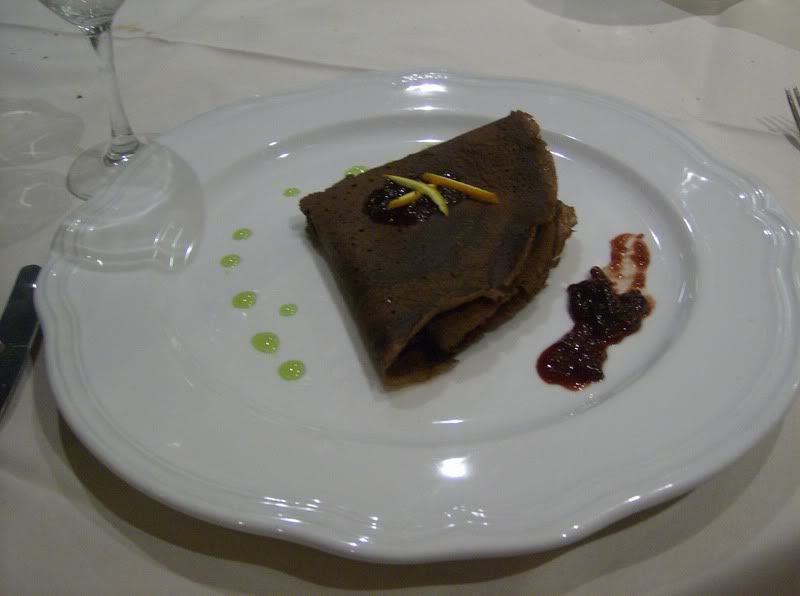 Tastes like hegemony. The restaurant was on top of the tallest tower in Tirana, and it spun around. Tirana at night. Look there are lights!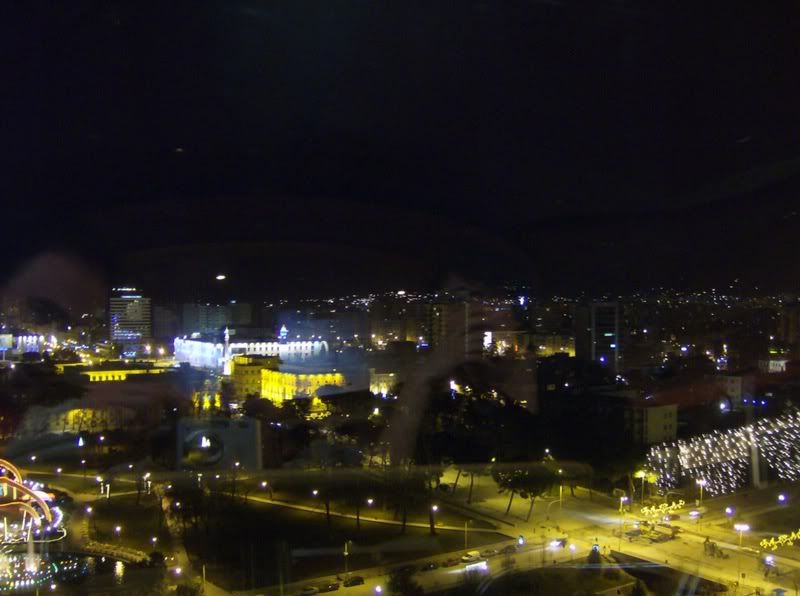 A glass elevator took us up and down, to relish in our conquering, imperialistic tastes and our appetizer, two main course, two bottle of wine, and two dessert meal at the most expensive restaurant in Albania that set us back a whole, um, 35 dollars. And we descend afterwards, a little tipsy, and beholding Tirana through the glass wall. And what better way to treat a glass elevator facing the outdoors than...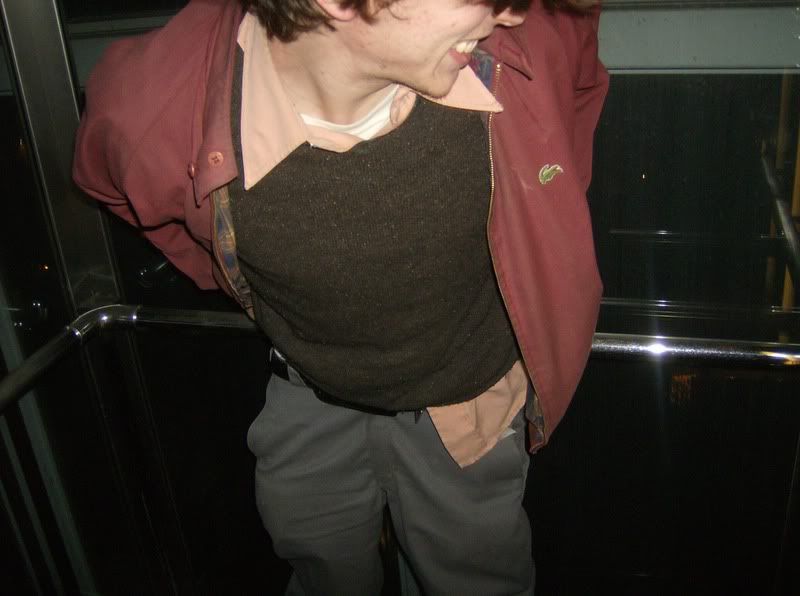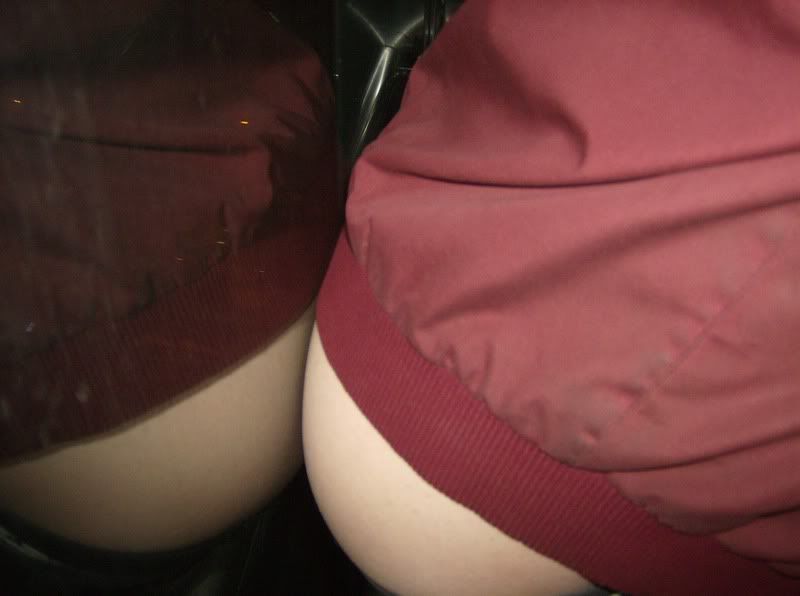 MOON OVER TIRANA!!! I guess if that's another motif of this trip. Buttz.

The sleeping coffin maker behind glass - too sleepy to be blessed with my rear end.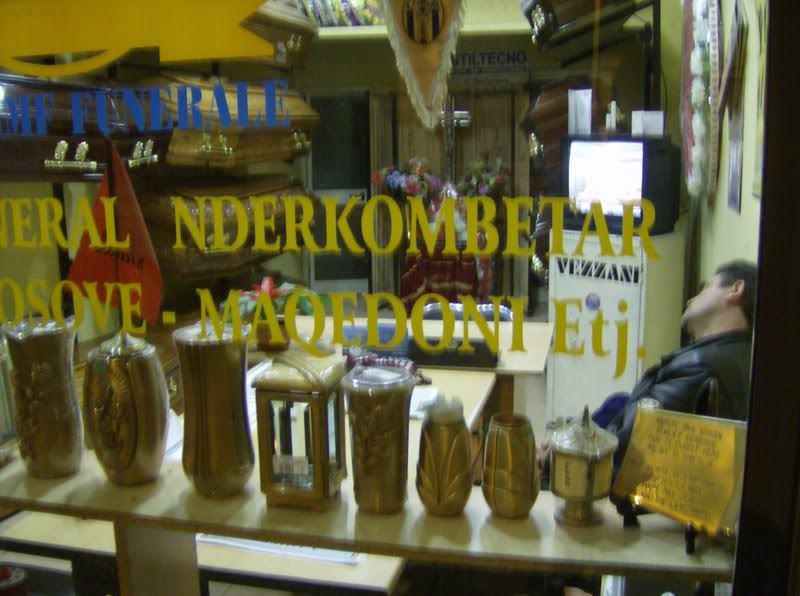 And then, a little tipsy, we went to sleep, and I woke up and hopped on the bus to Ahtens, while Mike jetted over to Vlora. As the bus pulled away we made lewd gestures at each other and giggled.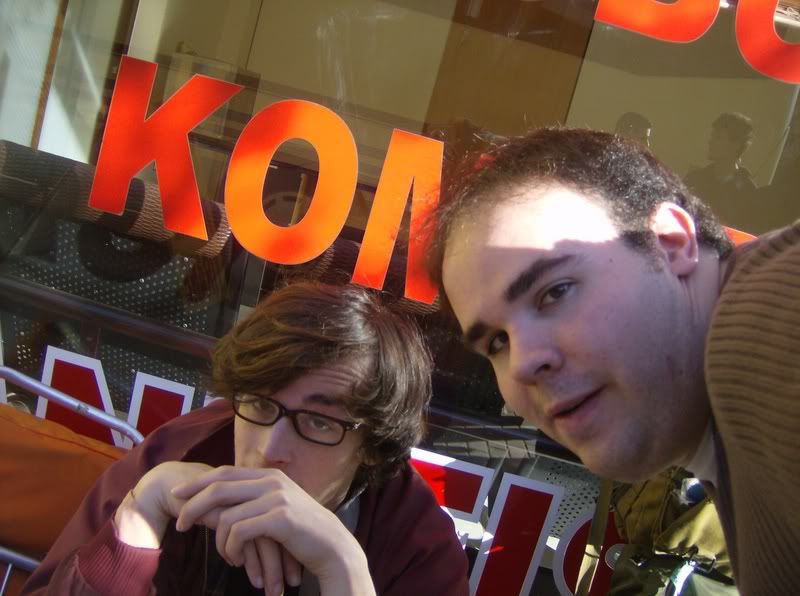 It's been real, reader dudes.

Really real.

In fact, I've been back in America for the past week.

Now I work as a receptionist.

Sorry if you think you've been receiving the last few dispatches from Europe.

Because you haven't.

You've been receiving them from a place far more exotic:

New Providence, New Jersey.

Athens and Steve wrap-up coming soon.

SHERMAN OUT.