Norway don't monopolize fjords
So up until November of this year, we were kicking it in the Northeast of Europe. We managed to hit up the Baltics, Belarus, and Poland pretty well, spending three weeks in that last place listed. And well, these joints seemed pretty to us -rolling hills, lush forests, and some quaint planes all fiery from the autumn leaves. Let's review some of the scenery we enjoyed up there.

***LUKASHENKO FLASHBACK***

Here's some woods outside of Taeveskoja, Estonia. Nice, no? It's all lush, and at that moment we were dreadfully lost. Estonia: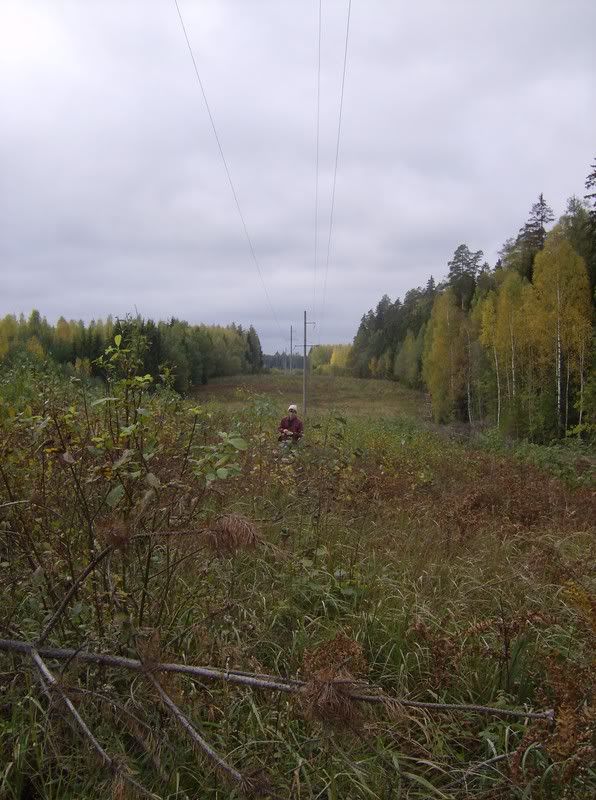 Gauja National Park in Latvia.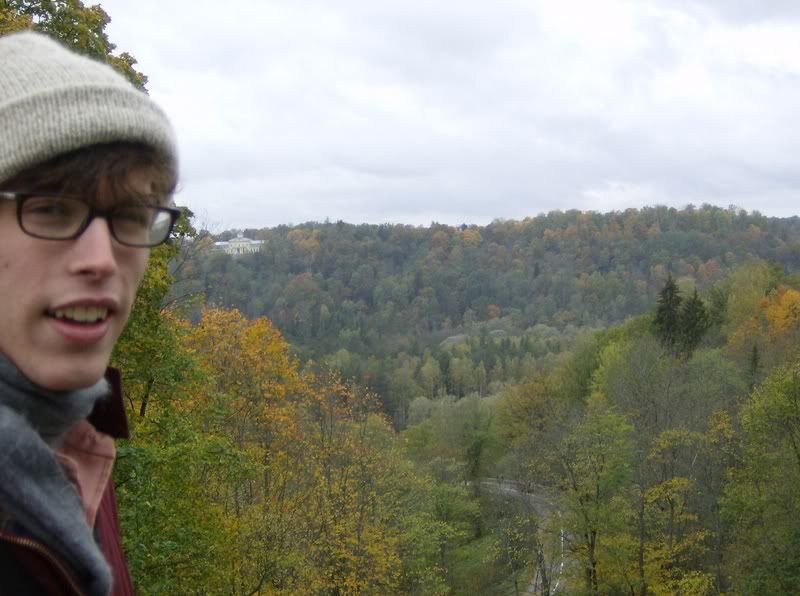 And check out the cute cows in that homely Northeast Polish countryside: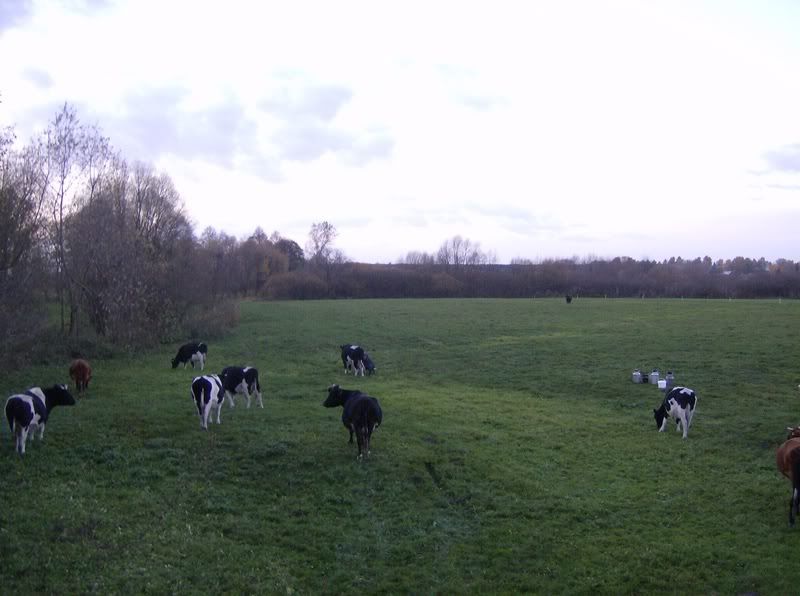 So yeah, we were chilling in these relaxing environs in the North, making sure to get out before it got too cold, and telling all the people we met how fucking flat-out gorgeous Gauja National Park in Latvia was, and how it was definitely among the most beautiful spots we witnessed on our trip, and yadda yadda yadda. It definitely still is a pretty place, but safe to say we won't be as enthusiastic about the Baltic countryside anymore because, well, we've been to Montenegro now.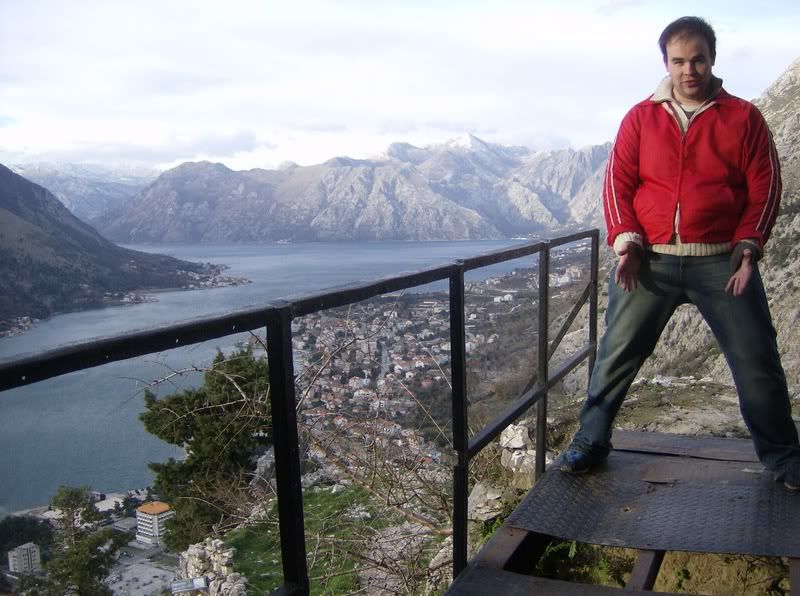 But only for one night, strangely enough, here in Kotor, which is at the foot of Southern Europe's deepest fjord.

A few things about Montenegro - one, it's the World's Newest country, having only been independent from Serbia since last June, because they wanted to be like all the cool post-Yugoslav republics and declare independence from Serbia, so now they can sit at the cool kid lunch table with Croatia and Slovenia, and throw half-drinken milk cartons at Serbia and Voijvodina's table.

Montenegro is so new they don't have their own currency (they use Euros), and they call their language the "local language," which, if I knew how to say "local language" in Yugoslavian (because that's the name of the language, as far as I can tell) would have saved me a lot of trouble earlier. Montenegro is "Crno Gora" in Montenegrin/LocalLanguage/Croatian, and it's sort of the Balkans all-star. Montenegro has Bosnia's mountains (landmine free, at that), Croatia's beaches, and it's populated with Serbs, the nicest people in the Balkans. Everyone wins! I could've spent a month here.

Kotor was all rainy as shit when we arrived, and (importantly) dark, and we stood around the bus station before finding a tourist info center which thereby led us to an old lady named Nadya who put us up in her (admittedly freezing) extra bedroom. We went into the old town, which was pouring and dark and wet and WET and with tiny little alley streets ankle-deep in water on cause of awful drainage, and we returned to our room cold and watched Jurassic Park and slept.

The next morning we awoke and I walked out the door. Waking up rules. This was the view from the front door of our guesthouse: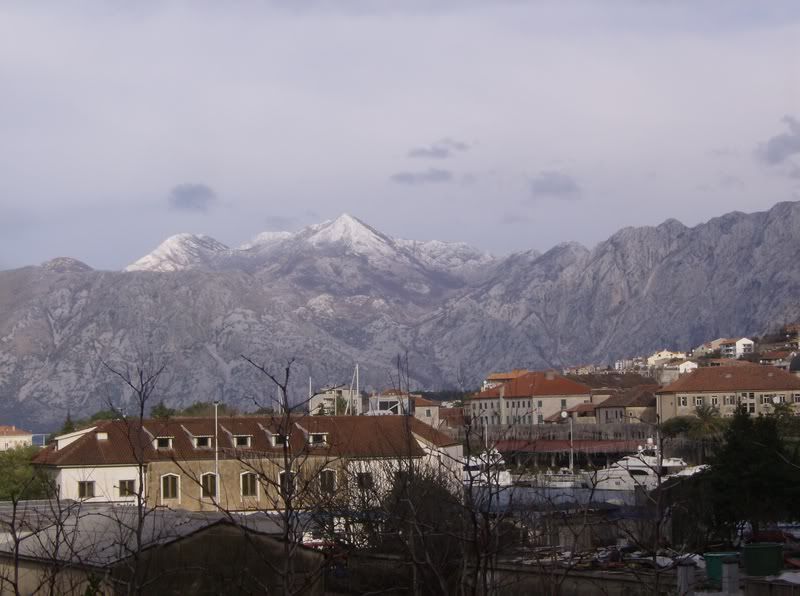 So again, the sunlight drops the curtain! Motherfuckers know our daylight master, so I skedaddled to the old city swinging my camera around and snapping pics like I was a Japanese tourist on crystal. Hail Kotor.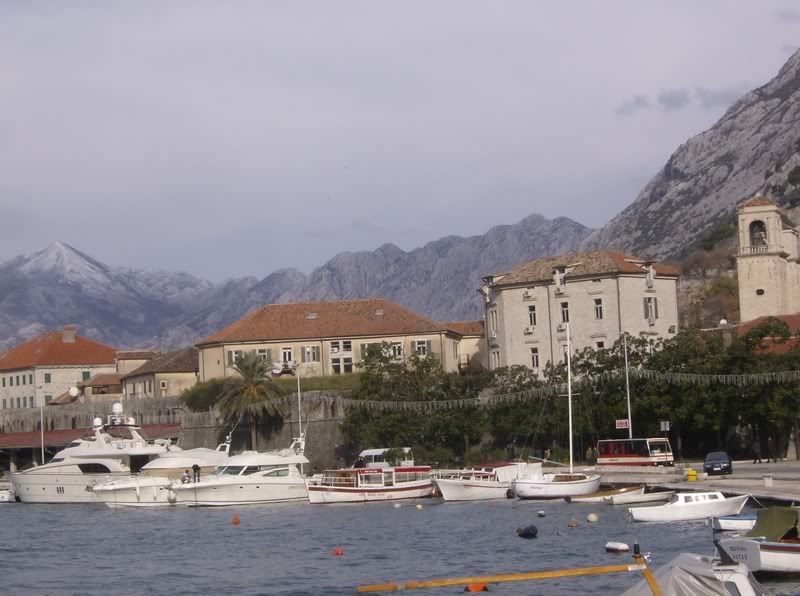 Check out the fortress on top of that rock, and keep it in mind.




Two pics of the old city.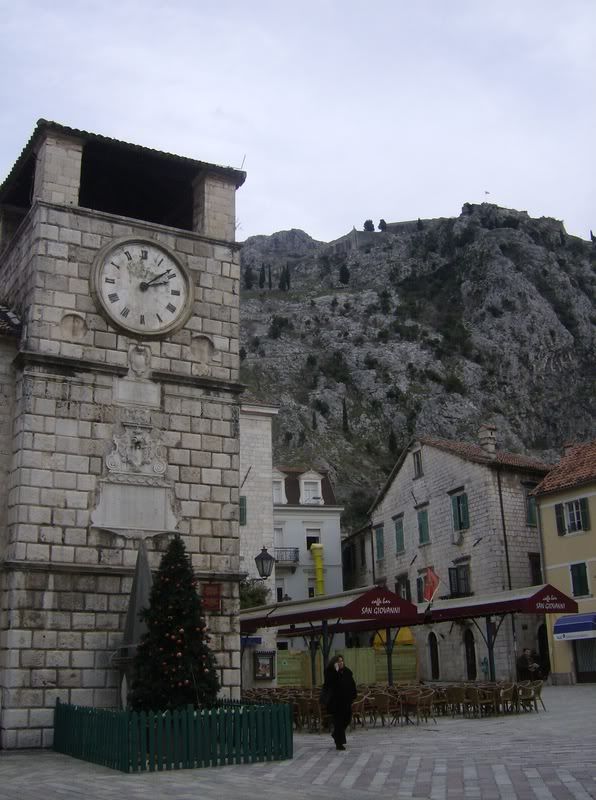 Having been the early one up, I scored some homemade prosciutto from the local market (bragging about food rules), went back to the guesthouse, woke Michael, and proceeded to climb to the fortress.

Kotor was fucked up bad in an Earthquake 30 years ago. During ascent we spotted this: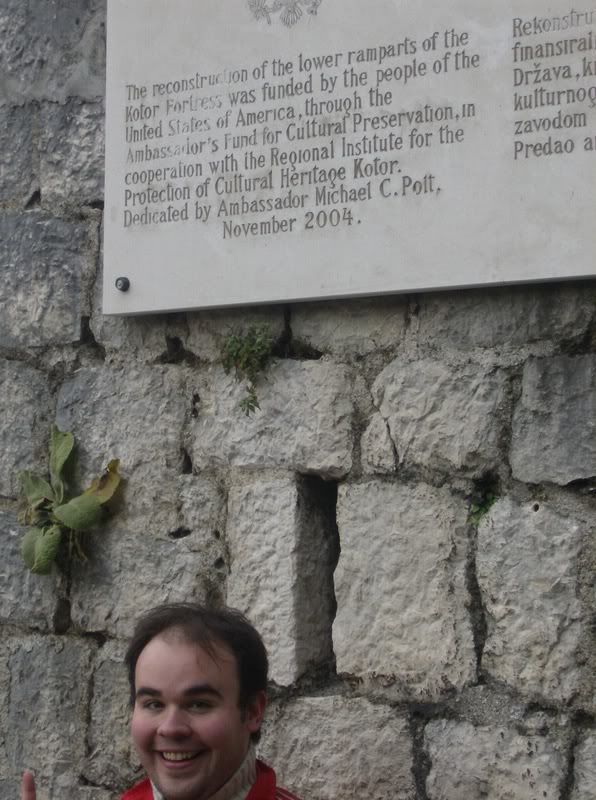 2004? That was the Bush Administration! Not all is hopeless, I guess.

We climbed, spotted tourists, climbed some more, climbed, Mike felt nauseous, climbed, snapped pictures: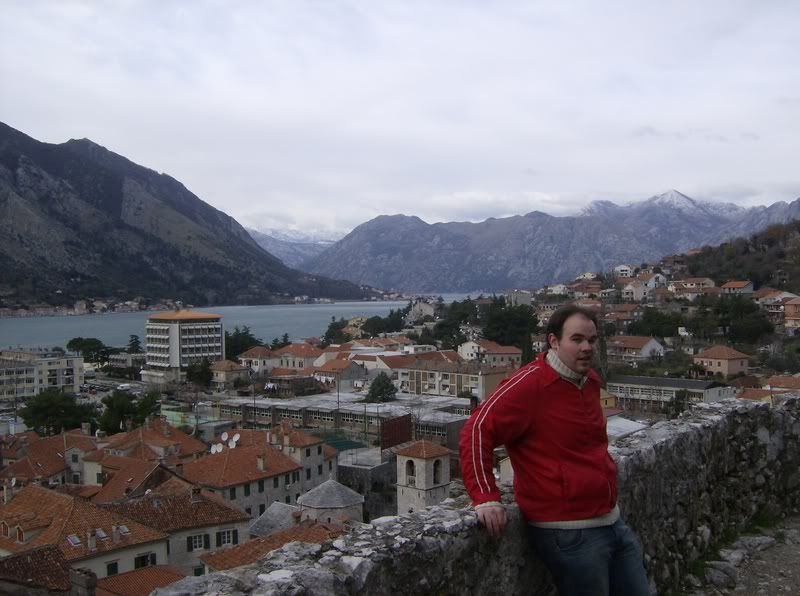 We reached that fortress after about 30 minutes of Mike coughing, me being light-headed and stumbling and fearing an ankle-sprain, and both of us wishing we bought some water before ascending. Fortress, tired.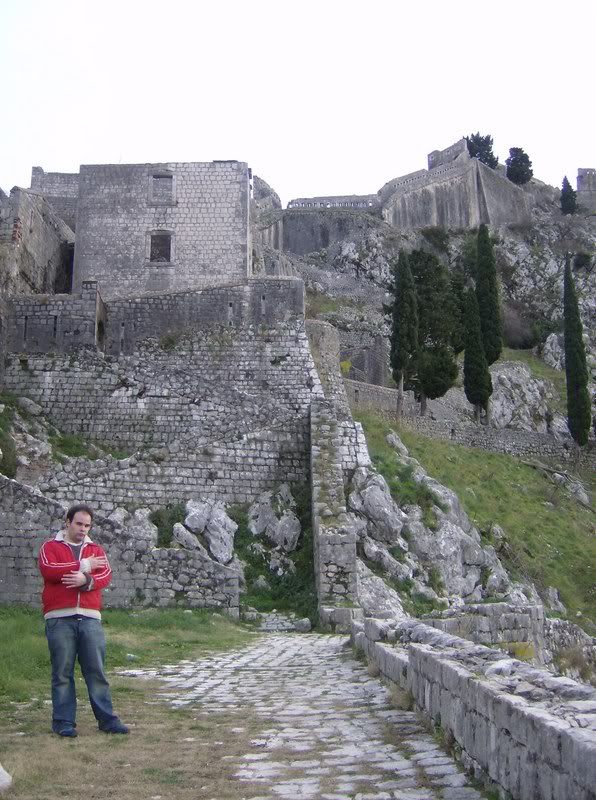 A house on the other side of the mountain. There was a broken-out window on the fortress which gave us a view of the other side of the ridge. Some rocky hills, with a separate trail we didn't hike because, well, we didn't have water, and it was even higher than the top of the fortress.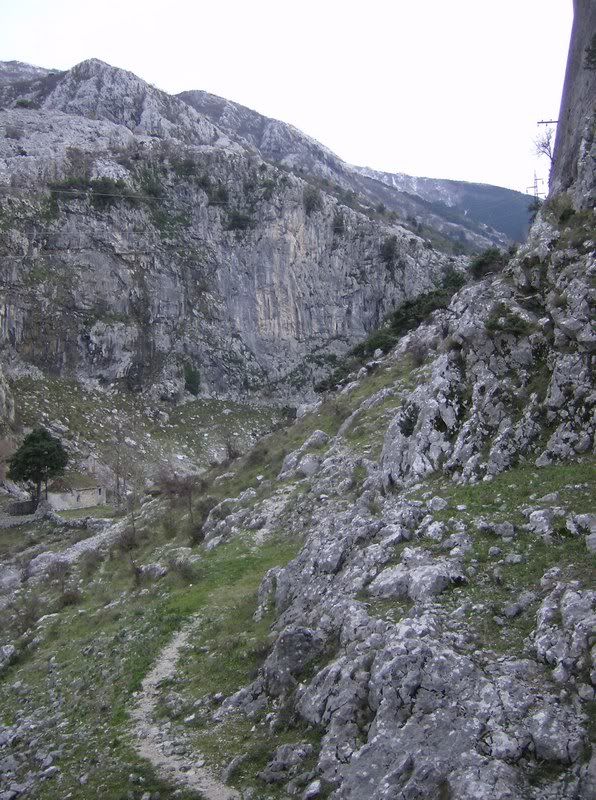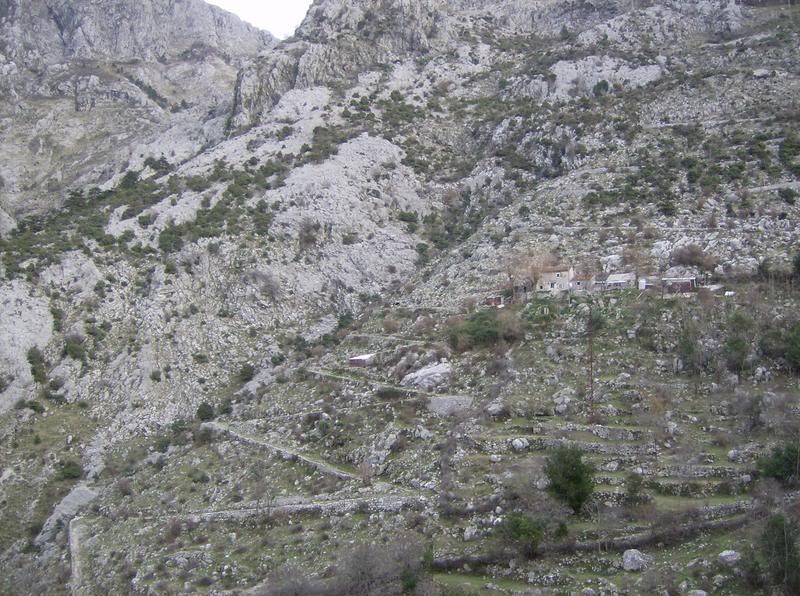 And eventually, after some wrong turns and dead-ends into trashed rampart walls, we reached the fortress-top, which was nowhere near the highest peak in the ridge, but still this high:




That black dot is a cow.

And so we rested, wished we had water, took pictures, and found other panting tourists to take pictures of us. This is the view from the top of the fortress, and one in a whole long series of impressive vantages in the former Yugoslavia. We sat for a long time. The weather was about 50 degrees fahrenheit and we were sweating but it was OK. Hail Kotor.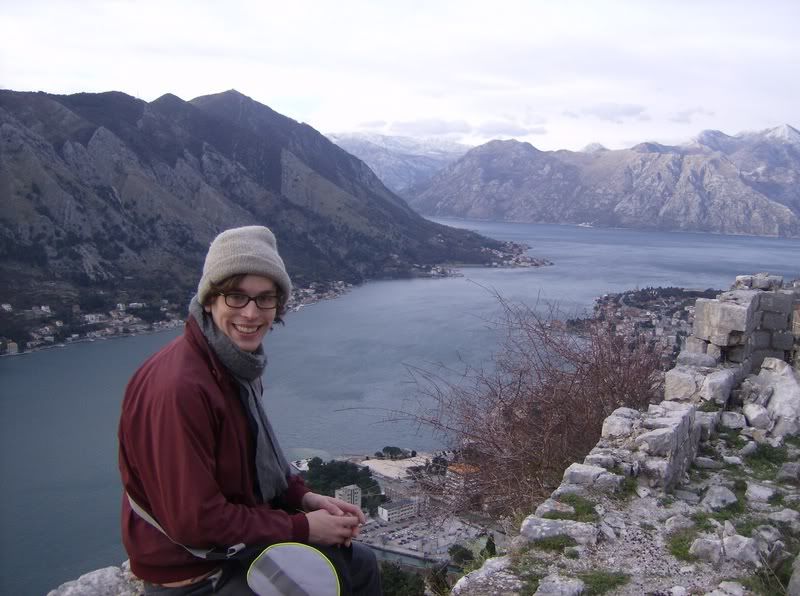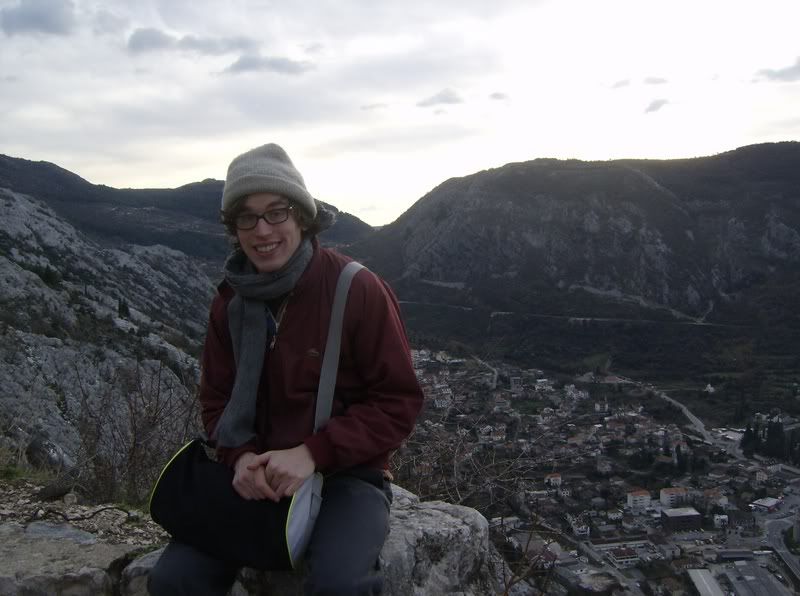 Mail to: Grandma.

Descent, along with some fortress interiors: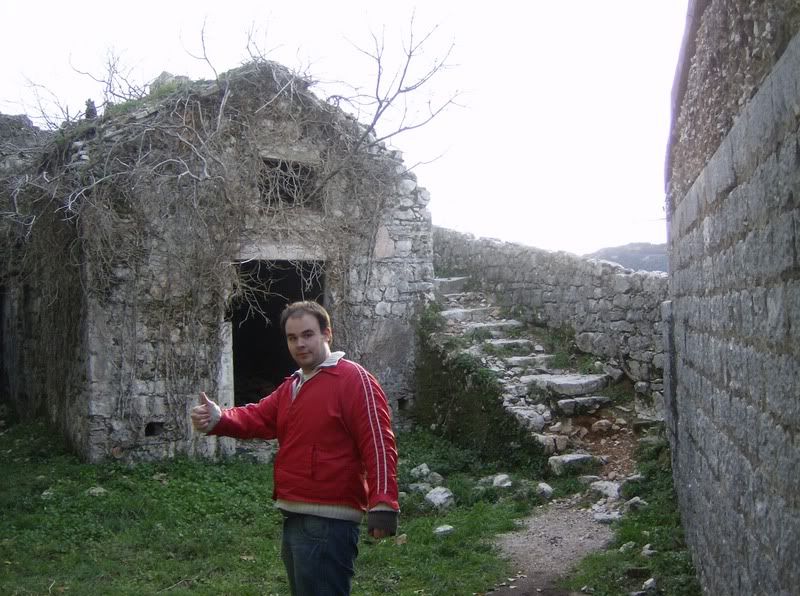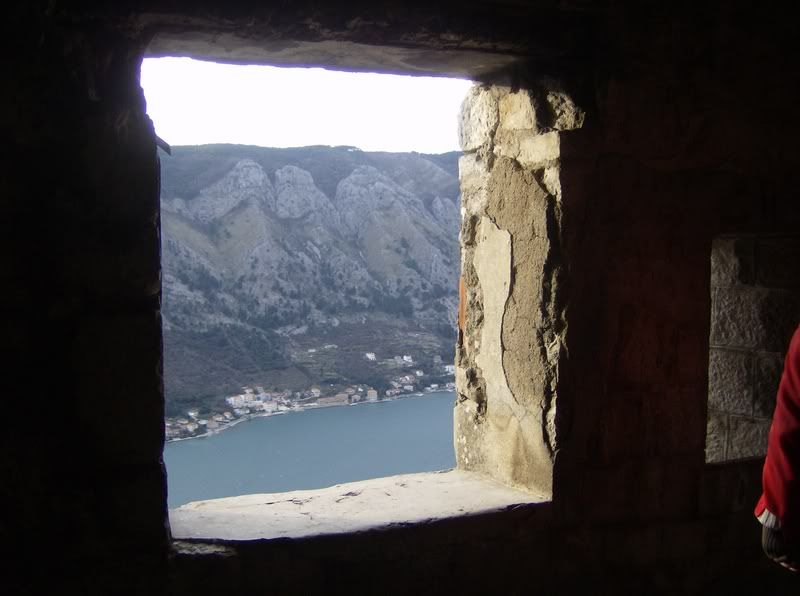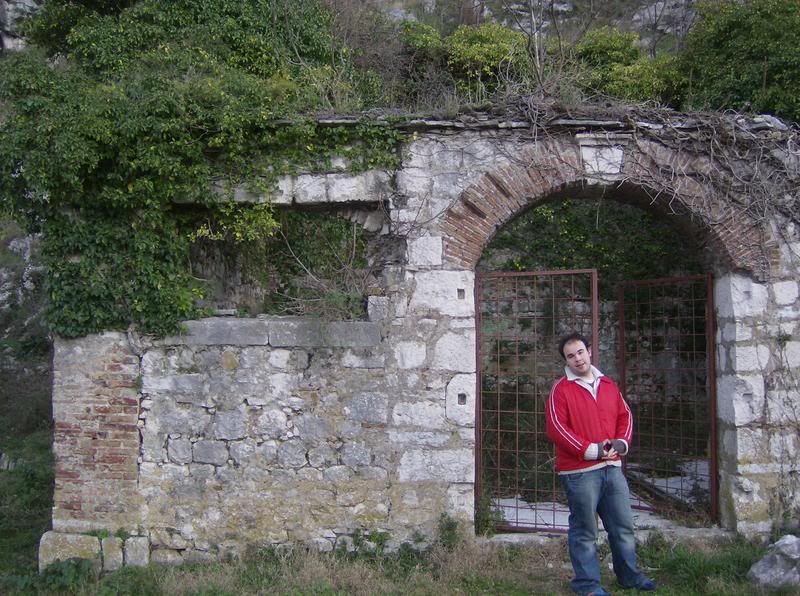 And the descent was even harder on our ankles, but we cared not, because we had just conquered Kotor and climbed that fucker. All they need to do is hook up speakers throughout the fortress and blast Manowar 24/7. VICTORY!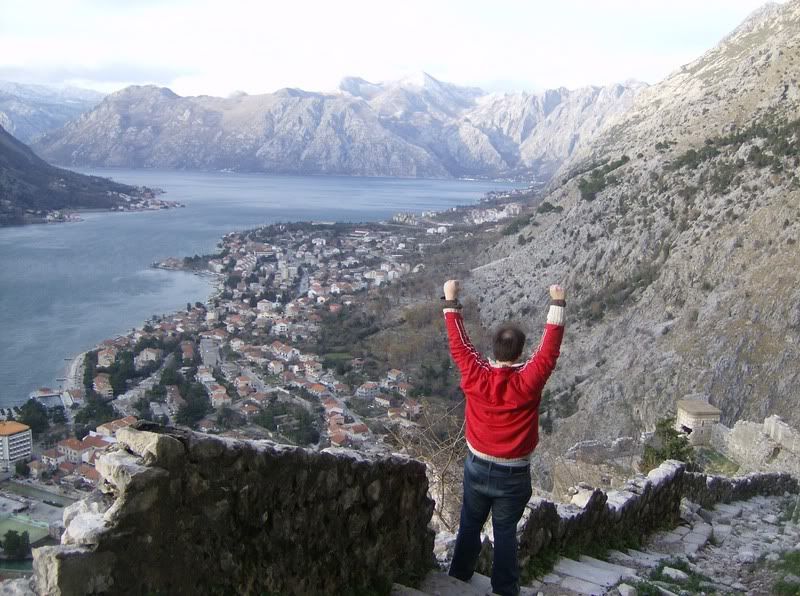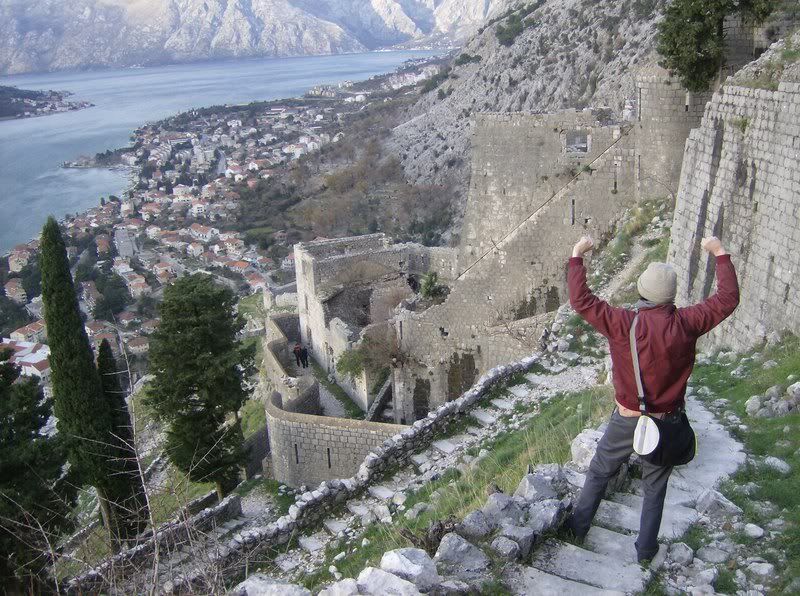 Afterwards our legs shook from fatigue and we ate olives and cheese sandwiches and then on TV that night was, you guessed it, Jurassic Park 2, followed by a Serbian-League basketball game featuring NBA wash up Predrag Drobnjak. We picked up more food from the market (homemade grape brandy, cheese, assorted meats), and ventured towards Albania. The best part about Montenegro? Not only are the skies that special blue, but there's never a boring bus ride.